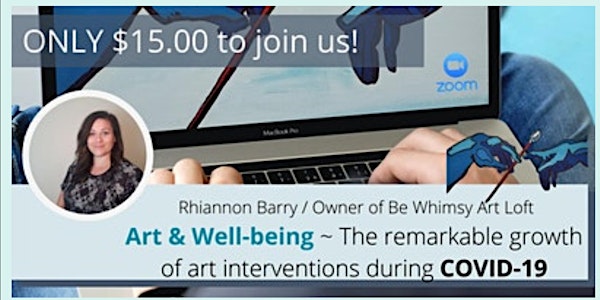 The Remarkable Growth of Art Activity Interventions During Covid-19
Join Artist, Business Owner, Art Therapist s in Training and Wellness Program Developer offers an informative take on this topic.
Refund Policy
Contact the organizer to request a refund.
Eventbrite's fee is nonrefundable.
About this event
The social restrictions imposed worldwide initially and over the past year were meant to protect individuals from adverse physical health outcomes. However, these government and self-imposed containment approaches aimed at slowing the virus's spread have steadily and rapidly changed life as we know it by wiping out social normalcy. As a result, loneliness has affected a significant portion of the global population's mental well-being, the outcomes of which we may not see in their entirety for years to come. Art intervention has alleviated and even prevented adverse mental health outcomes for many by reducing fear, anxiety, and isolation.
From uplifting street murals to online digital art posters, podcasts and memes to live streaming painting tutorials and weekly group creating sessions, Artists have been supporting the world through the pandemic often for free.
Covered in this Session:
15 mins-Welcome and Introductions
5 mins A Brief History of Arts during times of Plague. Why does art intervention work so well? Why are humans drawn to art in times of crisis?
25 mins -A Break Down of TYPES of Art Interventions and TYPES of people who benefit from them. How they make positive impacts for those experiencing fear, anxiety, depression, chronic stress, PTSD ...
*Determine who would benefit most from participating in your offerings and market to that group*
30 mins-Info Sharing and Discussion
Do you run Live videos from your Studio?
Do you work with social community groups?
Do you use art to create mindfulness moments or for life coaching?
Do you encourage arts peer-lead participation?
Let's hear about what you've been doing!
30 mins-Have an idea you are developing? Rhiannon is an experienced social worker who has run countless arts-based rec and wellness programming and here to bounce your ideas off of!
Ask questions about finding funding, marketing and promotions, how much to charge participants, where to find participants, and finding the right partnerships or opportunities to run your Art activity or session.
More if we have time:
• When restrictions Ease-How to maintain your audience/following/ participants
• How to transition into in-person programming Marketing art participation for Social Re-entry
***********************************************
Join the Creative Conversations: Path Finder Artist Series throughout the year and become a member of an online social community!
Master Your Networking, Sales, And Creative Inspiration Skills To Launch Your Artistic Career Through Peer-Led Interactive Workshopping Opportunities.
The PathFinding Artist Series focuses on supporting relationships between artists of all skill levels and at various stages in their professional careers throughout Ontario and beyond. Our mission and goals are to remove barriers and foster confidence.
Those who have walked the path will lead others to do the same, fast-tracking you to success! Featuring Industry experts and creative peer-support workshops and discussions occur on the last Sunday of each month at 3:00 pm EST(unless otherwise posted). The workshops explore building the skills needed to boost your career growth and introduces skills to help you become a superstar creative professional in a virtual environment- essential soft and hard skills that will be handy forever.
Spots are limited so register today to avoid missing out. $15/ session.
Additional opportunities:
1. Are you an Expert in a Topic you feel others would enjoy learning more about? Please send us your Topic Ideas and CV to artbyrhiannonbarry@gmai.com. Remuneration is available and is based on attendance through our co-marketing efforts.
2. Call For Artists -Free to Join: Creative Conversations Pen Pals Project