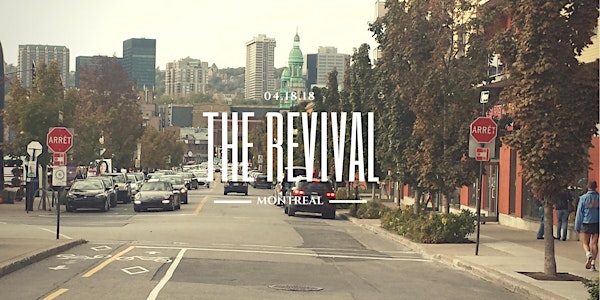 The Revival Networking and Artistic Showcase - April 18th
Location
The Focus Room
3035 Rue Saint-Antoine Ouest
Westmount, QC H3Z 1W8
Canada
Description
Français à suivre / French will follow
The Revival" are networking events that regroup artists of various background. It is also a showcase of the emerging talent in the city. The event is held in the intimate setting of a studio loft, in the downtown area.
The goal is to assemble people who are active in the artistic community and to give them an opportunity to gain knowledge, share thoughts and ultimately build connections that will prove beneficial to the development of their practice.
The event is built with the interests of Montreal artists in mind. We encourage you to come chat with other local artists, share ideas, get inspired, open up doors.
Following the success of the last edition, we've got a new selection of Montreal talent and guests to inspire you to take the next step as an artist:
Facebook : https://www.facebook.com/therevivalmontreal/

GUEST SPEAKERS :
Marcelle Partouche Gutierrez - How to determine Artistic Vision and Goals in Grant writing

Marcelle Partouche Gutierrez is a community organizer, grant writer, and artist. With large expérience in non-profit organisation, she acquired skills in grant writing that she now develops in the artistic scene. She has acquired grants from key actors like Musicaction, Telus, Desjardins, Girls Action Foundation, and is now working with the Canadian council of arts to create a stronger representation of the diverse artistic community. She is tightly involved in the music scene, being an artist founder of the Lotus Collective.

Aicha Tory ( Arty Avocat Cabinet ) - The importance of working with an art lawyer

Aicha Tohry is a lawyer, founder of ARTY ACOVAT, a legal firm that carters to entrepreneurs of creative nature.
An obvious lack of information and services in the field is what prompted Aicha, a art enthusiast, to specialize in arts, notably, fashion, technology, arts and entertainment.

GUEST PERFORMERS :


PANTHER MATUMONA - Hip Hop RNB Artist

Reflective lyrics and a delivery meant to awaken, is the best way to describe Mantuma's art. Producer Matumona takes the building blocks of R&B and rap and transforms them with a trap twist that has attracted the likes of HBO, the UFC and mainstream movie soundtracks ! He released his first solo album in 2012 called 'Blood & Joy' and is now working on new collaboration. Honestly this guy is fire, if you can't see than you must be blind :)


NORA TOUTAIN - Jazz Soul Vocalist

The French-Moroccan vocalist Nora Toutain has honed her craft and grown on the RnB and Soul scene in Montreal over the last three years. Music wasn't on the charts for Nora at all, until she experienced the Kalmunity Vibe Collective workshops, and since then, has not let go. She colors her music with the scents jazz and soul. Her first EP is currently in production. She's giving her all and we're sending her some vibes to push her forward too.


LYRIC - Spoken Word Artist

Lyric was a vocalist before falling in love with the art of spoken word. It has now been 14 years and so her love for depth of words has only grown. She started small, like most of us, at open mic venues, she was offered residency at Parlay 4 Sho Poetry, and Madpoetix Productions, she performed in a multitude of events in Montreal. As a singer, she incorporates her talents as an into her poetry, utilizing her sultry tones and melodies to allure the audience into her creative mind. It is no surprise that we can expect a Spoken word album later this year.

VISUAL ARTIST EXPOSITION :

John Lanthier: Psychedelic paint artist

Arty de la Cruz: Conscience carribean art

Take your art to the next level! Join us at The Focus Room, Space is limited,
Reserve your tickets today through Eventbrite or contact us:
Email: therevivalevent@hotmail.com Call: (514) 473-5658
_____________________________________________________________________________________________________________________

The Revival est un événement réseautage qui promeut le développement d'artistes multidisciplinaires. Viens nous parler, rencontre d'autres artistes, partage des idées et crée toi tes propres portes.
Suite au succès du dernier rassemblement, nous avons une nouvelle sélection de talent Montréalais et d'invités qui sauront t'inspirer et te donner l'envie de pousser tes limites à ton tour.

Facebook : https://www.facebook.com/therevivalmontreal/
CONFÉRENCIERS INVITÉS :
Marcelle Partouche Gutierrez - Comment déterminer une vision artistique et ses objectifs pour les demandes de subventions ?

Marcelle Partouche Gutierrez est une organisatrice communautaire, rédactrice en demande de subvention et artiste. C'est son expérience en organisation non-profit qui lui a ouvert les portes vers la rédaction de subvention dans le milieu artistique. Elle a pu recevoir des bourses de principaux acteurs dont, Musicaction, Desjardins, Telus, Girls Action Foundation et travaille actuellement avec le Conseil des Arts du Canada afin de créer une représentation plus forte de la diversité dans la communauté artistique. Étant une artiste elle-même, elle est étroitement lié au domaine musical, en tant qu'artiste co-fondatrice du ' Lotus Collective'.

Aicha Tory ( Cabinet Arty Avocat ) - L'importance d'un avocat de droit des arts

Aicha Tohry est avocate et la fondatrice d'ARTY AVOCAT, un cabinet pour les entrepreneurs des industries créatives. C'est un désir de pallier à un manque dans l'offre de services juridiques qui a poussé Aicha à fonder cette pratique axée plus particulièrement sur le droit de la mode, des technologies, des arts et du divertissement.


ARTISTES INVITÉS :

PANTHER MATUMONA - Artiste RnB Hiphop

C'est avec paroles songeuse et une livraison qui suscite un éveil ardent, que Panther Matumona, producteur Zambian Montréalais fait passer son message. Son premier album solo sorti en 2012, s'intitule 'Blood & Joy'. Sa musique emprunte du R&B, du rap et du trap. Unique en son genre, son art a déjà été joué sur des grandes chaînes américaines comme HBO et sur les beats de Skrillex, Snails, Moka Only et même dans de grands films américains ! We see you Panther, we see you !

NORA TOUTAIN - Vocalist Soul Jazz

Nora Toutain est une artiste franco-marocaine qui a évolué sur la scène locale de rnb et soul à Montréal dans les 3 dernières années. La musique lui semble être tombé dessus par pur hasard, et ce, grâce au Kalmunity Vibe Collective, qui lui a fait ouvrir les portes vers un tout autre destin, Sa musique, c'est le jazz et le soul rnb. Elle est décidé, positive, et courageuse, et on attends son EP avec impatience !


LYRIC - Artiste( Poète ) Spoken Word

Lyric était une chanteuse avant de transiger vers l'art du spoken word. Cela fais maintenant 14 ans, et cet amour pour la profondeur des mots n'a fait que grandir. Elle a commencé petit, dans les soirées ouvertes aux amateurs. C'est de cette manière qu'elle a pu élargir son réseau pour prendre résidence à l'évènement ' Parlay 4 Sho Poetry' et pour les Productions Madpoetix, et plusieurs autres à Montréal. Étant chanteuse, elle incorpore ses talents dans son arts, alliant cadence et mélodie menant à l'univers de son esprit. Son album sortira vers la fin de 2018.

EXPOSITION ARTS VISUELS :
John Lanthier: Artiste en peinture psychédélique

Arty de la Cruz: Artste carribéenne conscientisée

Les places sont limités, joins nous au ' The Focus Room'.
Réserve ton ticket aujourd'hui avec Eventbrite ou communique via:
Courriel: therevivalevent@hotmail.com Tél: (514) 473-5658