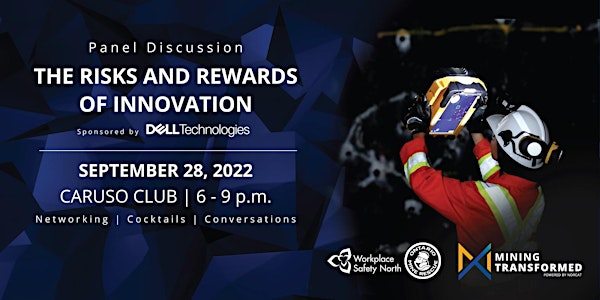 The Risks and Rewards of Innovation
An evening of networking and conversations on the risks and rewards of innovation, presented by Dell Technologies.
When and where
Location
Caruso Club 385 Haig Street Greater Sudbury, ON P3C 1C5 Canada
About this event
Innovation can be extremely rewarding, but it also comes with risks.
Innovative ideas can take years to come to fruition, and during that startup journey, a founder must be resilient and battle the challenges head-on. With experimentation, there is always failure, but with that failure, we learn, adapt and rebuild. With the risks come the rewards; a successful innovation can improve our daily lives, reduce business operating costs, or provide efficient ways to complete tasks. The balancing act between the two is constant, but those willing to take risks and learn from mistakes often reap the rewards.
Join Mining Transformed, Workplace Safety North and Dell Technologies for an evening of networking and a panel discussion to learn about the risks and rewards of innovation in the technology sector. Panellists Suzanne Balima, Ryan Siggelkow, Chris Laffey and Naji Alimam will discuss the challenges of innovating in technology, how to persevere, and the rewards that come along. NORCAT CEO Don Duval will moderate the discussion.
Light refreshments will be provided, and a cash bar will be available.
Panelists
Suzanne Balima, Open Innovation - Global Expansion & Future Foresight Lead, Vale
Suzanne's mission is to help people and organizations transform and reinvent themselves by harnessing their unique gift of creativity to generate value. She draws from her diverse experiences in engineering, management consulting, technology implementation, digital transformation, corporate innovation, as well as leading corporate diversity initiatives.
At Vale, Suzanne leads open innovation projects with the goal of accelerating innovation while helping the company expand its pool of vendors to non-traditional ones such as start-ups. With her corporate innovation experiences across industries, she understands that a company's culture plays a fundamental role in the adoption and dissemination of innovation. The nuance and complexities of the mining industry, and the industrial nature of the work make innovation a particularly challenging exercise – but also a very rewarding one!
Another one of Suzanne's goals through her open innovation work is to encourage her colleagues to pick up an innovation mindset through co-creating and working alongside start-ups & innovation partners on projects. In addition, Suzanne also led and developed foresight capabilities to help her team and the company innovate with the future in mind, leveraging trends and foresight techniques to open her colleagues' minds to the possibilities.
Suzanne holds a Bachelors degree in Biomedical Mechanical Engineering and a Masters in Strategic Design and Innovation. With academic and professional experiences across 4 continents and 5 industries, she joined Vale and the mining industry in 2020. Managing uncertainties and finding effective ways to reduce risk when problem solving is something she enjoys; despite the steep learning curve, she has also seen how her lack of industry experience has brought valuable perspectives in challenging the status quo in order to innovate.
Ryan Siggelkow, Senior Vice President of Technology, HARD-LINE
Ryan Siggelkow is the Senior Vice President of Technology and is responsible for researching, planning, and the implementation of new programs and overseeing the development of our latest technology. Ryan assures competitiveness and innovation of products and programs from a technological and design standpoint, ensuring profitability, quality, and continuous improvement. As a member of the senior executive team, Ryan plays a key role in the development of long-term corporate strategies to facilitate sustainable growth of the company and in fostering a success-oriented, accountable environment within the company. He is a determined and client focused IT leader with extensive global experience, including expertise in automation, mining, ERP, analytics, and operational excellence initiatives. His strength lies in the ability to apply his 20 years of knowledge to a tailored solution addressing each client's business and technology objectives.
Chris Laffey, Senior Principal Engineer - Edge Solutions
With over 30 years in the technology industry, Chris Laffery has experience in training, data center administration, pre-sales and alliance relationships. His ability to communicate technology from the end user to the C-suite makes Chris one of Dell Technologies' most sought-after speakers. As a passionate technologist, Chris enjoys keeping up with evolutions in the technology industry. This helps him to assist his clients in finding the best enterprise software, cloud and infrastructure solutions for IT transformation, to help ensure their success in the new digital era.
Tara Clayton B. Tech, Director of Strategic Operations, IRIS R&D Group Inc. (IRIS)
Tara has a diploma in Transportation Engineering Technology from Mohawk College and a Bachelor of Technology in Mechanical Engineering from McMaster University. Throughout her 25 years (3 years in automotive and 22 years public sector) in the industry, she has proven her project management, change management, and leadership/mentorship skills to support the individuals she works with. Her guide when faced with challenges are her values of trust, respect, and communication. Her automotive experience included machine learning for resonant inspection and her public sector experience was in infrastructure/asset management, development planning approvals and public works. Tara has a passion for innovation and emerging technologies as it relates to smart cities and continuous improvement for infrastructure management. Her recent endeavours with a technology start up has expanded her perspectives and fueled her growth with the creative and disruptive nature of AI, technology and doing things differently.