The Royal North are a 24 carat rock band. They're straight up, no chaser and have great songs, a full tank of gas and a strong path forward.
About this event
The Royal North are a 24 carat rock band - straight up, no chaser. Hailing from Canada's smallest province, Prince Edward Island, they are lifelong players who love to rattle the walls. There are, of course, nods to the staple albums from the band's tour van, but there's more than that. For The Royal North, melody reigns supreme.
Chris Dalziel, Brady MacDonald, Craig MacDonald, Donovan Morgan, and Jordan Walsh have a penchant for writing memorable songs. They are proud Canadians who work their trade in blue denim, and leather collars . Their songs feel inviting because their lyrics are laid-back and approachable, much like the band members themselves.
These rockers have been taking their sound everywhere they can. At stops from Toronto dive bars, industry showcases, to huge festivals in the U.K., the Royal North have been making fans. Together, they command any stage, big or small.
Andre Pettipas and the Giants
East Coast Rock Band Andre Pettipas and the Giants are set to release their new album No Fools No Fun on July 9 via all streaming platforms. The 13-track album No Fools No Fun captures the no holds barred, kick-ass ethic the band brings to everything they do, and like never before.
Recorded at the The Chalet Recording Studio in Uxbridge, Ontario, 10 of the 13 tracks were produced by Brian Moncarz (Alice Cooper, Our Lady Peace, The Tea Party), along with some other well-known rock n roll heavy hitters including: Max Kerman of The Arkells (Saint John String Quartet) who arranged "Dark Times", John-Angus MacDonald of The Trews (Glorious Sons) producer of "Sympathy Card", and Jason Jenkyns (The Stanfields, The Town Heroes) and Jon Landry (The Stanfields, The Town Heroes) who co-produced "The Swedish Motel".
"Everyone has enough pain and anguish taking up residence in their minds at any given time. For us, it's like, let's just forget about all of that for a while and have a good time.' That's what we do at our shows and that's the approach we took to this album," said Andre Pettipas.
The first released single off the new album "Sympathy Card", has already gained ground at Rock radio reaching #27 on Billboard's Active Rock Chart and breaking the top 50 on Billboard's Mainstream Rock Chart in Canada. The song is a ripping good time track, emphasizing shrugging off adversity and not wasting time complaining about what you can't change, but always making an effort to change what you can. In contrast, the singles "The Swedish Motel" and "Overtime" display the band's ability to combine vastly disparate genres of rock and roll into a sound that's undeniably and uniquely their own.
The album will also include the most recently released single "Homesick", giving a major nod to late eighties and early nineties rock featuring Christopher Thorn the guitarist of critically acclaimed, chart topping, southern psych-rock band Blind Melon. Other standout tracks include "Last First Date Ever", "Gone", and "No Fools No Fun" - the perfect soundtrack to chase away the ongoing pandemic blues.
The Nova Scotia natives are already on the rise to fame with three #1 singles on nationally syndicated show, "East Coast Countdown" and showcasing internationally at Live at Heart/Sweden. They were also named Arkells: Leather Jacket Cover Contest Winner, were Casino NS Artist in Residence Finalists in 2016, in 2017 Q104 Homegrown Champions out of 120 bands (15k in prizes including the recording of our industry demo which led to the band working with Brian Moncarz), and Jim Beam National Talent Search Regional Winners (Halifax).
With their take no prisoners; live performances, stellar musicianship, and habit of finding grist for the songwriting mill in everything from southern rock to pop and prog, Andre Pettipas and The Giants are a rarity – an act who absolutely refuse to let anything take the fun out of their creative process and performances on record or on stage, and with absolutely no fear of stepping outside of the box to get their message across.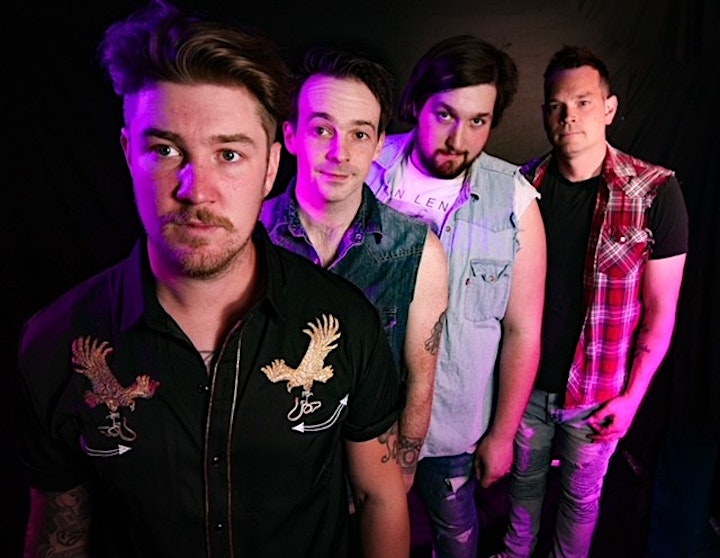 Organizer of The Royal North w/ Andre Pettipas and the Giants - August 14th - $25