The Running Dead Zombie Fun Run

Saturday, 7 November 2015 from 10:00 AM to 1:30 PM (AST)
Event Details
4th ANNUAL
ZOMBIE FUN RUN
Saturday, November 7
FOR THE FREDERICTON SEXUAL ASSAULT CENTRE
AT KILLARNEY LAKE PARK  
A BIG THANK YOU!! Together, we raised over $10,100!!
Top team - Fast Food raised $1,097!
Top individual - Wes French raised $310!
Thank you to our more than
80 runners, 40 zombies, donors, volunteers
and our corporate prize donors:
Brewbakers
Chess Piece Pâtisserie & Cafe
Cineplex Cinemas
Clay Cafe Fredericton
Crowne Plaza Fredericton Lord Beaverbrook
Elle Mio
Eloise
Endeavours Art
Goodlife Fitness Queen Plaza
The Happy Baker Market & Cafe
Moksha Yoga Fredericton
Papa John's Pizza
Picaroons Traditional Ales
Precision Pilates
The Radical Edge
Strange Adventures Comic Bookshop
RACE DETAILS - SATURDAY, NOVEMBER 7
10:00 am: Pre-race registration starts at Killarney Lake Lodge (Rotary Room)
11:00 am: ZOMBIES - Pre-race mandatory briefing by race coordinators
11:30 am: RUNNERS - Pre-race mandatory briefing by race coordinators
12 noon:   Race starts
1:00 pm:   Prizes awarded
OVER $1,000 IN PRIZES TO BE AWARDED
Prizes will be awarded to:
- Top team fundraisers (highest average amount raised per team member)
- Top individual fundraiser (highest amount raised per individual)
- Best running character
- Best zombie character
- Chance to win draw prizes for all participants
WHAT IS A ZOMBIE FUN RUN?
Race participants will be given three (3) flags to wear. Each race participant will try to run the 5.5-kilometer trail at Killarney Lake Park without losing all their flags to our race zombies.  Race participants must be 12 years of age or accompanied by an adult.  Check out promo videos and photos from prior years here, here, and on facebook. 
CAN I BE A RACE ZOMBIE?
Yes, you can be a race zombie.  The only zombies allowed on the race course are registered zombies.  As a registered zombie, you will be placed on the course and given instructions as to your zombie duties.  Not all zombies will be chasing runners; some will be stationary while trying to grab flags and others will be part of the creepy zombie atmosphere.  We ask that all zombies stay in their position and roles at all times.  
There is a prize for best dressed zombie character.
RUNNERS ARE NOT ALLOWED TO DRESS AS ZOMBIES.  This is to ensure that runners can identify who can and cannot steal the race flags.  Runners are encouraged to dress in character as well.  No props such as water guns, foam swords or other defence/tactical gear will be allowed on the course.  Runners must survive based solely on their stealth and speed.  
There is a prize for best dressed race character.

CAN I REGISTER AS A TEAM?
Yes, we encourage local companies, families and other groups to enter as a running team or a zombie team.  Prizes will be awarded to the team with the highest pledges raised per team member.  A team must have a minimum of 4 participants and a maximum of 8 participants.  If more than $100 per team member is raised, the registration fee will be refunded upon request.  To register your team, click on the registration for an individual run participant, you will have the option to add your team name under Registration #1 - Run Participant. Each additional team member will then select your team name from the drop down menu when they register as a race participant.
HOW MUCH DOES IT COST?
$45.00 Runner Fee (or as a Runner Family: $55 for an adult + 1 child under the age of 12)
$10.00 Zombie Fee (or as a Zombie Family: $30 for a family of 4)

The fees are not tax-receiptable and non-refundable.  However, if you bring more than $100 in pledges on race day, you have the choice to donate your race fee for a tax receipt or have your race fee reimbursed.  
All pledge money must be submitted on race day.  
HOW DO I REGISTER AS A RUNNER FAMILY OR ZOMBIE FAMILY?
Select "Participate as an individual",  then select the quantity of 1 for each family registration and click on the green register button.  You will then be directed to enter your information along with the names of the family members participating.  A single waiver will be issued and needs to be signed by all participants over 18 and by the guardians of those participants under the age of 18.  
HOW DO I PAY?
Visa and MasterCard are the preferred methods of payment. Registration is immediate when paid by credit card and guarantees you a spot in the race.  If you are unable to pay by credit card, please contact us at fsacc.therunningdead@gmail.com to make alternate arrangements.  
 
CAN I COLLECT DONATIONS ONLINE?
Yes!  Anyone can can DONATE ONLINE at this site.  Donors enter the amount they wish to donate and click 'Register'.  Donors will be asked to give a race participant's name (either a zombie or runner).  Their donation amount will be attributed to that participant's grand total amount raised.  We will issue charitable receipts for donations of $10.00 or more following the race day.     
WHAT WILL WE DO WITH YOUR DONATION? 
All donations will be used to support the various programs and services provided by the Fredericton Sexual Assault Crisis Centre. These include our 24/7 crisis line, counselling services to women and support groups for male survivors, education programs for children and young adults, training for provincial service providers such as social workers, police officers, and medical providers.  Last year, together we raised more than $13,000.  Our goal for 2015 is to raise more than $15,000. 
IS THERE A RAIN DATE? 
No, there is no rain date.  Please dress for the weather.  This event will be held on Saturday, November 7 unless there is an apocalyse (heavy snowfall and roads are impassable).  In the event of an apocalyse, this website and facebook page will be updated and race fees will be refunded.  
UPON REGISTRATION
Once registered, two confirmation emails will be sent.  The first email will be sent immediately and includes your race ticket.  The second email will be sent within 48 hours and includes a pledge form.

Please contact us at fsacc.therunningdead@gmail.com if you have any questions.
2015 RACE COURSE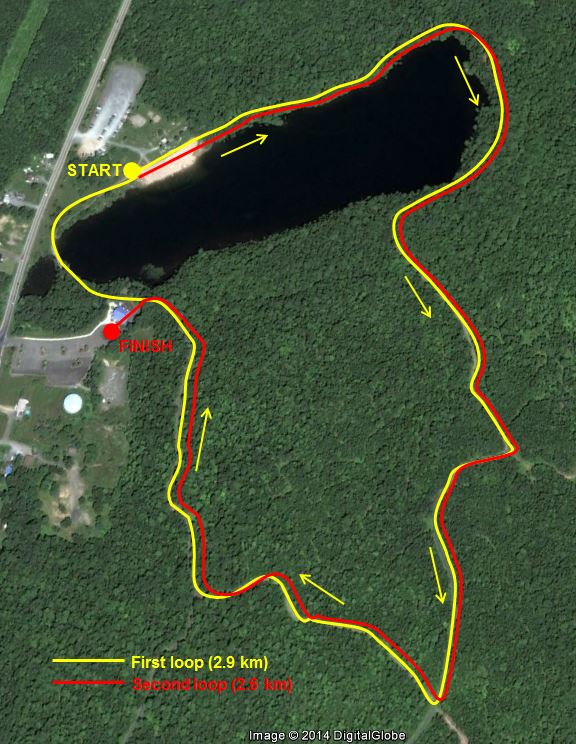 When & Where

Killarney Lake Lodge
1600 St. Mary's Street
Fredericton, E3G 8S8
Canada

Saturday, 7 November 2015 from 10:00 AM to 1:30 PM (AST)
Add to my calendar
Organizer
The Fredericton Sexual Assault Centre is a registered charity whose primary goal is reflected in a commitment to end sexual violence.