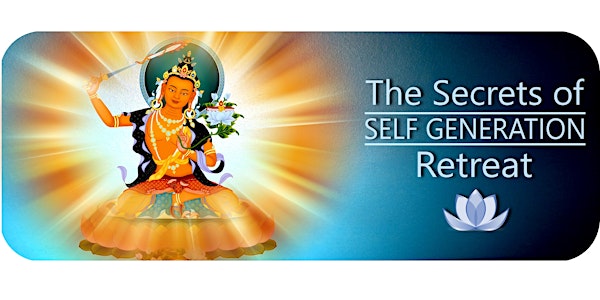 The Secrets of Self Generation Retreat
In person and Online: Guided meditation sessions to help students understand self generation & develop special meditative attributes
About this event
Receiving tantric empowerment is a doorway through which we can pass quickly to the state of full enlightenment. To ensure that this happens, we must develop our self generation practice to levels of increasing profundity and subtlety. This will be a very special opportunity to begin developing such meditative attributes. This retreat will be guided by Gen Kelsang Rabgye.
~~~
FREE to attend
You are welcome to attend in person or online (live stream)
Samudra Kadampa Buddhist Centre
370 Main St. E, Hamilton
~~~
Retreat Program
Saturday August 20, 2022
Session 1: 10:00 am. to 11:00 a.m.
Session 2: 11:30 a.m. to 12:30 a.m.
~Lunch - 12:30 p.m. to 2:00 p.m.~
Session 3: 2:00 p.m. to 3:00 p.m.
Session 4: 3:30 p.m. to 4:30 p.m.
~~~
Video streamed with Zoom for ticket holders.
For more information visit:
https://meditationinhamilton.org/
Please note:
This teaching and meditation will be streamed live at the times listed above. Link(s) will be sent by email.
Links to classes are not to be shared. Registrations are non-transferrable and a separate registration is required for each person. Booking will close one hour before the teaching begins to allow time to send out the links.
This retreat is open to everyone.