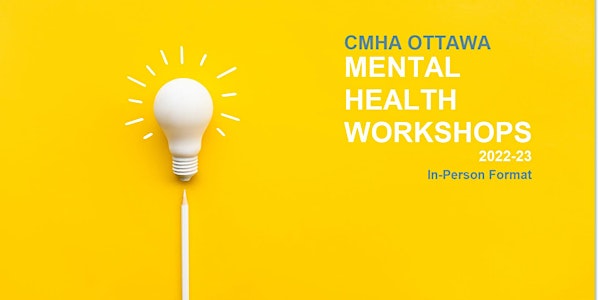 The Service Prioritization Decision Assistance Tool (SPDAT)-IN PERSON
Location
CMHA Ottawa
311 McArthur Avenue
Basement Level
Ottawa, ON K1L 8M3
Canada
The Service Prioritization Decision Assistance Tool (SPDAT)-IN PERSON
About this event
***Please note the session you are registering for will be held IN PERSON. There may be some safety protocols required for this program and we encourage you to read the information below in detail.***
The Service Prioritization Decision Assistance Tool (SPDAT)- Training
The Service Prioritization Decision Assistance Tool (SPDAT) is currently used in over 100 communities across Canada, the United States and Australia. SPDAT is a standardized assessment tool increasingly being used by homelessness serving organizations in Ottawa. Using SPDAT helps us work together with a common assessment and guides our understanding of the needs, referrals and priority of individuals and families. When you have completed the training, you can start using the SPDAT immediately.
This program is for people using this tool in their agencies: SPDAT is an evidence-informed approach to assessing an individual's or family's acuity. This tool prioritizes; across multiple components, who to serve next and why - while identifying areas in the person/family's life where support is most likely needed to avoid housing instability. SPDAT uses 15 dimensions to determine an acuity score that helps to inform who would benefit most from Housing First; Rapid Re-housing & who could end their own homelessness with little to no intervention. SPDAT also informs which areas in the person's life could be the initial focus in the case management relationship to improve housing stability & how individuals and families are changing over time as a result of the case management process.
Learning objectives:
Develop the capacity to use the SPDAT in direct service roles with people experiencing homelessness.
Explore the underlying assumption of the SPDAT suite (all of the SPDATs and VI-SPDATs)
Develop an understanding of the ways the SPDAT is used in Ottawa to improve supports to people experiencing homeless and transition into housing.
Trainer: Mik Phipps
Dates:
September 14, 2022 - 9:00AM - 12:30PM
February 17, 2023 - 9:00AM - 12:30PM
***COVID PROTOCOLS***
***Please note the session you have registered for will be held IN PERSON.
At this time, we have lifted most of the COVID restrictions in the classroom, however if the situation changes, we will make you aware of any necessary COVID protocols prior to your event. Please note, we are asking participants to maintain distancing while in class as much as possible.
If you are feeling sick, have any symptoms or think you MAY have COVID, please do not attend training and the Learning & Development team will work with you to transfer or refund your registration.
In addition, should the COVID situation worsen prior to your training event, the method of training may revert to online via Zoom. All participants will be given advanced notice.