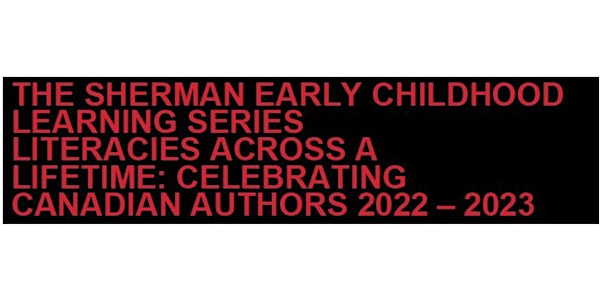 Multiple dates
The Sherman Early Childhood Learning Series: Literacies Across A Lifetime
The Sherman Early Childhood Learning Series: Literacies Across A Lifetime
Date and time
Wed, Sep 28, 2022 3:30 PM - Wed, Apr 26, 2023 4:30 PM PDT
About this event
The Ivan Coyote event has been postponed due to unforeseen circumstances and will be re-scheduled at a later date.
March 22 7:30 - 8:30 PM AST
Ivan Coyote author of Care of, Rebent Sinner and Tomboy Survival Guide
Register for free Tickets to this free online event
Ivan Coyote is a writer and storyteller. Born and raised in Whitehorse, Yukon, they are the author of thirteen books, the creator of four films, six stage shows, and three albums that combine storytelling with music. Coyote's books have won the ReLit Award, been named a Stonewall Honour Book, been longlisted for Canada Reads, and been shortlisted for the Hilary Weston Prize for non-fiction, and the Governor General's Award for non-fiction twice.
In 2017 Ivan was given an honorary Doctor of Laws from Simon Fraser University. Coyote's stories grapple with the complex and intensely personal topics of gender identity, family, class, and queer liberation, but always with a generous heart, and a quick wit. Ivan's stories manage to handle both the hilarious and the historical with reverence and compassion, and remind us all of our own fallible and imperfect humanity, while at the same time inspiring us to change the world. Ivan's 13th book, Care Of, was released in June 2021 by McClelland and Stewart.
FEBRUARY 22- 7:30-8:30 PM ADT
Amanda LeDuc author of Disfigured: On Fairy Tales, Disability and Making Space
Register for tickets
Amanda Leduc is a disability rights advocate, disabled writer and author of the non-fiction book Disfigured: On Fairy Tales, Disability and Making Space (2020) shortlisted for the 2020 Governor General's Award in Non-Fiction and longlisted for the 2020 Barbellion Prize. She is also the author of the novels The Miracles of Ordinary Men (2013) and The Centaur's Wife (2021).
Amanda has lived in Ontario, England, BC, and Scotland, and has a Masters degree in Creative Writing from the University of St. Andrews. Amanda has cerebral palsy and presently makes her home in Hamilton, Ontario, where she lives with a very lovable, very destructive dog and serves as the Communications and Development Coordinator for the Festival of Literary Diversity (FOLD), Canada's first festival for diverse authors and stories.
Leduc's valuing of diverse bodies is anchored in an examination of how fairy tales have shaped our collective expectations of disabilities across lives.
Emily Cooper Photography
JANUARY 25 - 7:30-8:30 PM ADT
Catherine Hernandez author of The Story of Us and Scarborough
Register for tickets
Catherine Hernandez is a Canadian writer, author, and playwright. She is a proud queer woman of Filipino, Spanish, Chinese and Indian descent and married into the Navajo Nation. Her novel Scarborough (2017) was a finalist for Canada Reads 2022. Scarborough was a shortlisted finalist for the 2017 Toronto Book Award. In 2020 Catherine approached documentary filmmakers Shasha Nakhai and Rich Williamson to adapt her novel for the screen. The film won Canadian Screen Award for Best Picture with Nakhai and Williamson winning Best Directors. This film is available on Crave.
Hernandez's other books include M is for Mastashe: A Pride ABC Book (2015), I Promise (2019), named one of the best Canadian picture books of 2019, the dystopian novel Crosshairs (2020), and Where Do Your Feelings Live? (2022).
Her newest book The Story of Us releases February 28, 2023.Her novel and film Scarborough follows the lives of three children living in poverty. A compassionate early childhood educator, Ms. Hina builds a sense of community, caring for the children and their families.
NOVEMBER 30 - 7:30-8:30 PM ADT
David A. Robertson author of recently published The Stone Child and The Theory of Crows
Register for tickets
David A. Robertson is a member of Norway House Cree Nation and the author of more than 25 books across a variety of genres. He is the 2021 recipient of the Writer's Union of Canada's Freedom to Read Award and in his picture book On The Trapline won his second Governor General's Literary Award. David's most recent works is The Stone Child, book three in series the Misewa Saga, and The Theory of Crows, a poignant evocative novel about the bonds of family and the gifts offered by land.
David's writing deals with heavy subjects including the residential school system in Canada. He is also the writer and host of the podcast Kíwew, which won the 2021 RTDNA Prairie Region Award for Best Podcast.
OCTOBER 26 - 7:30-8:30 PM ADT
Kelly Fritsch & Anne McGuire authors of We Move Together
Register for tickets
We Move Together follows a mixed-ability group of kids as they creatively negotiate everyday barriers and find joy and connection in disability culture and community. A kinship text for families, schools, and libraries to facilitate conversations about disability, accessibility, social justice, and community building. The Winner of the International Latino Book Awards' Best Educational Children's Picture Book in English.
Kelly Fritsch is a critical disability studies scholar and crip theorist. She is director of the Disability Justice & Crip Culture Collaboratory at Carleton University.
Anne McGuire is an associate professor in the Equity Studies program at the University of Toronto where she teaches courses on disability justice and disabled childhoods.
Each event in the series is open to the public
Register for tickets
SEPTEMBER 28 - 7:30-8:30 PM ADT
Habiba Cooper Diallo author of #BLACKINSCHOOL
Register for tickets
#BLACKINSCHOOL is Habiba Cooper Diallo's high school journal, in which she documents, processes, and resists the systemic racism, microaggressions, stereotypes, and outright racism she experienced while being Black in school in Halifax, Nova Scotia. This is a call for justice and educational reform. Habiba is an advocate and activist in support of women's maternal health. She was a finalist in the 2020 Bristol Short Story Prize, the 2019 Writers' Union of Canada Short Prose Competition, and the 2018 London Book Fair Pitch Competition.