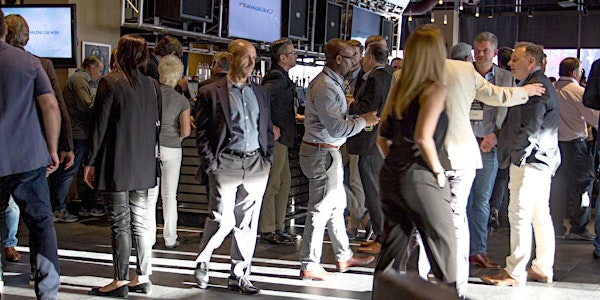 The Sixteen:Nine DSE Mixer - 2022
DSE is back, and so is the annual Sixteen:Nine networking mixer - the hottest social ticket in digital signage.
When and where
Location
Hard Rock Cafe 3771 Las Vegas Boulevard South Third Floor Las Vegas, NV 89109
About this event

The digital signage publication Sixteen:Nine has been hosting a big industry networking event on the eve of the DSE trade show and conference for more than a decade.
Now that trade shows are back, so is the mixer - with the 2022 edition set for Nov. 16th in Las Vegas, at the Hard Rock Cafe on the strip. It's the same third-floor venue we've been using for many years.
The focus, as always, is on creating a forum where people can gather and chat, renew old friendships and develop new business relationships. We keep the music down low so people can actually have a conversation without hollering at each other.
It's a big space that allows people to not feel crowded, and we've got full access to an outdoor patio overlooking the Strip, if people want fresh air and a breeze, and a way to minimize whatever health risks might exist come mid-November.
As always, the event is free admission, and we'll buy you a couple of drinks and make some snacks available to tide people over to dinner, whatever their plans might be for later that evening.
We start early, so that people do have time to meet with their colleagues or clients for dinner or drinks elsewhere. This year, we're starting even earlier. We're doing a pre-event at the same venue, starting at 4:30. It will be a lively discussion panel that will run for about an hour and lead into the 5:30 formal start of the mixer. The topic will be Mergers and Acquisitions, and will feature CEOs from at least three software and solutions firms actively rolling up the industry.
Registration gets you access to both events, and this part of it is also free.
This event happens because of the support of sponsors. For 2022, the sponsors are:
COVID is still, unfortunately, a part of our lives, but there has been enough information and experience, and enough access to vaccines, that we feel comfortable holding a networking event. But we still encourage people to be aware of health risks and conduct themselves appropriately. This year's registration form includes a waiver, acknowledging the mixer - like just about any event at a trade show - presents transmission risks.
Historically, tickets go fast - as quickly as one day. So if you want to attend, get your tickets lined up as as soon as you can. And if plans change, please let us know so we can make room for someone else, should the tickets all go.