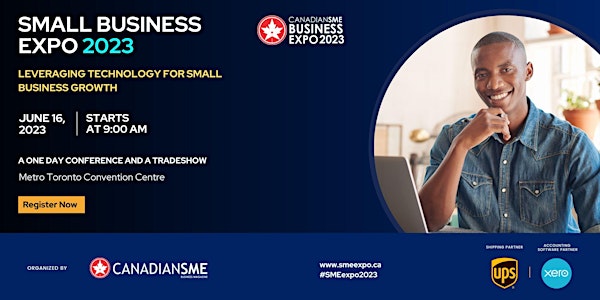 The Small Business Expo 2023
The CanadianSME Small Business Expo 2023 - Leveraging Technology For small business Growth
By CanadianSME Business Magazine
Date and time
Fri, Jun 16, 2023 8:00 AM - 6:00 PM EDT
Location
Metro Toronto Convention Centre (MTCC) 255 Front Street West Toronto, ON M5V 2W6 Canada
About this event
Welcome to CanadianSME Small Business Expo 2023 powered by CanadianSME, the premier and most relevant platform for SMEs in Canada. We highlight growing businesses and thought leaders with a strong focus on innovation, growth and marketing to generate the results you believe you are capable of.
Technology has a hand in every successful business. From its earliest applications like web design and search optimization to more advanced industry advancements such as machine learning and artificial intelligence, these innovations have made trades of all sizes more successful than ever before. Attendees of this upcoming event will have the chance to gain other valuable insights that are essential for any small business leader's success. They can expect to be educated on social media strategy and video content creation coupled with Cloud and Technology adoption. We'll go even further by exploring women in tech, entrepreneurial resilience, and much more! This is one gathering every tech-savvy small business leader cannot miss.
The Small Business Expo 2023 emphasizes the use of technology to grow small businesses. Technology has created many opportunities for entrepreneurs to gain a competitive edge, expand their markets, and adapt quickly to changing trends. We invite all small business owners to attend this dynamic expo, which features best practices from other organizations and networking opportunities. Attendees will learn how to integrate digital solutions into their infrastructure and create innovative long-term business growth plans.
This is a must-attend event for anyone looking to leverage technology and innovation to grow their business. Don't miss this rewarding opportunity to learn from Canada's top business leaders and entrepreneurs. Mark your calendars and get ready to take your business to the next level!
Why should you attend?
Our Business Expo provides incredible networking opportunities for both experienced SME owners looking to promote their products, plus newcomers seeking out new business ventures. Ultimately, we strive to foster powerful connections between ambitious professionals - each benefiting from one another's unique knowledge and experience
Who should attend?
At CanadianSME's Small Business Expo, we welcome everyone from small business leaders, Owners, CEOs, Business consultants, Finance, and HR managers to IT decision-makers from small and medium enterprises who face challenges adopting innovative technologies.
Why should one consider sponsoring the CanadianSME Business Summit 2022?
Small businesses account for over 97.25 percent of the total business in Canada. These businesses have less than 50 employees at most and they still are successful in providing jobs for more than one million people in the country out of which 55% are in the private sector. Now the question that comes is, what is there in this expo, how will it help small businesses realize their goals, and why should one consider sponsoring the CandianSME Small Business Expo 2023?
Well, before we proceed to talk in detail about why you should sponsor our expo, we'd like to mention that this will be an excellent opportunity for different brands to connect with small businesses across Canada and find a way to integrate their brand for a bigger aim. Additionally, it will help the sponsor grow their:
Brand in the marketplace for small businesses
Gain exposure across various sectors and industries.
Grow a potential client base.
If you are interested in sponsoring the Small Business Expo 2023, please email us at sk@canadiansme.ca or info@canadiansme.ca
About the organizer
Canadian SME Magazine understands the need for providing a helping hand to new businesses. We've developed the idea of educating, encouraging and enhancing young businesses through influential writings presented by experts from various business fields. Through this magazine, Canadian entrepreneurs would be inspired into doing more and working smarter in order to achieve their goals. The succinct idea is to strengthen the conduct of Canadian SMEs: fortify their foundations and provide a smoother ride towards success with acquiring the best spot in the marketplace. And so, the Magazine's vivid aim remains to empower the Canadian SMEs and position them as the leading aces in their fields through its services.
www.canadiansme.ca