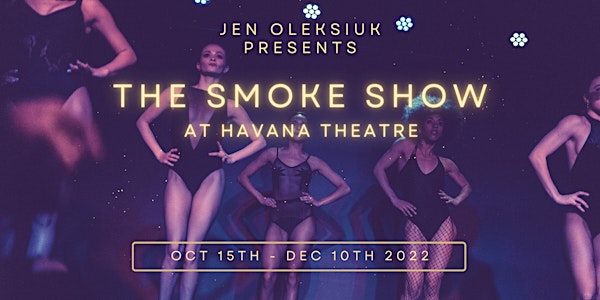 The Smoke Show at Havana Theatre
The Smoke Show is an interactive tease of comedic clichés, awkward intimacy and, of course, wild seduction. Sexy & dangerously fun!
When and where
Location
Havana Vancouver 1212 Commercial Drive Vancouver, BC V5L 3X4 Canada
About this event
Created and directed by renowned Vancouver-based choreographer Jen Oleksiuk with collaborations from a star studded cast!
Dripping with provocative and intimate audience encounters, this resurgence and re-envisioning of traditional cabaret, abundant in sex appeal and cheeky humour is performed, produced and owned exclusively by women.
The Smoke Show's iconic weekly show "The Revival" returns, now at the intimate Havana Theatre. The dancers are back on the dance floor, the tables, and you in this immersive and arousing cabaret. Hold on to your drinks - This is not your average cabaret.
A rotating cast of Vancouver's top notch dancers. When they're not at The Smoke Show, they're on screen for Netflix, Parmount, The CW and more.
The Smoke Show's fall 2022 season has various dates and start times. Pre purchased tickets highly encouraged as this show sells out! All tickets are general admission and seating is first come first served.
Nov 12th: 6:30pm Doors & 7:15pm Show time
Nov. 15th, Dec. 4th & Dec. 10th: 7:30pm Doors & 8:30pm Show time
Nov 19th, Nov 26th & Dec 3rd: 9:30pm Doors & 10pm Show time
The Smoke Show's "The Revival" runs just over 90 minutes including an intermission.
All shows are at the intimate Havana Theatre at 1212 Commercial Dr, Vancouver B.C.
Please note all seats are first come first serve! Depending on your party size you may be seated with another group. (e.g., two separate groups of 2 may be seated together at a table that seats 4). If you are a large party you may be seated separately if large tables are already spoken for. Early arrival is highly encouraged for choice seating and drink orders!
There is no food service throughout the show. Drink service is before start of show and during intermission only to ensure safety of audience, staff and performers. So get there at doors to drink up and enjoy the show!
Cast list, past, present & future show details, sexy photos and behind the scenes captures all on our socials!
Show dates: Oct. 29th, 30th , Nov. 2nd, 5th, 9th, 12th, 15th, 19th, 26th, Dec. 3rd, 4th, 10th
5 performers per show! Our rotating cast of incredible performers include: Charlotte Kavanagh, Kelsey Moss, Shae Bourne, Marisa Gold, Randa Barett, Holly LaRoche, Emma Stephenson, AND (new to our roster) introducing Emma Willey, Sydney Carlson & Jenna Homan!
Creator, Director, Producer & Head Choreographer: Jen Oleksiuk
Stage manager & cast apprentice: Alyssa Del Degan
Lighting tech: Neil Battle
Crew & Special Thanks to: Mark Glimm, Louise Hradsky, Morgan Tanner, Johnathon Hinton, Jared Outten, Chelsea Hartwick, Sarah Corrigan, Natasha Gorrie, Mike de Jong, Aaron Dudley & Richie, and, of course, our studio sponsor One Thousand Rivers!