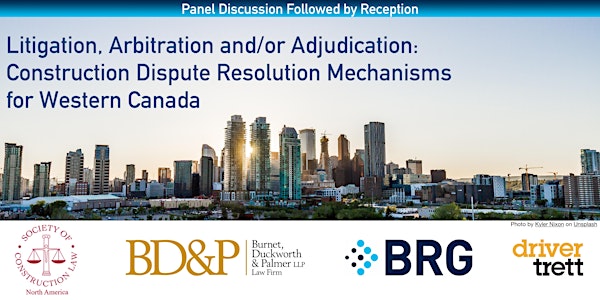 The Society of Construction Law Prairies Region. - Construction Dispute Resolution Mechanisms for Western Canada
When and where
Location
Calgary Petroleum Club 319 5 Avenue Southwest Calgary, AB T2P 0L5 Canada
Description
Litigation. Arbitration and/or Adjudication
Construction Dispute Resolution Mechanisms for Western Canada.
Construction projects experience numerous challenges, which can result in disputes between any of the involved parties: owners, consultants, contractors and subcontractors. In some cases, these disputes threaten the timing and/or economics of project completion. As a result, the availability of cost-effective, efficient, timely and fair dispute resolution mechanisms is important. Recently, some jurisdictions have adopted the adjudication model to better achieve these results, but are the currently available mechanisms (litigation, arbitration, mediation) broken?, and what complications could arise from adding another dispute resolution mechanism?
Join us for an afternoon discussing these and other questions relating to construction dispute resolution mechanisms.
Moderator:
Mr. David De Groot. Burnet, Duckworth & Palmer LLP.
Discussion Panel:
Mr. Bill Kenny. Miller Thompson LLP
Mr. Kevin O'Neill. Driver Trett Canada Ltd.
Mr Colin Christie. Mastec Inc.
Presented by:
The Society of Construction Law Prairies Region.
Burnet, Duckworth & Palmer LLP.
Berkeley Research Group LLC.
Driver Trett Canada Ltd.
Should you be unable to attend in person please contact jbaxter@thinkbrg.com to arrange webex details, and note this in the special requests when registering.