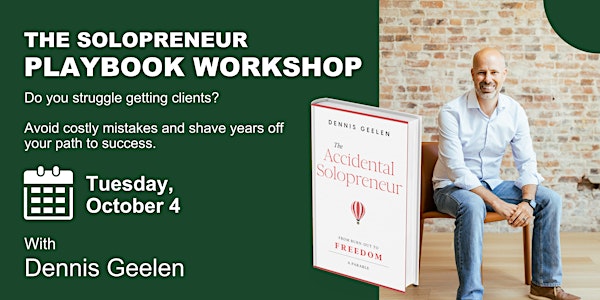 The Solopreneur Playbook Workshop
A 6-step roadmap to successfully getting more clients as a consultant, freelancer, editor, and other solopreneur journeys!
When and where
Location
Venture North Building 270 George Street North Basement - EVEREST Boardroom Peterborough, ON K9J 2W1 Canada
About this event
✨ All attendees will be entered into a draw to win a signed copy of The Accidental Solopreneur! ✨
IMPORTANT NOTES:
An Excel workbook will be sent to your email to download on the morning of the workshop. Please print off the pages and bring with you to the workshop or bring a laptop to fill in the workbook.
Please have your printed or mobile ticket ready for arrival.
Bring a notebook and pen or laptop. We will have extra supplies on hand if needed.
The workshop is located at The Venture North Building (270 George St. N.). Enter the elevator through the main doors and click G. The workshop will be in the boardroom to your right.
The Solopreneur Playbook - Workshop
Learn the 6 critical steps I followed to start my own successful solopreneur consulting practice (Zero In).
You're an expert in what you coach, consult, or deliver for your clients, not in branding, marketing, and selling yourself.
Avoid all the costly mistakes I made and shave years off your path to success.
Deciding to bet on yourself is an amazing first step...kudos to you! But now you need a roadmap for success or risk becoming another statistic as a failed startup.
Most solopreneurs struggle with getting clients. Why?
❌ They don't know how to properly define their niche and be seen as credible experts.
❌ They don't know how to package and price their services effectively.
It's not your fault, you're an expert in what you know, not in sales and marketing! Getting clarity and defining a roadmap for success is what you really need.
The Solopreneur Playbook Workshop will get you organized so you can start working with clients faster!
You'll learn these 6 steps:
✔️ Determining your niche to be seen as an expert (not a generalist!)
✔️ How to network and collect valuable testimonials to build your credibility
✔️ How to refine your offer so it is priced and packaged as a product (rather than trading your time for money)
✔️ How to sell. Without customers you have no business!
✔️ Why and How to build an audience that resonates with your message
✔️ The value of building extra income streams to diversify your revenue
In this workshop, Dennis Geelen will share strategies, tips, and real life examples for building your successful solopreneur practice, along with a workbook full of templates for you to apply to your business. By the end of this workshop, you'll have a roadmap for success as a solopreneur.
Here is a preview of what to expect in the workshop:
Part 1: Workshop Intro
- Who am I?
- What to expect in this course
Part 2: Be The Expert
- Why get specific?
- The anatomy of a niche
- The niche template walkthrough
Part 3: Building Credibility
- Why you?
- The two components of credibility
- Effective networking (including a networking template)
- The most valuable testimonials (including a testimonial template)
Part 4: Refining Your Offer
- The anatomy of a great offer
- Why package and sell your offer like a product?
- The offer template walkthrough
Part 5: Learn to Sell
- Understanding how to play the long game
- Why it is so important to lead with value
- Learn to sell the benefits, not the features
- Sales is a numbers game (including templates for effective sales outreach)
Part 6: Building an Audience
- Why it matters
- Important strategies and tips
- Examples to follow
Part 7: Creating Extra Income Streams
- Why this is the pot of gold you are after
- Examples from me and Zero In
- Examples from others
- Helpful strategies and tips
About Dennis Geelen
Dennis Geelen, is the Founder and Chief Difference Maker at his solo consulting company, Zero In, that he founded in 2018. Through Zero In, Dennis helps companies 'solve indifference' by implementing strategies to build a brand customers love and culture where people are passionate to work.
Author of the best-selling book The Zero In Formula, Mr. Geelen has worked with companies in several industries, spoken at countless events, conferences, workshops, webinars, with dozens of guest appearances on international podcasts.
And now? Dennis also helps other solopreneurs get started. With his latest book, 'The Accidental Solopreneur', providing a playbook for success and told through a riveting and relatable parable that is getting rave reviews from entrepreneurs around the globe.
About Community Futures
Community Futures Peterborough's mission is to support small business with flexible financing and strategic advisory services that encourages sustainable employment and accelerates business growth. The Community Futures Program is funded by the Federal Economic Development Agency for Southern Ontario (FedDev Ontario). More information about the Community Futures Peterborough programs can be found on the website at https://communityfuturespeterborough.ca/.
*By purchasing a ticket, you will automatically be added to our email marketing list so you can stay updated on our latest news and upcoming events! You can unsubscribe at any time.
If you do not wish to be added, please email info@cfpeterborough.ca