Description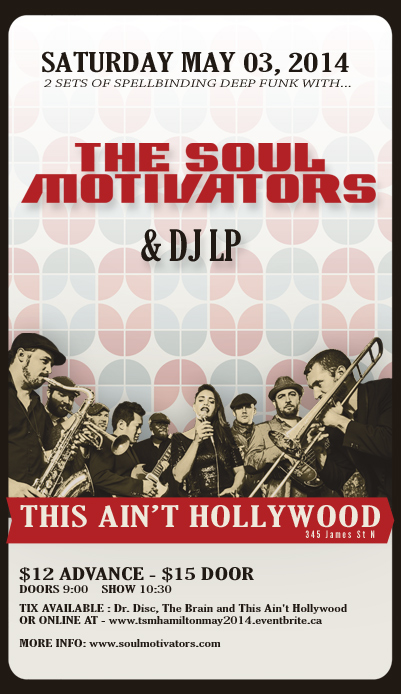 Toronto's nine-piece, deep-funk explosion The Soul Motivators return to Hamilton, Ontario with a show at This Ain't Hollywood on May 3rd.
As well as regular airplay on national and college radio, the band has racked up numerous club and festival dates across Ontario and Quebec and opened for legendary acts such as Lee Fields, Bernie Worrell and Afrika Bambaataa.
This funk machine boasts chanking guitar riffs, crisp horns and a screaming B3. The rolling bass and fatback drums will motivate you to the dancefloor and Ms. Persaud's straight-up, raw vocal style will mesmerize all around. Their live show blends elements from across the spectrum – a solid soul review, afrobeat, the roots of funk and classic hip-hop breaks. Showcasing originals, rare covers, new joints and a few surprises, this slick show will keep the crowd moving all night long.
Offering an alternative to classic mainstream soul, the band gained local attention in 2012 for their love of these gritty, rare grooves from the early 70s. They released their debut EP in March 2013 to a fanfare from CBC Radio 1 - a glowing review by Toronto journalist Errol Nazareth and "Until The Sun Goes Down" was made track of the week on the afternoon drivetime show Here and Now.
The excitement quickly spread further afield with shows in Ottawa and Hamilton and CBC airplay in Halifax and Windsor. Then Frank Raines, head of Detroit based boutique label, Funk Night Records, heard the buzz across the border and signed the band for a limited edition 45.
2013 finished on a high-note with "Until The Sun Goes Down" featured on GQ.com's Man of The Year video feature.
With further vinyl releases planned, an upcoming documentary soundtrack and summer dates in the works, this show is sure to bring a funky ruckus to Hamilton.
Grab your pre-sale tickets now for an unforgettable night of moves, grooves and Motivation!

DETAILS
The Soul Motivators [Deep Funk/Soul]
DJ LP
Doors - 9pm
Venue - This Ain't Hollywood (345 James St N)
19+ event - ID REQUIRED
The Soul Motivators hit groove "Until The Sun Goes Down" available on Bandcamp
Have any questions regarding the event or otherwise? Reach out to Nathan at:
info@soulmotivators.com
416-807-7552