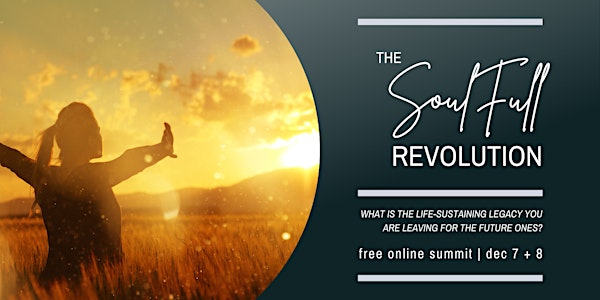 The SoulFull Revolution - Free Online Summit Dec 7 + 8, 2022
Join the FREE Online SoulFull Revolution
Refund Policy
Refunds up to 30 days before event
About this event
As a SoulFull human, you are a Wayshower in this time of what Joanna Macy has termed 'The Great Turning'. There is no mistake that you have chosen this life path, at this crucial time in our living history.
How are you showing up in your life and for those you are called to serve? Do you feel connected to the wisdom of your Ancestors? Are you living in full recognition that everything you do now is a contribution to the world we are building together?
In every moment we have a choice. An opportunity to stand up. To heed the call of our Ancestors and to build a Legacy that the Future Ones will be proud of - remembering that, to them, you are the Ancestors.
Join us December 7 + 8 (9am to 4:30pm MST) for The SoulFull Revolution. Over 2 days, we will be featuring some of the best Speakers, Coaches, Entrepreneurs and Wayshowers we know to share their secrets on how they have been able to connect more deeply with their Ancestors, heal generational wounds, and build a life-sustaining legacy that will inspire each of us to living in a more SoulFull way.
During this two-day free online event you will discover:
How to heal ancestral pain and trauma
Receive guidance and wisdom from your Ancestors
Create a clear path forward for your next steps
Create the confidence you need to make new, bold decisions that will accelerate your personal transformation
How to go faster and further by working together
How to start an inner revolution that will transform your life and get you the results you desire
……and so much more!
Don't miss this exclusive opportunity to learn from the Wayshowers of our time!
Free Gifts Included with the Free Registration - Approx Value - $1635
Living From The Heart E-Book
Life Balance Book – PDF Copy
1-Hour Relationship Breakthrough Session
Signed Copy – How Psychedelics Can Help Save the World – Stephen Gray
3 Easy Changes to Your Kitchen Cupboard
Ancestral Alignment guided meditation
30-Minute SoulFull Support Call
Copy of Our Yellow Brick Road + 30 Minute Finding Your Flow Consultation
Shamanic Healing Consultation with Intuitive Card Reading
Self Love Activation Kit
75 Minute Group Energy Clearing and Rebalance
SIT – Healing Loop – Reprogramming Your Mind for Peace
Unstoppable You Session
Ignite Your Purpose Session
Boundaries Masterclass
VIP Gifts Included with the VIP Ticket - Approx Value - $2238 - *VIP ticket holders receive both sets of gifts
Level 1 - Basic Program
45-Minute Wisdom Coaching Session
Private Consultation
Free Consultation for Your Nutrient Dense Kitchen
Ancestral Reconnection Discovery Call
SoulFull Journey Embodiment
Envision Session
The Joy Sessions on Demand
Finding Your Flow Consultation
The F Word
75-Minute Group Energy Clearing & Rebalance
Step Forward into Ancestral Purpose
Meditation Bundle
The SoulFull Revolution is FREE to attend with basic registration. If you'd like to receive the recordings and special gifts being shared by each of the Speakers, please choose the VIP registration option for only $47.