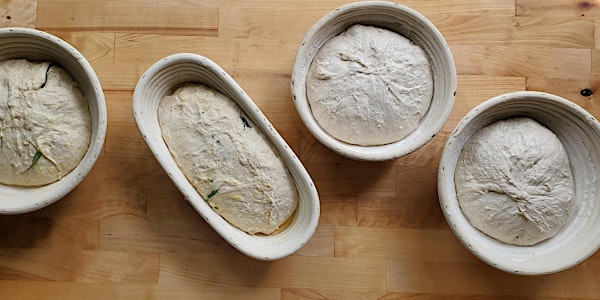 The Sourdough Experience - Level II (Jan.14/15)
An in-depth, multi-day, hands-on Sourdough workshop discussing and using starter and milling fresh grains to create a variety of recipes.
When and where
Location
Red Hen Artisanale 384265 Concession 4 Priceville, ON N0C 1K0 Canada
About this event
This is a fully hands-on workshop, where you will indeed leave with your hands full after a full day and a half together making, baking, and eating bread!
Sourdough starter can be used for much more than 'just' making delicious and nutritious loaves of bread. In this 2-day workshop, we will create a variety of recipes using our starter. We will look at Sourdough every step of the way -- from mixing, to shaping, to scoring and baking. We will discuss how temperature plays a role in the fermentation process, the health benefits of sourdough, how to boost activity in your starter and keep it happy and healthy, look at, talk about, and use a variety of ancient grains, and get you comfortable with tackling a range of sourdough based recipes. This workshop is great for the individual who has baked sourdough before and really wants to nail down every step -- we'll demystify any of your questions that have arisen in your baking so far. It's also a great workshop for someone looking to develop a new skill and walk away with the confidence and knowledge to carry on, on your own.
In this workshop, we will discuss a variety of grains and get familiar with their scents, flavours, and appearances. Each Baker will have a couple of opportunities to mill grain into fresh flour in my Komo stone mill. During the workshop we will work our way through preparing classic loaves of sourdough. All other recipes prepared during the workshop are subject to change as the host sees fit, but may include: Sourdough Pie Dough, Sourdough Whole Grain Biscuits, Sourdough Bagels, 100% Sourdough Rye Bread.
An example of how the workshop will flow:
Day 1 (9am-2pm) will consist of:
- Mixing, fermenting and shaping our sourdough loaves before they go into the fridge for the evening.
- Building out and baking a loaf of 100% rye bread
- Analyze, discuss and mill grain into fresh flour for our recipes
- 1 other sourdough based recipe
- Leisurely lunch featuring seasonal and preserved ingredients
Day 2 (9am-12pm) will consist of:
- Breakfast upon arrival
- Scoring and Baking our sourdough from Day 1
- Feeding starter to take home and fielding all sourdough starter questions
- Discussing specific books, websites and tools available to keep you on the right track once you get home
At the end of the workshop, each Baker will go home with:
:: A detailed booklet containing all of the information we covered in our workshop -- as well as the knowledge and skill to turn your workshop products into delicious final products from the comfort of your own home
:: A jar of sourdough starter for your to continue on your baking journey with
:: 2 loaves of freshly baked Sourdough and all other baked goods you've prepared
:: A new network of like-minded baking acquaintances
This workshop takes place in a private baking studio, Red Hen Artisanale. It is located across from the beautifully copper clad St. John's Catholic Church in Glenelg Centre along the Saugeen River. More details of locating the studio will be sent upon registration.
Extra Info:
COVID?
All workshops will take place in accordance with government guidelines and restrictions in place at the time the workshop takes place. In order to keep everyone as safe and healthy as possible during workshops, masking and spacing may be required by workshoppers, even if this is not enforced by the government. Should the workshop be cancelled due to a government shutdown, guests will be offered the opportunity to transfer their ticket to a future event, or receive a refund. Guests will be asked to monitor themselves for any covid symptoms and refrain from attending if you are unwell. If you cannot attend, you are welcome to send someone in your place.
Should there be any cancellation of this workshop due to government shutdowns, guests will have the option for a full refund or to transfer their ticket forward to another event.
FAQs
What if I've never baked before and don't really know anything about sourdough?!
Although some previous knowledge of sourdough may be helpful, this course is designed to educate people of all skill levels. Please come, bring your curiosity and get ready to learn!
Do I need to bring any tools/aprons/bowls/etc. with me?
All equipment and ingredients needed for the workshop will be ready and waiting for you.
What is the refund policy?
All tickets are final sale. Refunds will only be provided should Lauren need to cancel the workshop or the government mandates a shutdown. If you purchase your ticket and you are unable to attend, you are welcome to send someone in your place. Please just email Lauren to notify of the modifications.
How long is the workshop?
The workshop will run from 9am until approximately 2pm on Day 1, and 9am-12pm on Day 2. The time is dependent on how much curiosity and conversation is created throughout the day.
How can I contact the event organizer?
The best way to contact Lauren is via email at: hello@redhenartisanale.com
Thinking of attending a workshop and wondering what other people have had to say of past experiences? Check it out!:
"Loved the workshop! A great instructor and a fun group to learn with. My husband and I loved the pie!" - Debbie
"Lauren made our day fun and I learned a lot. Would recommend this class to anyone. Posted my pie on Facebook and got a TON of compliments! Thank you Lauren!"
"CANADA'S OWN SOURDOUGH QUEEN - I have been searching for a sourdough bread teacher for a hands-on experience for over a year. Initially all that I could find was in England, UNTIL Lauren Hambleton answered my bread prayers and opened her own culinary school (2022). I have just completed Lauren's two day super sourdough & grains experience. What a treat! Lauren is bright, professional, fun and passionate about health. She backs up all of these qualities with an impressive culinary resume. Her school is located in a peaceful area in the countryside of Priceville, Ontario. Take one of Lauren's workshops and let her inspire you and draw you back to time-honoured traditions." - Linda