Event Information
Location
Endeavor Arts & Event Space
#200, 1209 1st Street SW
Alberta
Description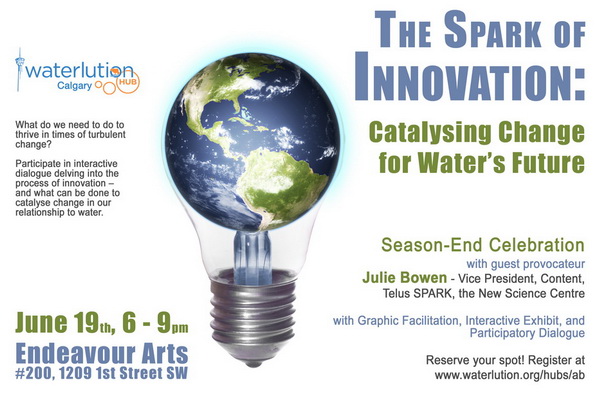 The Waterlution Hub Network Presents
The Spark of Innovation:
Catalysing Change for Water's Future
Season-End Celebration
with guest provocateur
Julie Bowen - Vice President, Content
Telus SPARK - the New Science Centre
With Graphic Facilitator Matt Mayer, Conscious Brands

Plus! An interactive exhibit from Telus Spark with Kris Kelly:

"Collaborate to create a monumental time-lapse animation of a river and the changing land bordering it as it twists and turns, ebbs and flows. "
Snacks & refreshments provided. Cash-bar included.
What do we need to do to thrive in times of turbulent change? Join Waterlution as we delve into the process of innovation – and what can be done to catalyse change in our relationship to water.
Tuesday June 19, 2012 ~ 6.30-9pm. Doors at 6pm
Where: Endeavor Arts & Event Space,#200, 1209 1st Street SW
Admission: Pay-what-you-can
Reservation Required at www.waterlution.org/hubs/ab
Waterlution thanks its supporters: the RBC Blue Water Project, The Calgary Foundation, Alberta Ecotrust and Nexen for their generous support of the Waterlution Calgary Hub.
Please contact Mike or Alla, at mike@waterlution.org/ alla@waterlution.org for further information.
See this great video "Where Good Ideas Come From."
Date and time
Location
Endeavor Arts & Event Space
#200, 1209 1st Street SW
Alberta
Organizer of The Spark of Innovation
Waterlution inspires pattern-making and pattern-breaking change towards a healthy and sustainable relationship with water.
We develop dynamic communities of action by providing opportunities for leadership development and multi-stakeholder dialogue around local, regional and national water issues. 
Waterlution Hubs are all about building robust communities of effective water leadership. Based in select cities across Canada, they are networks of water-focused change-makers who learn from one another and build each others' capacity to make real change towards the sustainable management of water resources and watersheds in their communities.
 www.waterlution.org/hubs/ab