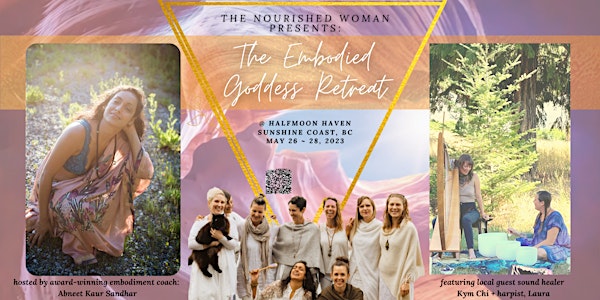 The Spring 2023 Nourished Woman Retreat: Embodied Goddess
Come join us for a 3 day, 2 night weekend retreat in the lush depths of our coastal rainforest sanctuary to deeply nourish your body + soul.
Date and time
May 26 · 4pm - May 28 · 12pm PDT
Location
Halfmoon Haven Retreat Center 8505 Redroofs Rd Halfmoon Bay, BC V0N1Y1 Canada
About this event
1 day 20 hours

Mobile eTicket
UPDATE: Receive early bird of $997 for shared room per person, as of 3/29 only 2 shared rooms left ( 4 spots)
Make sure to email to get latest availability:
abneetsandhar@gmail.com
~*~
Aligned. Knowing. Full Bloom Radiance. Clear. Shining. Grounded.
These qualities all exist within us, yet for so many women, we feel depleted + defeated, attention being pulled in many different directions, with a low-grade fever of constant overwhelm.
We may feel racked with guilt, shame, and comparison, constantly feeling we don't 'measure up'.
This is a wake up call-- the time for the Nourished Woman is now.
This is an invitation to gently awaken and rise out of this trance, through connecting with other women in a conscious and loving way, through touch, our own wild uninhibited expression, grieving and celebration, we can find a way back to our True Nature, our instinct and move in the world in this new empowered way.
If you are ready to really receive the self- care you deserve and feel open to connecting in vulnerability with other sisters, then come. I invite you to the 4th annual Nourished Woman retreat: The Embodied Goddess, held on the unceded territories of the Coast Salish Peoples on these sacred lands of Sunshine Coast BC at our stunning retreat center.
We are blessed to practice and play here.
This is a rare opportunity to connect back to your inner guidance system, connect deeper to your body, to Nature, to other sisters, and sacred food nourishment in a pristine backdrop of old growth forest and pacific ocean waters. The time of the Nourished Woman is now.
~*~
Our retreat is happening on the stunning Sunshine Coast at Half Moon Haven retreat center on May 26 ~ 28, 2023. Only 40 min ferry ride from Horseshoe Bay ferry terminal, and an additional 40 min drive to the site.
This is where we had our first retreat ever back in 2019-- here is the professional retreat video we made for you:
https://vimeo.com/455886015
Check out the stunning retreat location with ocean side views, a temple yurt, hot tub, full spa on site and perched on sacred indigenous lands. Many plant medicine retreats have taken place here as well as other incredible healing events-- it is a super charged land with high healing frequency.
https://halfmoonhaven.ca/
Themes we will be covering:
- Igniting and balancing the inner divine masculine ( Shiva) with inner feminine ( Shakti) for more pleasure and presence in your life.
- learning tantra for the feminine heart - how to soften, relax and receive.
- learning authentic lineage Arkaya yoga + kundalini teachings to calm + root the nervous system.
- learn how to embody tantric GODDESS archetypes to up-level every area of your life
- learning how to take up space and express yourself unapologetically
- Woman's temple teachings: how to root, ground, receive and express from the heart.
Focus is on heart chakra healing, and throat chakra activation.
Includes:
- fully catered vegan, Ayurvedic meals from Friday night to Sunday morning by our talented chef Ritika
- Nourished Woman welcome swag bag with handcrafted gifts for your self-care ( $50 value)
- Access to all spa amenities ( out door hot tub, steam, sauna + cold plunge :)
- 1 ecstatic dance night with rose cacao ceremony
-1 crystal bowl + Harp Sound healing bath by local sound healers Kym Chi + Laura
- Daily group sacred embodiment, yogic + tantric temple sessions in the Yurt with Abneet
- 2 morning nervous system regulating yoga sessions with Amijot
- group yoni steam water ceremony
- Fire release ceremony
- optional: group dry brushing + cold plunge!
- Includes 2 nights of luxurious sleep in the gorgeous rooms inside the Ocean View suite.`
`ADD-ONS:
- option for 1:1 holistic healing massage with Sanjeet, and Reiki sessions with Ami ( powerful!)
Investment:
Full weekend immersion investment is $1111/per person for shared accommodation ( 2 ppl in 1 room), with 1 option for a private room at $1333 in the Beach Studio.
Deposit of $500 required to reserve your seat. Payment plans available.
Only 8 seats open as this is a super intimate group we are creating. Expect MAJOR shifts and transformations!
How to sign up?
Email at: abneetsandhar@gmail.com with interest and we will send along sign up form, with e-transfer deposits accepted to this email, or use credit card through Event Brite.
Have any questions or concerns? Just reach out.
I am SO excited to share this weekend of healing, awakening and relaxation with you.
May we be rooted, rested and radiant.
With warmth,
Abneet Kaur Sandhar
Come embody, live the Goddess archetype and receive the sacred self-care you deserve- not as a trend but for real, as a living blueprint of luminous radiance and power ( shakti) within you.
Come awaken, rest and re-align with us.
ABOUT THE FACILITATORS::
Abneet:
Abneet Kaur Sandhar is a Feminine Embodiment Coach, ceremonialist + movement facilitator. She is a magic maker and devotee of the Goddess. She is also a certified Holistic Nutritionist + Natural foods Alchemist/ Chef. Most recently becoming a woman's temple facilitator in Boulder, CO in May 2019, she has completed multiple leadership trainings with Awakening Woman's Institute and 300hr classical Indian tantra yoga teacher training with Arkaya Yoga- an authentic lineage tradition.
In Summer 2021, she was awarded for her community leadership and facilitation by the Visioneers Network, and in summer of 2022 her work in Tantra was featured in Cosmo magazine.
Abneet is OBSESSED with guiding women back to her inner healing capability and reclaiming inner power. A former academic and school teacher (Abby has 2 previous degrees in Humanities/Psychology & Education) her soul yearned to meld the metaphysical + theoretical learnings with living practise + embodiment of ancient truths.
A former burlesque model, nude art model and life-long dancer, she encourages women in her practice to enter their bodies more fully in order to show up deeper in every aspect of their lives and LIVE her practise for real; In self care, in intimate relating, communication, money, sex.
She has been operating her food business "The Flying Abneet"- a holistic meal prep, small event catering and consult centre, since 2011 with humble beginnings in Seoul, South Korea when she taught there as a school teacher. After years of studying spiritual self- healing techniques, meditations, yoga and dance, holistic nutrition, she brings you a second venture in 2017 "The Nourished Woman"-- a safe space for women of all walks of life to come together in community to celebrate and express their most honest raw selves.
The time for feminine leadership on the Earth is rising, and women can support each other in these times, as we also steadily and gently do our own inner-self work and care.
Abneet currently offers private mentorship in her 1:1 Embodied Woman Sacred Reclamation Accelerator spanning 12 weeks, international goddess retreats and the 8 week Awakening Shakti tantra yoga course.
She specifically works 1:1 with feminine visionaries, leaders and artists to help them embody a profound sense of rootedness and radiance that up-levels every aspect of her life. Women who have completed 12 week journeys with Abneet as their spiritual embodiment guide, have learned how to establish healthy boundaries, re-awaken pleasure, re-sensitive their bodies, open their hearts to healthy loving relationships, and create flourishing feminine-led businesses.
You can book a free 30 min call to learn more at:
https://calendly.com/abneetsandhar/30min-1hr
You can read her full bio at:
www. abneetsandhar.com/about
~*~
S O U N D H E A L E R S B I O:
KYM:
Kym Chi is a wise woman, healer, facilitator, mentor and heArtist. She is passionate about empowerment and has a true gift for supporting others to connect with the earth, themselves and the greater community. She helps people see their innate gifts and offerings and provides frameworks that can then help them understand how they can nurture, explore and share them.
Kym is grateful to settle on the unceded Coast Salish Territories of the Squamish and shishalh Nations where she practices and teaches Permaculture, & Plant Medicine, offers self empowered healing sessions, Sound Journey's and creates HeArtwork.
Learn more at:
LAURA :
Laura plays the harp & synthesizer and loves to collaborate musically from sound ceremonies to campfire jams. She is a grounded & empowered empath, peacefully standing up for social & ecological justice. Her ongoing intention is to be present & connected to her heart, embodied wisdom, breath, intuition, spirit and the magnificence of the more-than-human world <3
She has completed a life coaching diploma & is currently studying to become a holistic eco-counsellor at Rhodes Wellness College while designing & tending to ecological & edible gardens (and saving seeds) on the side.
~* ~
Ayurvedic Chef bio:
Ritika Kaira Vinchurkar @healthcoach.in
Ritika is a perfect blend of anicient wisdom of ayurveda and modern holistic nutrition. She not only works as a health coach but is also passionate about food and caters intimate gatherings on a soul level of nourishment. Her past retreats across Vancouver and Vancouver island have left people not only feeling nourished + healing their gut but also creating beautiful memories with soulful food.
She believes, if food is your medicine, then the kitchen is your wellness centre!
Guest Yoga Guide : @Ami Jot
Ami Jot Kaur (NirvanAmi Yoga & Wellness) is a yoga, energy and wellness practitioner on a mission to help provide safe spaces for healing through movement, sound and meditaion. She is on a mission to help raise the consciousness of the planet.
She teaches Yoga and Pranayama (breathing exercises) practicing all 8 limbs of yoga (vs only the Asanas). She is also a Reiki Master and specializes in energy healing to clear chakra energy blockages and stagnant chi/prana/bio field energy.
Her practice is exactly like a bowl of Indian curry - with an explosion of different physical, emotional, mental and spiritual practices that have helped her in her own healing journey. She aims to nourish her students with heart centred compassion, metta loving kindness and her positive energy.
You can reach her at www.nirvanami.com or nirvanami.yoga.wellness on IG/FB
PRAISE:
WHAT SHE SAID:
"The Awakening Shakti Temple series was an initiation into womanhood for me– guided by unconditional love, sisterly love and most of all Abneet, who is the most embodied Goddess I know. You'd have to experience this loving, fierce and genuine presence for yourself to know what I'm talking about. Through Abneet's support, the work of diving deep into the feminine psyche and healing ancestral wounds felt less like work and more like connection.
Not only was this work deeply meaningful to me, but I looked forward to hearing everyone's shares and Abneet's profound yet lighthearted and authentic teachings every week. If there is anything I Iearned from these seven weeks, it's that presence is the most important thing we can cultivate and that there is absolutely nothing like the support of sisters and community.
Thank you for creating this space Abneet. All my love. "
~ Masha Scherbina
" I am feeling nourished, strengthened and empowered! Abneet has rocked my world the last 7 weeks! I feel plugged back into my power, my strength and deeply connected to my body. This work is stunning and Abneet's facilitation is impeccable and masterful. Something undeniably powerful happens when women gather and Abneet catalyzed this power - the result was a group of women who started off as strangers becoming dear friends.
Abneet created a safe and transformative space where we could each explore to the fullest our softness, our bodies, our sensuality, our rage, our love, our power… the result was deep healing and transformation.
At the end of this program I looked around the circle and beheld a room full of Queens. Each woman transformed, shining vibrantly, connected to herself, her worth, her power and her deeper knowings. It was undeniably beautiful.
Thank you Abneet. I'm so grateful to have found my way to you and this work. "
~Tatiana Speed ♥
" I had a powerful transformation over these past 7 weeks! I have previously signed up for other courses but wow this journey was incredible! The benefits from this program were SO worth the investment. I feel confident in my abilities and now hold a deeper connection to my body and inner wisdom that was missing before.
I always felt I had to hide and compromise with others, but Abneet taught me how to embrace and step into my full, radiant self.
I allowed myself to step out of my comfort zone & to be held and seen by my other temple sisters.
There's always something magical that happens when women come together like this, with a shared vision....
Abneet is so genuine, and has mastered the art of holding space.
Deepest gratitude to Abneet for facilitating and holding space for my transformation. I'm already signed up for Level 2! "
~ Harmeet Purewal
"The 7 week Awakening Shakti course facilitated by Abneet was an absolute gift, aligned completely with everything my heart yearned for.
Each week, with our Sister Circle was refreshing, soft and foundational. Coming together in Circle created a space of reverence & safety that catapulted me into deeper, more authentic self love and expression. Exploring deeper levels of what it is to be an embodied woman, alongside fellow women-- is true medicine.
I look forward to future circles with woman alike!
"Deeply Received"
~ Ashley
About the organizer
Abneet Sandhar is a trained classical Indian yoga guide, receiving her 300hr teacher training with Master yoga lineage holder: Maitreyi Yogacharini from the Arkaya foundation in 2019. She is also a Feminine Embodiment Coach receiving Woman's Temple facilitation training with Awakening Women in 2017, and also is a certified Holistic Nutritionist + Chef. She is OBSESSED with guiding women back to their inner healing capability and reclaiming inner power.  She knows that the healing of the world takes place as the Sacred Feminine is brought back into balance. A former burlesque model, nude art model and life-long sacred arts dancer,  she encourages women in her practice to enter their bodies more fully in order to show up more deeply in every aspect of their lives; in intimate relating, communication, money and sex. After years of studying spiritual self- healing techniques, meditation, classical tantric yoga and dance, she brings you "The Nourished Woman"-- a safe space for women of all walks of life to come together in community to celebrate and express their most honest raw selves. The time for feminine leadership on the Earth is rising, and women can support each other in these times, as we also steadily and gently do our own inner-self work and care. 
Abneet currently offers international healing Nourished Woman retreats, weekend woman's empowerment workshops,  and private, online 1:1 feminine embodiment mentorship spanning 3 months.
Listen to the latest podcast interview here.
Learn more at: www.abneetsandhar.com