The Stand Up Covidy Show in Ottawa ذي ستاند أب كوفيدي شوو في أوتاوا
جلسة ستاند أب كوميدي بالعربي مع ستّة كوميديين مونترياليين من أصل عربي. An Arabic stand-up comedian session with six Montréal comedians.
About this event
أبجد هوّز بالتعاون مع Jokermail Productions و GIZA Entertainment يقدّم
جلسة ستاند أب كوميدي باللّغة العربيّة مع ستّة كوميديين من مونتريال من أصل عربي.
ساعتين من المرح والضحك حول جائحة الكوفيد التي اختبارتها البشريّة بين ال 2019 وال 2021، يشارك الكوميديين معنا تجاربهم الشخصيّة وانطباعاتهم الخاصّة حول تلك الفترة.
تعرّفوا على مواهب كوميديّة صاعدة من مونتريال: (بالترتيب الأبجدي)
- الياس صدقني (سوريا)
- بوعلي مبارك (المغرب)
- جوني الحاج (لبنان)
- رانيا الحلو (لبنان)
- ساندي البيطار (لبنان)
- كريم حمدي (مصر)
تفتح الأبواب الساعة السابعة مساءً
يبدأ العرض في تمام السابعة والنصف مساءً
اللّقاء في
La Terrazza 523 St Anthony St, Ottawa, ON K1R 6Z9
يقتصر الدخول على حاملي إثبات اللقاح. نوماً هنيئاً الأطفالكم دون 18 سنة
//
ِ Abjad Howse in collaboration with Jokermail Productions and GIZA Entertainment presents
ِa stand-up comedy evening in Arabic with six comedians of Arab origin from Montreal
Two hours of fun and laughter about the Covid pandemic that we experienced as a humanity between 2019 and 2021. The comedians share their personal experiences and their own impressions of that period.
Meet the rising comedians from Montreal: (in alphabetical order)
Elias Sadkni (Syria)
Bouali Mbarek (Morocco)
Johnny El Hage (Lebanon)
Rania El Helou (Lebanon)
Sandy Al Bitar (Lebanon)
Karim Hamdy (Egypt)
Doors open at 7:00pm
Show starts at 7:30pm
Location: La Terrazza 523 St Anthony St, Ottawa, ON K1R 6Z9
Entry is restricted to holders of proof of vaccination. Sweet dreams to children under 18 years!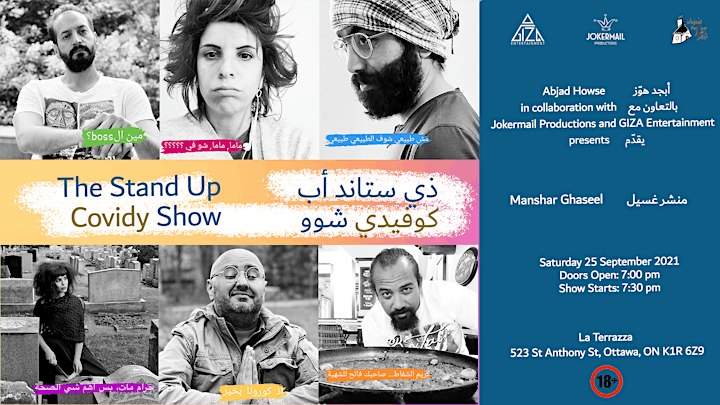 Organizer of The Stand Up Covidy Show in Ottawa ذي ستاند أب كوفيدي شوو في أوتاوا