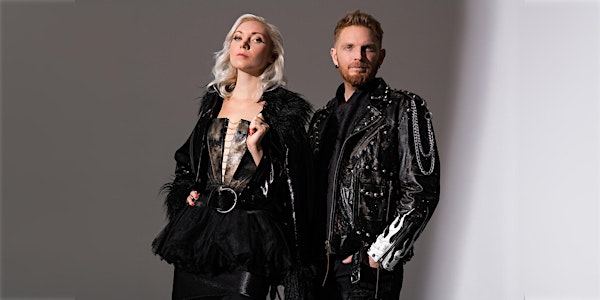 Performers
The StandStills
Aversions, The Jesse James Medicine Show, Gentle
Location
Mills Hardware
95 King Street East
Hamilton, ON L8N1A9
Canada
The Standstills with guests Aversions, Jesse James Medicine Show, and Gentle — Live at Mills Hardware!
About this event
Described as The White Stripes body-slammed by Queens of the Stone Age, The Standstills are a Canadian duo that seductively pair elements of stoner rock and alternative hard rock. Mixed with psychedelic and wild west themes, this duo has made a name for themselves in the sights of trend setters and rockers alike. Their first full length album under eOne Music, Badlands, has reached a world wide audience. "It's guitar-driven, outlaw rock and roll," lead singer and guitarist Jonny Fox declares. Drummer and singer Renee Couture defines the record as "If wild west Clint Eastwood and Belle Starr had a rock and roll baby". Their first single "Wild" set the record as the fastest charting top ten single in eOne Canadian history and received over 1 million streams on Spotify. Following their release, the duo toured across Canada, USA, Europe and The United Kingdom. They have performed at festivals and arena's as support for Eagles of Death Metal, Rival Sons, Lenny Kravitz and more. This record follows the success of their 2015 debut EP From The Devil's Porch featuring "Orleans" which reached #4 on active rock radio charts in Canada, with "Rise of the Fall" top 10 and "Shotgun" top 15. As a result, The Standstills were awarded Best New Rock Group at the Canadian Radio Music Awards as well as iTunes naming it one of the best rock albums of the year. Currently, the band is wrapping up their second full length under eOne Music which is set to release in 2022.
Instagram | Facebook | Twitter | Spotify | Apple Music
•
A quixotic mix of American post-punk and '80s post-hardcore, Aversions are east Van work-a-days trying to live the axiom of art interlacing life. Muscular riffing, left-turn bass lines and sledgehammer drumming provide the substrate for vocalist Sam Coll's acidic takes on topics big and small, as the band alternately exalt and disparage the many contradictions of the beleaguered town they call home.
Instagram | Facebook | Spotify | Apple Music