Description
THE STOLEN SERIES
Mark Sweatman
Opening Receptions:

Westside Grand: Friday October 25, 6-11pm
1928 W.Broadway, Vancouver BC
Capulet Art Gallery: Saturday October 26, 2-10pm
150-2288 No.5 Rd, Richmond BC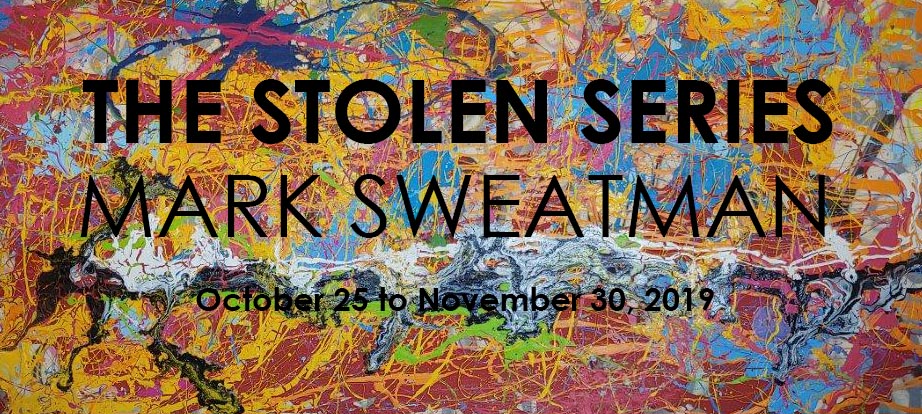 Press Release


October 15, 2019
Capulet Art Gallery and Westside Grand is pleased to present the Stolen Series, an exhibition of works by Mark Sweatman. Its title refers to an abstract series of work that was stolen by an faux art dealer who even signed her name on the back of these paintings.
The exhibition features 15 out of 21 recently recovered stolen paintings by the original artist, Mark Sweatman, which half of the works will be shown at Capulet Art Gallery and the other half at Westside Grand.
A variety of other works by the artist will also be exhibited including paintings, poetry, and performances.
#thestolenseries
Press
press@capuletart.com
+1 604 370 1728
BIO
Mark Sweatman is a Winnipeg born artist, actor and writer. His Paintings are a free expression of the reflection between artist and canvas, as a sacred space shared with his late sister, Sheilah Sweatman, an artist who died on June 29, 2011 while on a volunteer mission working for Search & Rescue B.C.
He is a self taught painter who learned from his late sister's journals, notes, and text books.
He uses all her brushes that he and she make from Canadian goose feathers, down, and fur from her dog, "Freya" - a Search & Rescue dog trained for mountain avalanche rescue.
Mark is also a credited actor and director who studied visual arts, theatre and film at The University of British Columbia in Vancouver and at Ryerson University in Toronto where his thesis film won Best Film of the year in 2002.
His directorial feature film debut UNCUT, filmed in one continuous two-hour shot won awards in New York, Memphis, and Detroit, and screened at the European Film Market Berlinale in Berlin, Germany.
Mark can be seen acting for Warner Bros on the CW's hit show The Flash - as 'Norvock,' the snake eye guy- a series recurring guest star role.
His last two art shows were in 2012 and met with rave reviews. His latest art shows open Oct.25th & 26th simultaneously in Vancouver & Richmond. Showing a variety of works from his master collection. Featuring 15 of 21 stolen paintings that he recovered from theft.
He considers every painting a personal therapy of prose, paint and performance.
"Art should make us feel more clearly and more intelligently. It should give us coherent sensations that we otherwise would not have had. But the price of a work of art is now part of its function, its new job is to sit on the wall and get more expensive. Instead of being the common property of humankind the way a book is, art becomes the particular property of somebody who can afford it. Suppose that every worthwhile book in the world cost $1 Million - imagine what a catastrophic effect on culture that would have." - Robert Hughes, Art Critic