Learn how to unleash the power of story to reach a new level of impact.
About this Event
Join us as award-winning storyteller, author, and motivational speaker, Kelly Swanson, teaches us the power of story to make us more compelling and persuasive no matter what our platform. To give you the best experience, Kelly has created value leading up to the event. Watch the training video on how story does what data can not. Then work through the Story Formula Workbook. All on your own time. Then in Kelly's live virtual session, we'll jump right into what Kelly does best - Story Makeovers. Attendees will bring a five minute story to share, and Kelly will give ten minutes of feedback. Get ready to have your mind blown as Kelly shows you how the tiniest thing can make the biggest difference. By the time it's all over, you will have learned the science behind story - the formula for creating stories with impact - and some tips for making a story unforgettable. As a special bonus, you will get a copy of Kelly's Story Lib book - a collection of templates for stories that every business should have.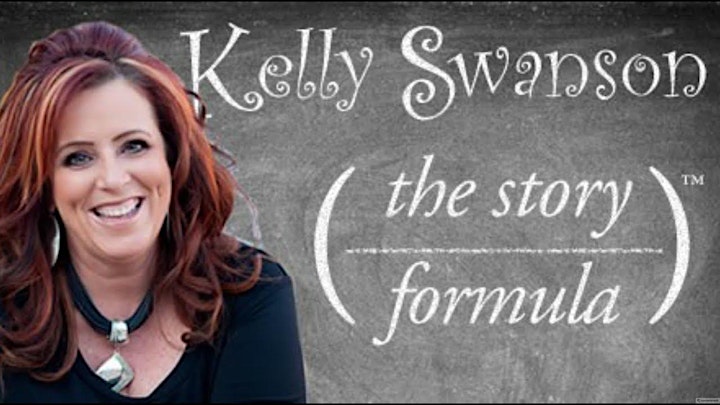 Kelly Swanson is an award-winning storyteller, comedian, motivational speaker, Huffington Post Contributor, and cast member of The Fashion Hero television show airing on Amazon Prime. She is also author of Who Hijacked My Fairy Tale, The Land of If Only, The Story Formula, and The Gutsy Girls Pocket Guide to Public Speaking. She was a featured entertainer for Holland America Cruise Lines, keynote speaker for the International Toastmasters Convention, and has keynoted major conferences and corporate events from coast to coast.
Kelly's wacky wit and powerful stories have charmed hearts and tickled funny bones for over 15 years. In addition to her role as a funny motivational speaker, Kelly teaches people how she does it by sharing what she has learned about connecting and engaging to have more influence in business, through the use of one tool – strategic storytelling. Sharing her own powerful journey through story and the formula she discovered, you come to that magical place where the art of story meets the business of persuasion.