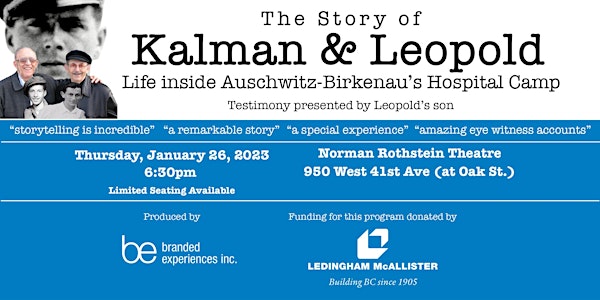 The Story of Kalman & Leopold
Behind the closed doors of Auschwitz II, Dr. Mengele performed deadly experiments on twins, most did not survive. Kalman & Leopold did.
When and where
Location
Rothstein Theatre Vancouver 950 West 41st Avenue JCC Building Vancouver, BC V5Z 2N7 Canada
About this event
A 14-year-old boy's family is torn apart in the Nazis' Auschwitz-Birkenau death camp, and he discovers he is part of Dr. Josef Mengele's brutal twin experimentation program. A chance meeting with a dwarf and another twin, Leopold, help Kalman find humanity, hope, and the ability to survive.
We produced Leo's Journey (leosjourney.ca) in 2000. The documentry was presented in Canada, part of Europe and in Israel. When the film played on the National Geographic Channel in Israel on Oct. 31st, 2001, a man happened to be watching. At precisely twenty one minutes and seventeen seconds in to the film, a picture of my father, Leo Lowy, was shown as a young boy. The man dropped his dinner and started yelling at the screen... "It's my Lippa!!!" Kalman Bar-On has been looking for his "Lippa" for 56 years. Lippa was his hero in Auschwitz-Birkenau and saved Kalman from beating in the Hospital Camp's SS Guard Shack.
On January 26th, we will present the story of Kalman & Leopold, as told by Kalman.