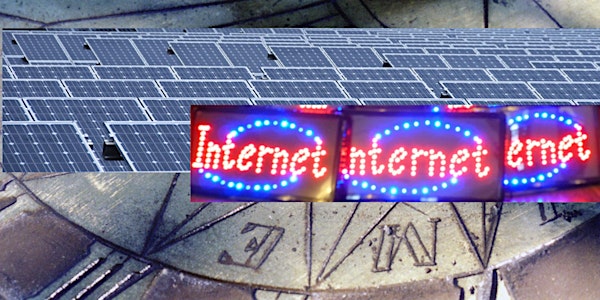 "The sun always shines somewhere"
Re-imagining the internet with low-tech solar servers
When and where
Location
Milieux Institute 1515 Rue Sainte-Catherine Ouest Montréal, QC H3G 2W1 Canada
About this event
What if internet traffic followed the logic of the sun and the winds, rather than demands for speed and an ever-growing amount of data? How can we build networked infrastructure that not only evades the structures of profit and surveillance imposed by the capitalist framework, but also cares for and respects the limitations of the planet's resources?
Join us for a discussion with Labomedia and Solar Protocol, two groups that are building eco-low-tech servers powered by solar and wind energy to show that a different Internet is possible. Engaging with questions of care, distribution and what constitutes "natural" rather than artificial intelligence, they invite us to re-think and re-design how we connect with technology, the natural world, and each other.
Speakers:
Benjamin Cadon is the coordinator of Labomedia based in Orléans/France. Labomedia is a non-profit association that brings together a medialab, a fablab and a hackerspace to help individuals and collectives to carry out artistic, cultural and social projects involving a technological dimension.
Benjamin has been working in the field of digital arts and cultures since1999. He leads collective experimentation and research by carrying out workshops, installations and audiovisual performances.
Solar Protocol is a web platform hosted across a network of solar-powered servers set up in different locations around the world. It was created by Tega Brain, Alex Nathanson and Benedetta Piantella. You can read more about them on their respective websites.
This event is organized by the Machine Agencies working group of the Speculative Life cluster at the Milieux Institute.
Image credits:
"Sun dial" by Jason Garber, CC BY-NC-SA 2.0
"Solar panels in the mist" by Oregon Department of Transportation, CC BY 2.0
"Internet" by .hd., CC BY-NC-SA 2.0
All three images were cropped and remixed.