Description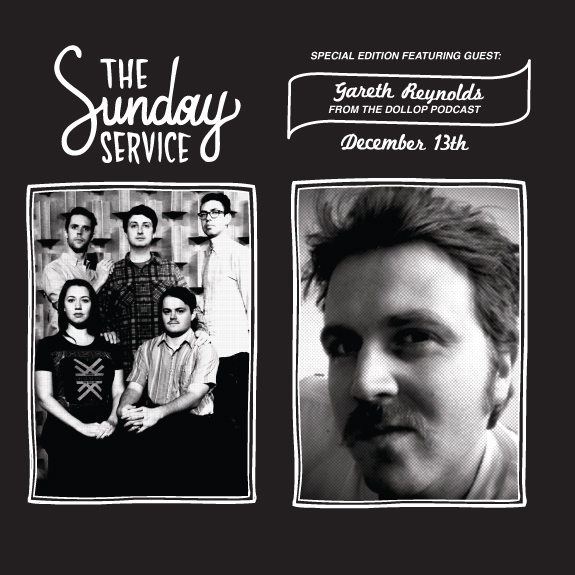 The Sunday Service presents a special editon of their weekly improve show featuring special guest Gareth Reynolds of The Dollop podcast.


About Gareth Reynolds
Gareth Reynolds was raised in Milwaukee, Wisconsin by two people who hate each other. After learning little in college, he moved to Los Angeles where he dressed up like super heroes for children's birthday parties. You have seen him on The Travel Channel, Comedy Central, NBC, Harold and Kumar 3, and in MTV's 'Failosophy' that he created. He currently (2014) co-hosts the Naughty Show Podcast, as well as The Dollop podcast, which he does with fellow comedian Dave Anthony. Reynolds also writes, acts, and performs stand-up comedy.
The Dollop is a weekly podcast hosted by Dave Anthony and Gareth Reynolds. Each week one topic from American history is discussed at length. In this very special VANCOUVER EDITION, Dave and Gareth with take on Canadian history as they skewer a hilarious historical moment in the city's past.
About The Sunday Service
The Sunday Service is Ryan Beil, Caitlin Howden, Kevin Lee, Aaron Read, Taz VanRassel, and our musical director, Emmett Hall. With over 20 Canadian Comedy Award Nominations, a CCA Best improve Troupe Award in 2012, and international recognition, The Sunday Service present to audiences across North America a fast paced and singular take on traditional long form.
"Vancouver has a top-notch comedy scene that doesn't get the attention it deserves, so it's great to see the always-entertaining Sunday Service getting national recognition." – Gregor Robertson, Mayor of Vancouver (who proclaimed Nov. 18, 2011 Sunday Service Day).
http://www.thesundayservice.ca