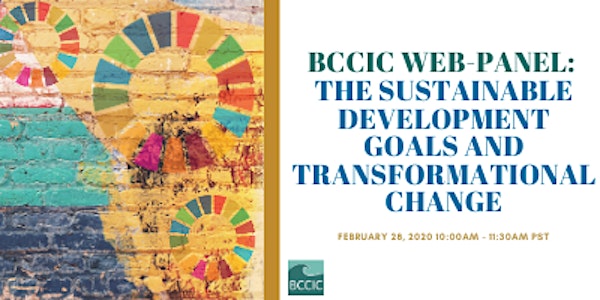 The Sustainable Development Goals and Transformational Change - Webinar
As part of BCCIC's new SDG Praxis Program, we are proud to host an international web-panel on the SDGs and transformational change.
About this event
Access the Webinar: https://zoom.us/j/109575070
What exactly is the "transformational change" that lies at the heart of the 2030 Agenda? This web-panel brings together thought leaders who are leveraging the transformational potential of the United Nations Sustainable Development Goals (SDGs) to promote new ways of collaborating within and between organizations, supporting grassroots change, leveraging policy, and promoting movement and network building toward a better world. This unique web-panel will explore:
The evolving concept of transformational change and how it can be understood in relation to the United Nations Sustainable Development Goals.
The transformational principles and opportunities that are embedded in the SDGs.
Practical examples of how to leverage these transformational principles and to practice change in new ways and for better outcomes.
How the SDGs require us to change ourselves in order to realize their transformative potential - as individuals, organizations, societies, and cultures.
The panel is taking place online on Friday February 28th from 10 am to 11.30 am Pacific Time (1pm to 2.30 pm Eastern Time) and will involve an hour of panel discussion followed by questions and answers from the online audience. The panel will be moderated by BCCIC's Program Director, Dan Harris, and will feature:
Becky Buel from the Presencing Institute who will be joining us from the United Kingdom and sharing her experience working with SDG Leadership Labs and the new forms of collaboration that the SDGs both invoke and require.
Daniel Wahl is an international consultant, educator and activist who works closely with Gaia Education and will be joining us from Majorca to share his work with community education and organizing using the SDGs framework to support local change.
Katja Hujo from the United Nations Research Institute for Social Development will be joining us from Geneva and sharing her work with transformative policy innovations for leveraging and realizing the SDGs.
Michael Simpson from the BC Council for International Cooperation (BCCIC) will be joining locally from Vancouver, Canada and will share the insights gained from BCCIC's work with the SDGs and public engagement and their transformative opportunities for movement building.
Full panelist bios are available below and the web-panel will be a unique opportunity to explore how we can leverage the SDGs to go beyond business as usual and transform our organizations, communities, systems, policies and the very ways that we envision and practice change. To register for the web-panel please follow the link below and we look forward to your questions and active participation on February 28th.
What: The Sustainable Development Goals and Transformational Change
When: Friday Feb 28th from 10 am - 11.30 am Pacific Time (1pm - 2.30 pm Eastern Time)
Cost: Free
Access: https://zoom.us/j/109575070
This webinar is the first offering of BCCIC's new SDG Praxis Program. The Praxis program will focus on the transformational potential of the Sustainable Development Goals and the nexus between theory and practice. How do we enact, embody, and practice the SDGs? How can we leverage the SDGs in practical ways to support our work and new ways of seeing, understanding and realizing positive change? The SDG Praxis Program will document and share practical examples and experiences that address these questions as well as learning opportunities to develop our skills in working with the SDGs for transformational change.
We look forward to sharing future opportunities with you and to seeing you on online for the web-panel on "The Sustainable Development Goals and Transformational Change"
-------
Facilitator Bios:
Becky Buell
Becky Buell is an experienced senior executive, with over 25 years' work in the not-for-profit sector and 8 years leading a successful company. Becky has extensive international experience in strategy, organisational development and business planning, and is an experienced convener of multi-sector dialogues.
Becky is currently serving as a Board member and Senior Practitioner of the Presencing Institute. Until August 2018 she served as the Co-Founder and Director of Meteos, a think tank and strategy company that specialised in multi-sector dialogues between industry, investors and societal stakeholders in healthcare, energy and finance. Since 2009 she has facilitated major dialogues on the changing market and societal expectations of the pharmaceutical sector (PharmaFutures, Groundwork and PharmaDiplomacy) and the energy sector (EnergyFutures). She has worked extensively with international philanthropy and NGOs in strategy development and alliance-building, including work which led to the creation of the Finance Dialogue, and the Europe Beyond Coal network. As a Senior Practitioner of the Presencing Institute, she leads PI engagements with multilateral institutions and initiatives, including serving as lead facilitator of the UN SDG Leadership Lab, working with the DOCO team of the Secretary General's office to develop the leadership capabilities required across UN agencies to meet the promise of the SDGs.
Earlier in her career, Becky worked with Oxfam GB for over 15 years in senior management positions in Latin America and in the global Campaigns and Policy Division. She was the Regional Representative for Oxfam in Central America and Mexico from 1992-94 where she oversaw Oxfam's work in support of post-war transition and the resettlement of refugees across the region. She holds an MA in Latin American Studies from Stanford University and a post-graduate certificate in Urban Planning from University College of London. She was a Research Fellow with the Community Innovators' Lab in the Urban Planning Department at MIT. She is now a Board member of the Presencing Institute, and a Board member of Climate Outreach. She is a US-UK bi-national, living in Oxford, UK.
Daniel Wahl -
Daniel Christian Wahl originally trained as a biologist, and holds degrees in Biology (BSc. Hons., Univ. of Edinburgh), Holistic Science (MSc.,Schumacher College) and Natural Design (PhD., Univ. of Dundee). He was the director of Findhorn College between 2007 and 2010, is a member of the International Futures Forum and H3Uni, an advocation partner of r3.0, and on the advisory councils of Ecosystems Restoration Camps, Commonland, the Ojai Foundation, Future Planet Europe, the Centre for the Future and the Overview Institute of Australia, as well as, a Findhorn Foundation Fellow. Daniel lives on Majorca where he helped to set up SMART UIB and works locally and internationally as a consultant, educator and activist. Among his clients have been Ecover, Forum for the Future, Camper, Balears.t, Save the Med, Lush, UNITAR, UK Foresight and many universities and N.G.O.s. He is on the academic working group of the Global Ecovillage Network and has been linked to GEN for almost 20 years. Daniel has worked closely with Gaia Education sine 2007 and contributed to the development of their Design for Sustainability online course and co-authored the current versions of all four dimensions of the curriculum. He also wrote the content and developed the concept of Gaia Education's SDGs Flashcards which with the support of UNESCO are now translated into 7 languages. Daniel teaches regularly on the the MA in Ecological Design Thinking at Schumacher College. Daniel's 2016 book 'Designing Regenerative Cultures' has quickly gained international acclaim, his Blog on Medium is followed by nearly 20k people and his social media advocacy has a combined audience of over 400k people around the world.
Katja Hujo
Katja Hujo is Senior Research Coordinator in the Social Policy and Development Programme of UNRISD and member of the Institute's Senior Management Group. She is coordinator and lead author of the latest UNRISD flagship report "Policy Innovations for Transformative Change – Implementing the 2030 Agenda for Sustainable Development" and coordinated the international conference on "Overcoming Inequalities in a Fractured World: Between Elite Power and Social Mobilization".
Katja is a development economist and social policy expert. She studied economics and political science at Eberhard-Karls-University Tübingen, Freie Universität Berlin (FUB) and National University of Córdoba, Argentina, and holds a doctoral degree in economics from FUB. Much of her research is at the interface of economics and politics, for example her research on the political economy of pension reforms, on social protection and poverty reduction, on social development challenges in mineral-dependent contexts, on South-South migration and social policy, and more recently, on the politics of domestic resource mobilization.
Katja has published numerous papers and articles, 1 monograph, 7 edited volumes, and 3 special journal issues, the most recent one with the International Social Security Review on "The Human Right to Social Security" (October-December 2017, Vol. 70, Issue 4).
Michael Simpson
Mike is the Executive Director of the British Columbia Council for International Cooperation (BCCIC). Prior to working for BCCIC, Mike was the Executive Director of One Sky – The Canadian Institute for Sustainable Living. His work with One Sky varied from leading major bilateral projects in West Africa, including Nigeria and Sierra Leone, to working in Latin America on projects ranging from forest conservation to leadership development. Mike has been an active voice for Canadian civil society at international forums ranging from the World Summit on Sustainable Development to UN meetings on renewable energy. With a keen interest in integral theory, he has been active in exploring the nexus between developmental psychology and social change.
Prior to his work with civil society groups, Simpson was an award winning documentary producer who ran a video production company that specialized in programming on environment, development, and human rights. He spent many years working in conflict and post-conflict areas, with a special focus on Latin America. His most recent focus has been on leadership development within the context of social movements, including both the private sector and civil society.