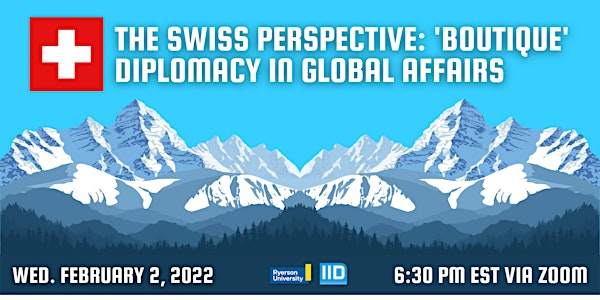 The Swiss Perspective: 'Boutique' Diplomacy in Global Affairs
The International Issues Discussion (IID) series is pleased to present its first virtual event of the Winter 2022 term.
About this event
Our guest will be Ambassador Salome Meyer.
Ambassador Salome Meyer is a career diplomat with the Swiss Federal Department of Foreign Affairs. She took up her position in Canada in February 2019. Prior to this, she was the diplomatic advisor to the Swiss president, in Berne (2015-18). During this time, she also served as president of the Swiss Association of Career Diplomats (CDS). Between 2011-2015, Salome served as Deputy Head of Mission and Head of Political Affairs at the Swiss Embassy in China and, between 2007-2011, as Minister Councillor and Head of Political and Legal Affairs at the Swiss Embassy in the United Kingdom. Further assignments include postings at the Swiss Embassy in South Korea, and, in Berne, to the Europe as well as the Africa Divisions of the Federal Department of Foreign Affairs. Before joining the Swiss diplomatic service, Salome worked with the Swiss Peace Foundation (swisspeace) on early warning of armed conflict in Sub-Sahara Africa. She was also the founder and co-owner of an IT company.
She holds an MA (Lic. Phil. Hist.) in Modern History with Minors in Media & Communication Studies and Constitutional Law from the University of Berne, Switzerland.
Her talk will be Wednesday, February 2nd, 2022 at 6:30 pm, via a virtual webinar.