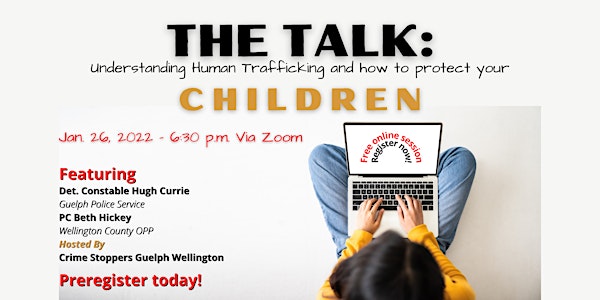 The Talk: Understanding Human Trafficking & How to Protect Your Children
THE TALK: Understanding Human Trafficking & How To Protect Your Children
About this event
THIS is the information you have been asking for regarding keeping your kids safe online.
THE TALK will be a comprehensive Human Trafficking/Cybersafety Awareness opportunity for parents, family, guardians of children of any age.
Join this session with Guelph Police Service, Wellington County OPP and Crime Stoppers Guelph Wellington to learn what is Human Trafficking, how traffickers are targeting our children and how you can keep your kids safe.
DC Hugh Currie (Internet Child Exploitation Unit), PC Beth Hickey (Youth Resiliency Officer) and Sarah Bowers-Peter (Program Coordinator CSGW) will lead you through the real-life situations our children are facing, and provide you with concrete tools to help combat this problem from the minute you log off the session.
Learn the myths about Human Trafficking, social media and the culture around youth engagement. Bring your questions and have them answered by individuals who are combating this growing crime on a daily basis.
NOTE: topics will include addiction, sexual assault, mental health, suicide, physical abuse, emotional abuse and weapons.