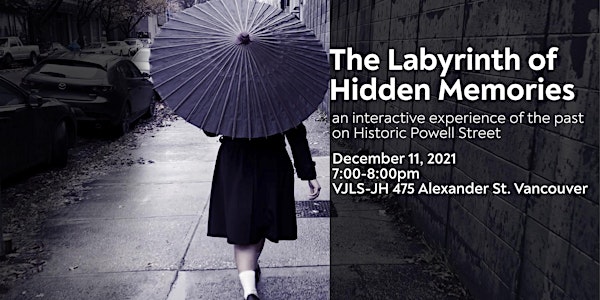 The Tasai Collective : The Labyrinth of Hidden Memories
The Labyrinth of Hidden Memories: An interactive experience of the past on Historic Powell Street
About this event
The Labyrinth of Hidden Memories Description of Event:
An interactive and participatory experience of sight and sound, The Labyrinth of Hidden Memories is an encounter with Historic Powell Street's past like no other. Visuals, music & poetry will guide you in a reflection on the past, memories and their connection to our present. What will you say to the past? What will the past teach you about now?
What is Tasai ?
Tasai is a Vancouver based collective of creatives for the common good. Sometimes bringing reflection to public spaces, sometimes bringing a club like vibe to indoor venues, Tasai always invites the audience into memorable and fun acts of co-creation.
DATE: 11 December 2021, 7-8pm @ VJLS-JH, 487 Alexander St., Vancouver
WARNING for attendees: flickering lights in the dark, ambient music with simultaneous reading voices will be a part of the experience.
VJLS-JH recognizes that the land of which we hold our programs are on the traditional, unceded territories of the Musqueam, Squamish, Tsleil-Waututh First Nations. We are extremely grateful to be on this land and we encourage those who visit our organization to think about the privilege of occupying and living upon these spaces.
About us:
Located in Historic Powell Street (Paueru Gai) in the heart of the Downtown Eastside, VJLS-JH is a National Historic Site. Overcoming racism, social injustice, displacement and dispossession, through the miraculous efforts of the Japanese Canadian community, we as an organization have rebuilt and evolved to become a living symbol of community resilience and strength. VJLS-JH now stands as one of the only properties that was returned to Japanese Canadians after the WWII Internment and Dispossession. Today, we continue to educate Japanese language, culture, run a childcare centre, and have transitioned into developing heritage and community programming.
Check out https://vjls-jh.com.
Instagram https://www.instagram.com/vjls.jh/
Facebook https://www.facebook.com/vjls.jh/
Organizer of The Tasai Collective : The Labyrinth of Hidden Memories