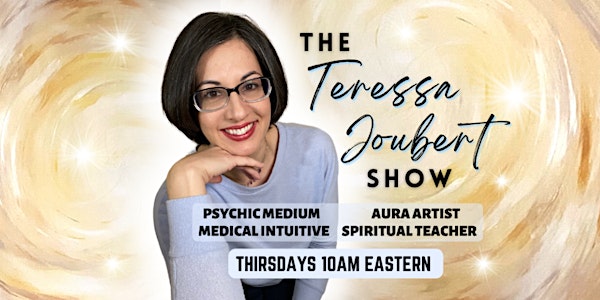 The Teressa Joubert Show
Join The Teressa Joubert Show, every Thursday morning at 10 AM EST to delve into Spiritual and Health Topics.
About this event
Gift yourself with a toolbox for better mental, spiritual, emotional and physical health. Learn about how to use your sixth sense, find out what really happens in each different circumstance when our physical body dies. Teressa is a Psychic Medium, Medical Intuitive, Clairvoyant Empath, Aura Artist, Certified Health and Life Coach and Spiritual Teacher. She is also a wife and mother, living in Burlington Ontario Canada. Teressa is very gifted, funny and sincere. Enjoy learning about Spiritual and Health Topics from a fresh perspective.
During each show, Teresa will be taking two callers to help teach valuable life lessons and help guide others in a better direction in their lives. Connect with her every Thursday at 10 AM EST to upgrade your consciousness, have a few laughs, learn and gift yourself with better knowledge so that you can live your best mental, physical and spiritual life possible.