Description
Please join us for this final institute* of the school year which is all about implementation!
*Your ticket includes access to a special wine reception immediately following the institute to help launch THE CENTRE FOR RELATIONSHIP BASED EDUCATION!
Each institute is research and relationship-based. Each is informed by a deep and abiding love for all children and a profound belief in their limitless potential. As educators themselves, the authors of The Third Path know that educators make a powerful difference in the lives of children. The goal of these institutes is to support children through supporting the work of all educators, and to help them improve their practice through "doing different" as opposed to "doing more". Each presentation is designed to be dynamic, inspiring, engaging and practical.
Institute One Sept 29, 2018 9:00am - 2:00pm
An Introduction to Relationship-Based Education

critical-concepts underlying a Relationship-Based Approach.
examines strong, authentic, intentional and responsive relationships with students
Safety: Strengthening Student Attachment

looks at the critical role of emotional safety in learning and development
Institute Two Feb 9, 2019 9:00am - 2:00pm
Thinking and Teaching from a Relational Perspective

how relational thinking emphasizes social, dynamic and interconnected nature of human development
challenges educators to think deeply about their role and commitment to personal and professional growth
Identity: Inclusion, Empowerment and Pride

Issues such as student marginalization, educator assumptions and biases are the emphasis
Institute Three Apr 27, 2019 9:00am - 2:00pm
Implementing Relationship-Based Education in Classrooms and Schools

how to systematically implement RBE
moving from theory to day-to-day classroom practice
Positivity: Supporting Strengths and Promoting Potential

explores how qualities such as joy, gratitude, optimism, and a sense of fun contribute to student well-being and academic success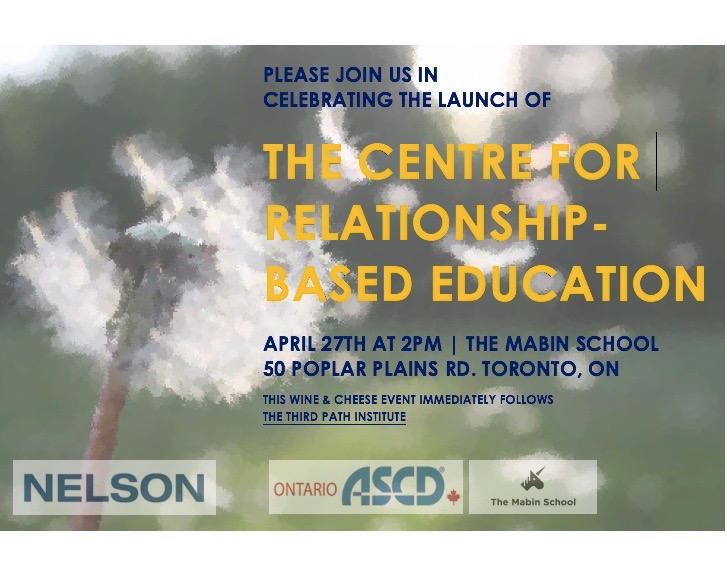 Organizer of The Third Path: Relationship-Based Learning Institutes