Description
What does it really take to have an exceptional business and life?
Time and time again, business leaders who succeed follow the exact same principles regardless of their industry, size, or location. The Alternative Board (TAB), a worldwide leading business coaching and consulting company, gathered those principles through working with over 20,000 privately-held businesses around the globe and compiled them all into a book: The Timeless Principles of Exceptional Businesses: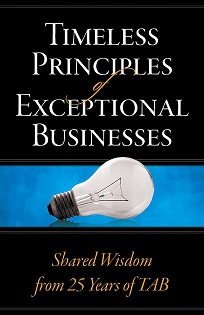 That book is the foundation of this thought-provoking and engaging talk, presented by speaker Doug Kerr, and includes stories and lessons from real-world businesses that participants will be able to adopt in their own businesses. Each lesson includes actual examples from small to medium sized business owners and experts who took their businesses (and lives) from good to great.
Seating is limited and you must be registered to attend.
Tuesday, June 4th from 8:00 am - 9:30 am
Mississauga Board of Trade
701 - 77 City Centre Dr, 7th Floor, West Tower,
Mississauga, ON L5B 1M5
Complimentary contiental breakfast provided.
We hope to see you there - you will leave this event with ideas and strategies that can have an immediate impact on your life and on the success of your business, and with a free copy of this exceptional book!
The speaker for this event, Doug Kerr is the owner and operator of The Alternative Board, serving Etobicoke and south/central Mississauga. As a general management executive, Doug has had experience in business and marketing strategy development, business development, operations management and sales in a variety of verticals. Industry experience includes retail distribution and manufacturing disciplines of cut and sewn textiles, turning, milling and stamping of metals, assembly, rubber molding and marine fiberglass applications.
Doug's passion is helping organizations evolve and prosper by mentoring and coaching its employees. He received his MBA at McMaster University in 2005 and earned a BA in Economics from Queen's University.
The Alternative Board (TAB) helps forward-thinking business owners increase profitability and improve their lives by leveraging local business advisory boards, private business coaching and proprietary strategic services.
If you'd like to learn more about our invitation-only membership model and how it may be able to help you with your business, let's connect and explore if TAB might be a fit for you.