Description
On Thursday Sep 19, the tiny comedy show returns to Scarpetta Italian Eatery! Mark your calendar for a delicious evening of great food and great comedy! Special two-year anniversary show!

Your Headliner is the fantastic Todd Ness! Todd honed his comedic skills through years of being a class clown, disobeying teachers and training his upper body. This combination of sharp wit, athletic endurance, and ability to relate to other middle class white people has enabled Todd to excel in the world of stand up comedy; earning notable credits, such as winning the 2014 Yuk Yuks Chase Your Butterfly Contest. Even though he started performing in 2009, Todd is still a fresh face on the comedy scene, especially since his prepubescent acne went away. If you enjoy having a good time, come out and experience Todd Ness first hand. If laughing hysterically with/at Todd all night doesn't make you feel good, knowing you're supporting his dream of moving out of his parents' house certainly will. Todd has performed on the Calgary YYCOMEDY Festival and can be heard on CBC's Laugh Out Loud on CBC Radio.
Your MC is the amazing Brian Stollery! Brian rarely waits more than a heartbeat before inviting his audiences to have a laugh at his expense. Observational, autobiographical and hilariously self-deprecating, Brian Stollery's brand of comedy reveals the underlying absurdity of everyday life in a way that's as scathingly honest as it is fast paced and energetic. Stollery has performed on CBC radio's "The Debaters" and festivals including the 'CBC Winnipeg Comedy Festival and Global Comedyfest in Vancouver and he was the 1st Winner of SiriusXM "Top Comic!" competition.
Your feature performer the very funny Linnea Ward! Linnéa is a touring stand up comedian singer-songwriter, award winning sketch writer and producer of Cat Scratch Comedy - Calgary's best, worst and only fully improvised stand up bucket show. When she is not entertaining folks with her comedic jokes, stories, and songs - Linnea produces and stars in a Late Night Cabaret show called APT 33 - a late night kids show for adults - and plays a beloved singing pet fish aptly named Fish!
With comedy performances from Bryan Moxon, Juan Forno, Don Filipchuk, Ali Maawia, Steve Taddei and introducing first-timer Macey Taylor!
Reserved seating from 6:30pm, showtime 8 pm. Advance tickets only $10 at Eventbrite.ca, new "all-in" ticket pricing, service charge included! Limited availability tickets $15 cash or e-transfer at the door. To ensure prompt reserved seating when you arrive, after booking your advance ticket(s) please phone Scarpetta Italian Eatery (403) 455-4248. Single and group seating available.
Scarpetta Italian Eatery offers authentic yet contemporary authentic fare in the fashionable Calgary neighbourhood of Inglewood. Scarpetta was voted "Best Thin Crust Pizza" winner for 2018 #yycpizzaweek with their Triple Pig pizza!

Scarpetta Italian Eatery ( https://www.scarpettaeatery.com/ ) is a licensed Restaurant venue (under 18 audience allowed per restaurant rules).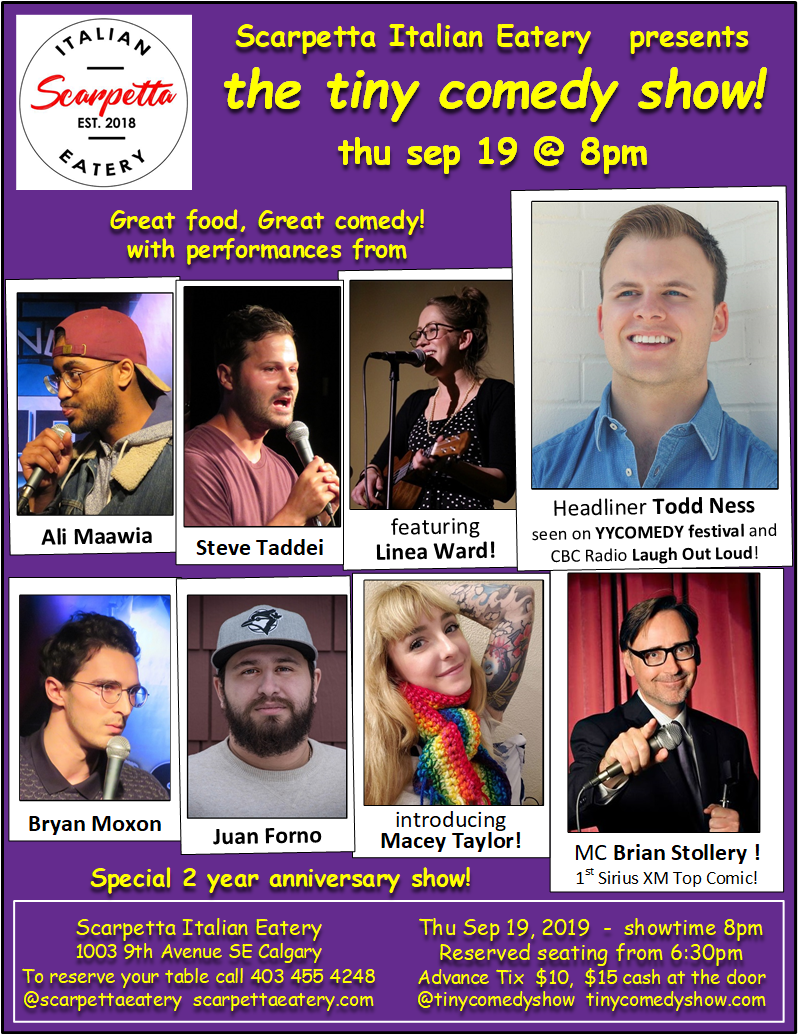 @scarpettaeatery @tinycomedyshow #Inglewood #Foodie #Calgary #Comedy #CalgaryComedy #fun #laughs #pewpew #ScarpettaItalianEatery #tinycomedyshow #canadianstandup