Treat yourself to a delicious evening of great food and great comedy - it's the tiny comedy show at Scarpetta Italian Eatery!
About this event
On Thu Jan 16, the tiny comedy show returns to Scarpetta Italian Eatery! Mark your calendar for a delicious evening of great food and great comedy!
Your professional Headliner for the evening is the very funny Scott Dumas! Scott survives by doing stand-up comedy on weekends and shreds powder when his knees allow. With an easy-going storytelling style, this funny gentleman has entertained audiences on the YYCOMEDY Festival, headlined comedy clubs from coast-to-coast (except for his hometown of Ottawa) and can be heard on Sirius XM Radio. Scott is also the creator of the Grizzly Paw Comedy Nights, a monthly theatre comedy show in his home of Canmore.
Your MC for the evening is Austin Lonneberg! Austin began comedy in 2012 at 18 years old, with a youthful perspective, witty jokes and unique stories he has quickly become one of rising stars of Alberta's comedy scene. He has been featured on the YYCOMEDY festival, Calgary Fringe Fest and the 2016 runner up in the "Yuk 'n' Comers" comedy competition. Austin is a producer of Crash Test Comedy, a weekly comedy show at Vern's in downtown Calgary.
Your feature performer Kelsey Funk is a Banff born & raised comedian now based out of Calgary. She has produced a documentary series "She's Not Funny" featuring some of Western Canada's best female comics. She also loves bears.
With comedy performances from Ross Moore, Dug Bueck, Donovan Deschner, Don Filipchuk, and James Moore !
Reserved seating from 6:30pm, showtime 8 pm. Advance tickets $10 all-in at Eventbrite.ca. Limited availability tickets $15 cash or e-transfer at the door.
To ensure prompt reserved seating when you arrive, after booking your advance ticket(s) please phone Scarpetta Italian Eatery (403) 262-8467. Single and group seating available.
(HEATED INDOOR PARKING AVAILABLE IN BACK OF SCARPETTA ITALIAN EATERY - $3)
Scarpetta Italian Eatery is located in the fashionable Calgary neighbourhood of Inglewood. Scarpetta offers great Italian food that is contemporary yet authentic, with hormone-free meats, organic greens and fresh ingredients. All dough and sauces made fresh in-house. Great gluten-free options too! Bring your appetite! Scarpetta was voted "Best Thin Crust Pizza" #yycpizzaweek winner in 2018 with the Triple Pig pizza and again in 2019 with the Loaded Pig pizza! Scarpetta Italian Eatery (https://www.scarpettaeatery.com/) is a licensed Restaurant venue (under 18 audience allowed per restaurant rules).
@scarpettaeatery @tinycomedyshow #Inglewood #Foodie #YYC #Calgary #Comedy #CalgaryComedy #fun #laughs #YYCLaughs #ScarpettaItalianEatery #tinycomedyshow #canadianstandup #thingstodo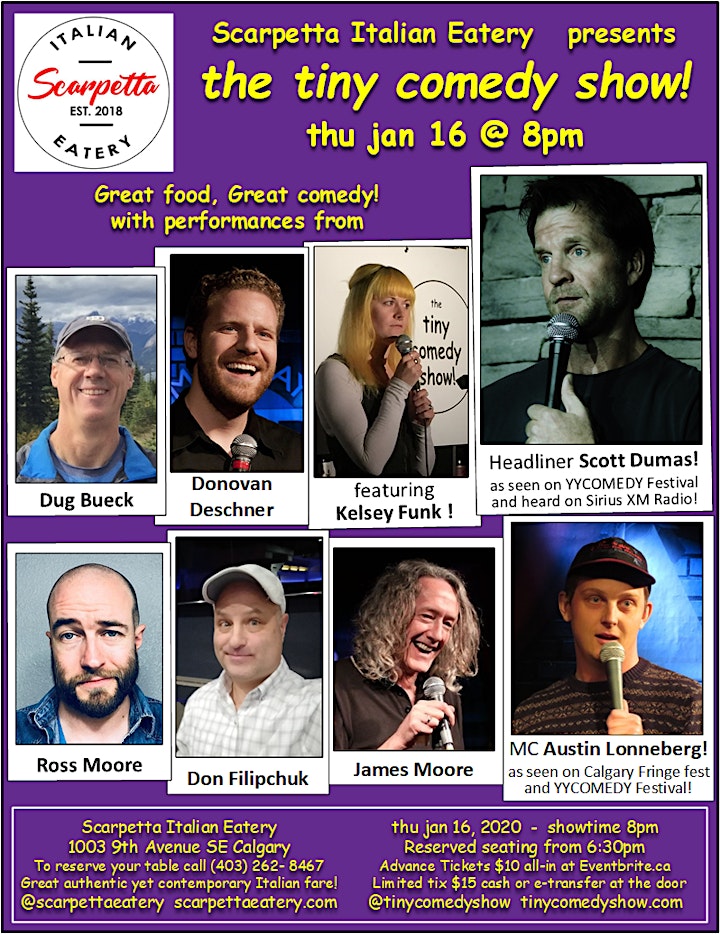 Organizer of the tiny comedy show at Scarpetta Italian Eatery!
Based in Calgary, Don Filipchuk enjoys bringing silly, clever, oddball comedy to delight and annoy audiences everywhere. With a combination of self-deprecating stories, horrible puns, and deadpan one-liners, Don's simple thoughts on shrimp rings, the periodic table, and store-brand cheese are good for a laugh!
Don produces the tiny comedy show - a monthly comedy showcase at Scarpetta Italian Eatery in the fashionable Calgary neighbourhood of Inglewood, now also running periodically at The Glass Monkey in Edmonton.