Description
Powered by TorontoJobs.ca, The Toronto Recruiters Conference & Tradeshow presents a thought-provoking experience for Recruitment and HR professionals to gain valuable information from leaders on key issues in the Employment Industry.
THIS EVENT IS EXCLUSIVELY DESIGNED FOR:



- Recruiters working in Staffing Firms
- Corporate/In-House Recruiters
- Staffing Firm Owners
- Business Development Managers
Recruitment is evolving rapidly with the emergence of new practices and technology. Our Conference will cover topics on: New Tech in the Industry, Employment Law Updates, Employment Contracts, Social Media Recruitment, Reference Checking and more!
---
THE DETAILS
- WHEN: Tuesday, November 26th, 2019
- WHERE: Metro Toronto Convention Centre: 255 Front Street West (North Building - Lower Level)

CONFERENCE SPEAKERS
Attend Conference Sessions with 10+ Speakers on Recruitment focused topics.
Speakers include:
Hendrik Nieuwland, Partner, Shields O'Donnell MacKillop LLP - "Legal Considerations in the Workplace"
Rashmi Vohra, District Vice President, Retail TD - "Diversity and Inclusion: A Recruitment Imperative"
Dr. David Weiss, President & CEO, Weiss International Ltd. - "Hiring Leaders with 3 Essential Intelligences"
Marty Britton, President & CEO, Britton Management Profiles - "Knowing Who you Hire through Social Media"
Rob Catalano, Chief Engagement Officer, WorkTango - "Want Future Talent? Take Care of the Talent You Got"
Catharine Fennell, CEO videoBIO Recruiter - "Video Assessments in Talent Acquisition: The Winning Formula for Digital Talent Screening"
Geoffrey Ashford-Smith, Human Capital Consultant, AtmanCo - "Hire, Lead and Grow Your Most Valuable Assets"
Maaz Rana, COO & Co-founder, Knockri - "Artificial Intelligence in Recruitment" (PANEL DISCUSSION)
Panelists include:
Alyssa Krane, Chief Talent Strategist, Powerhouse Talent Inc. - "The Rexall Journey: The Power of human/technology teamwork in amplifying your employer brand and transforming your talent attraction practice" (PANEL DISCUSSION)
Panelists include:
Tracy Paulo-Brown, Senior Manager, Talent Attraction, Rexall
Tunde Kolarinwa, Senior Director, Talent Management, Rexall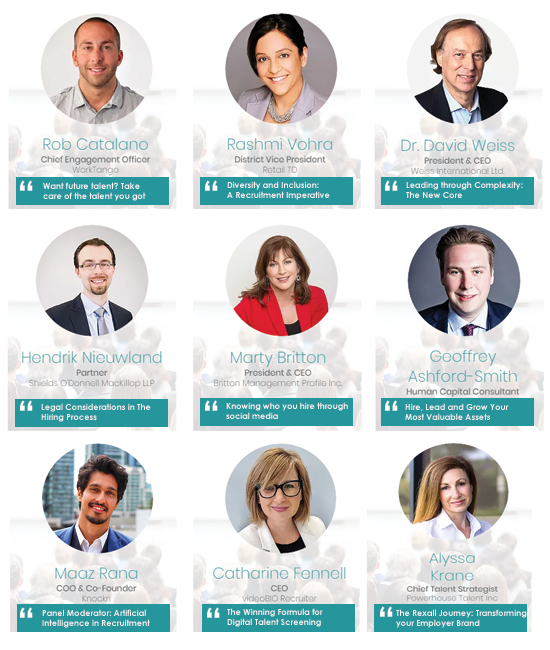 Visit www.TorontoRecruitersConference.ca for more information.
FOLLOW US FOR EXCITING SPEAKER, SCHEDULE & EVENT UPDATES:
LinkedIn | Twitter | Facebook | Instagram
---
NEW! Group of 10 General Admission Package
Looking for a fun, motivational and productive day out with your co-workers? Hear from industry leaders and grow your professional network while bonding with your team. Save over $220 with our new Group of 10 General Admission Package! EACH ticket includes:
- Full day access to the Tradeshow Floor
- Full day access to 10+ Industry Leading Speakers
- 1 Job Posting Credit on TorontoJobs.ca
- 1 lunch voucher.
$1,270 + HST
Group of 10 VIP Admission Package

General Admission Package inclusions PLUS:
- Preferred seating for speaking sessions
- Access to our Cocktail & Networking Reception
$2,120 + HST
---
Fall 2019 Event Supporters

---
SHOWCASE YOUR BRAND
Increased Brand Exposure for your Organization.

Local, Targeted Audience of Greater Toronto Ares Recruiters & Staffing Firm Owners.

Centrally Located Downtown Toronto Location.
View our Media Kit for more information about exhibiting at The Toronto Recruiters Conference & Tradeshow.