The Trevor McCaw Memorial Cruise - Saturday, September 25th @ 11am.
About this event
A FALL COLORS CRUISE
Our Fall Colors Cruise has been modified and renamed this year as the:
"Trevor McCaw Memorial Cruise"
We will gather, honor & celebrate Trevor's short life which sadly ended in an untimely manner 20 years ago.
Trevor was a fun loving Car Guy just like the rest of us!
ENTRANCE FEE: PLEASE Bring 1 or 2 Non Perishable Food Item(s) for the Food Bank.
SUMMARY: Cruising from Cochrane we will go east on the 1A Highway to Lochend Road and proceed north while enjoying the splendor of the Fall Colors. Then heading back west past the James River Store over to Highway 22 and south through Sundre to Highway 760 enjoying the country roads down to the Water Valley Saloon.
At the Saloon we were going to gather for a social, maybe a Late Lunch and wrap it up from there. However with the recent Covid 19 Law Changes for Alberta it appears we may have to just end the cruise here without a social to wrap it up. If this changes we will change. With the recent changes in Alberta to Covid Rules it might be a good idea to bring your Covid Passport of you have one. (In case we can use it for the Saloon?).
We hope you'll join us for one of the most scenic cruises of the year!
Depending on schedules this may even be the last cruise of 2021?
Stay tuned to the Cruz Newz Newsletters to learn more and get details that you will need.
YOU MUST Sign Up for the Cruz Newz at www.CruiseCochrane.com.
You can un-subscribe later if you wish.
NOTE: This event is geared towards Hot Rods, Muscle Cars, Performance Cars and Cool Custom Pick-up Trucks etc.
See you soon!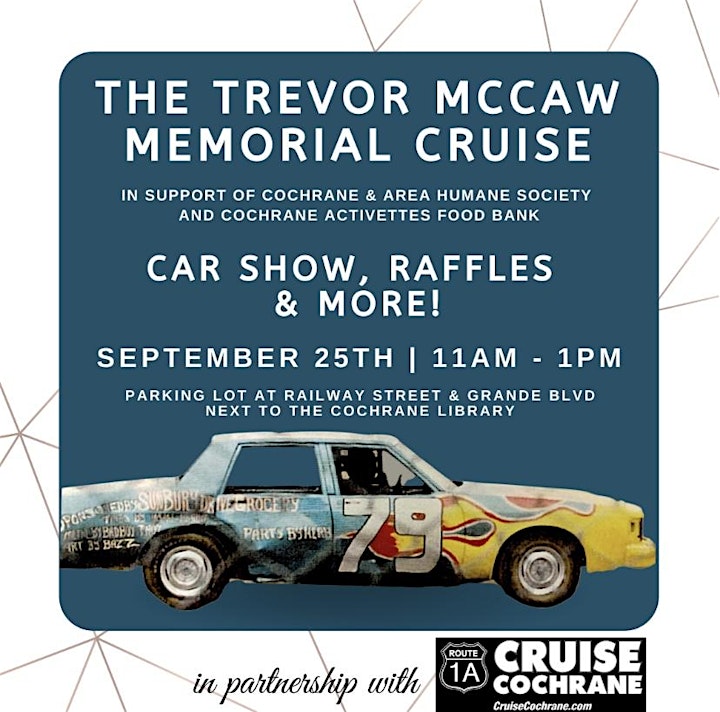 Organizer of The Trevor McCaw Memorial Cruise.
COOL RIDES - CRUISING THE FOOTHILLS & ROCKY MOUNTAINS West of CALGARY. ALBERTA, CANADA.
Established in 2018, Cruise Cochrane was developed by "Car-Guys" who wanted to do more than Show & Shines.
They wanted to drive their rides too!
Located a quick and easy 14 minute drive from Calgary out west in the scenic foothills.
We love cruising the back-roads, country & counties, foothills & the mountains too.
We also cruise to Show & Shines, do some Destination Cruises and more!
Each event is different.
You need to sign up to our Cruz Newz to get all the details! (Sign Up at www.CruiseCochrane.com).
Geared towards the culture of North American built Classics such as:
Hot Rods, Pro Street, Cool Pickup Trucks, Rat Rods, New & Old Muscle Cars & Cool Performance Machines in general.
If you like the movie American Graffiti and old tyme Rock & Roll music from the 50's & 60's you will fit right in!
We invite you to join us - Great Family FUN!
We are casual & we are an event - NOT a club - NO MEMBERSHIP FEES.
Follow Us on Facebook at Cruise Cochrane too!
You will need to have our Cruz Newz newsletter to get the details, instructions and other important information so be sure to sign up at our website: