Description
SIMS Electronics Recycling:
The true story behind electronics waste recycling
Is your company contributing to the dumping of e-waste in the developing world?
How can you be sure?

What are the right questions to ask?

Be sure that a green supply chain doesn't end with a PR disaster.
Participate in a candid discussion about policy, life cycle management, and the risks your company faces from the way you manage your e-waste. Learn how to protect your corporate brand from the negative PR resulting from data theft and your indirect participation in illegal dumping.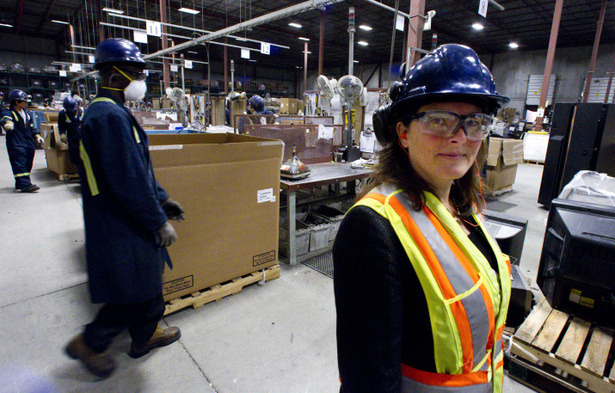 Featuring:
Cindy Coutts,
President, SIMS Recycling Solutions
SIMS is a leader that goes beyond the regulations. Cindy will explain the challenges in the industry, what happens to waste that isn't properly handled, how to ask the right questions when sourcing a waste handler and how SIMS' new state of the art technology is returning material that was once destined for landfill back into the supply chain. Learn how a vision to reduce environmental and social harm has established SIMS as a leader in the electronics waste handling industry.
Field Trip Annoucement
The Toronto Sustainability Speaker Series arranges its first field trip!
BOTH ATTENDEES OF THIS EVENT AS WELL AS THOSE WHO ARE NOT ABLE TO ATTEND...
are invited to a FREE lunch and tour of the SIMS new state of the art recycling facility in Mississauga. The tour will take place from 12:00pm to 3:00pm on March 16th. A bus will be provided by SIMS from either Yorkdale or Union station. Details to come.
---
PRESENTED BY:

The
Toronto Sustainability Speaker Series
was launched in 2008 to dispel the myth that sustainability is a cost to business and to share the experiences of companies that have found success by embracing sustainability as part of their corporate vision. The events serve not only as a learning opportunity but also as a networking forum for individuals to come together as allies and partners in efforts to promote sustainable business practices.
---
DETAILS:
PLEASE NOTE AGENDA: NEW START TIME and EXTENDED NETWORKING TIMES
Wednesday March 9, 2011, 5:00 - 6:30

55 University Ave. (Street Level)
Please register early - limited space available!
AGENDA:
4:30 - 5:00 pm: Registration, snacks and networking
5:00 - 5:15 pm: Introductions and special announcements
5:15 - 6:30 pm: Cindy Coutts (including Q&A and audience discussion)
6:30 - 7:30 pm: Networking and snacks
Ticket price includes speaker, snacks and non-alcoholic beverages.
$15 in advance (available until 6pm March 8), $40 at the door (if space permits)
Please remember the environment - no printed tickets are necessary, master list of registered attendees will be at the door.
If you have questions about the event please email Brad Zarnett
---
We are very pleased that Haworth continues to support the Speaker Series by generously offering its beautiful showroom as the venue for our presentation and networking event.
Learn how Haworth's zero landfill goal
is becoming a reality
---
Sponsored by: