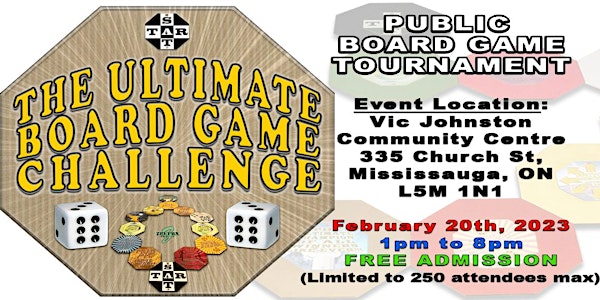 The Ultimate Board Game Challenge Tournament
A FREE public event where selected attendees compete for prizes on a gigantic board game. YOU are the playing piece battling to be the champ
When and where
Date and time
Mon, Feb 20, 2023 1:00 PM - 8:00 PM EST
Location
335 Church St 335 Church Street Mississauga, ON L5M 1N1 Canada
About this event
To be held at the Vic Johnston Community Centre, on Family Day (Monday, February 20th, 2023), will be the first public tournament of the new giant-sized board game called The Ultimate Board Game Challenge. It is FREE to attend!
This custom-designed board game, handmade by cardboard artist L.A. Nuwame, consists of individual 2-foot-long octagonal playing spaces that form together to create a unique 700-800 sq. ft. board game experience. Selected attendees act as the playing pieces and each space tells players what to do in order to gain the points needed to win the game. From fitness challenges and air guitar battles to staring contests, rock-paper-scissors, dance-offs, and anime running, players will be active and laughing until a champion is crowned. The audience gets to vote for the winner during many of the challenges. Everyone in attendance has a role to play.
Selected attendees, who need to register online at www.handmadecardboardinnovations.com to play, will be chosen at random to compete as the playing pieces to win prizes. We will also be collecting canned food for the Mississauga Food Bank. Again - it's a FREE event. No cost to register, attend or compete (if registered online).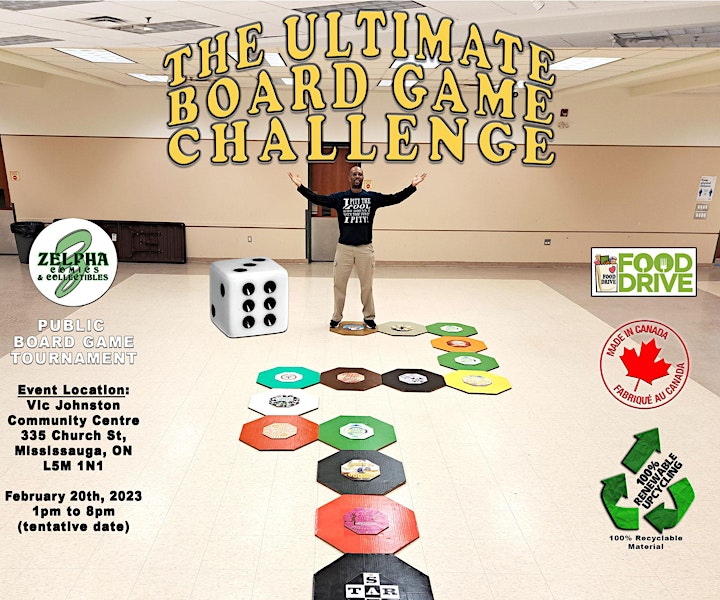 Frequently asked questions
Where and when is this bring held?
How do you play the game?
What are the prizes for tournament winners?
How many tournaments are planned?