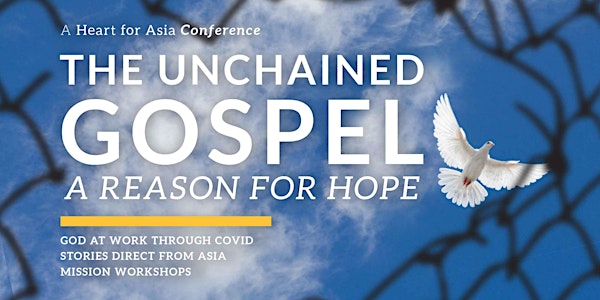 The Unchained Gospel: Heart for Asia Conference
COVID-19 constrains us, but God's word is not chained! Join us online to grapple with the challenges and embrace new missional opportunities
About this event
Heart for Asia returns in October 2020 to affirm God's continuing work and his invitation for us to bring good news to a hurting world.
In The Unchained Gospel, you'll meet people serving in East Asia, local practitioners and global ministry leaders. Hear their stories, join the discussion and expect God to show you new ways to be part of Jesus' Great Commission.
What's happening at this Heart for Asia online conference?
Praise and worship featuring the music of Keith and Kristyn Getty
God at Work: Reports direct from people serving in East Asia
Workshops including the Leader's Global Talk Show and Creative Access through Marketplace Ministries
Discussion and consolidation to put the day's learning into practice
For breakout sessions, choose two from these four options:
Director's Forum – a panel of four OMF directors discusses the challenges and opportunities presented by COVID-19 and what gives them hope for the future
Philippines Focus – a group of four workers in urban poor, creation care and South Philippines ministry share how God is working in this country
Creative Access through Marketplace Ministries – an overview of various ways to serve God using your skills and profession with diverse examples from the field
Ministry in Japan – James and Maki share their experience and opportunities to serve among the world's second-largest unreached people group
Who should attend The Unchained Gospel?
University, college and seminary students
Church leaders, missions pastors and missions committees
Church and student ministry groups
Believers of any age interested in serving cross-culturally
Anyone interested in serving and supporting missions from home
Anyone interested in learning more about missions
Your Heart for Asia Partners
OMF International is a global fellowship of Christians with a heart for East Asia, serving the church and sharing the good news of Jesus Christ in all its fullness. www.omf.ca
Mission Central catalyzes churches to become a missionary people and each person to become a mature disciple of Jesus. missioncentral.ca
Vancouver Chinese Evangelical Free Church and Emmanuel Baptist Church (Victoria) are host churches for The Unchained Gospel. With the event having moved online, they continue to support with planning and logistics. vcefc.org, emmanuelvictoria.ca