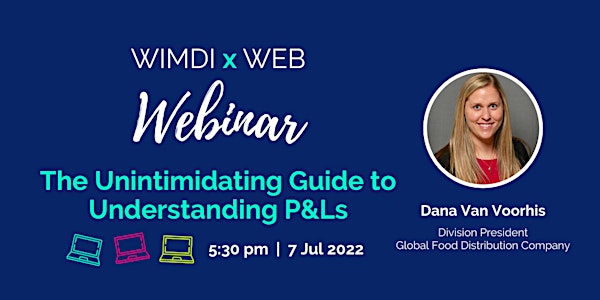 The Unintimidating Guide to Understanding P&Ls - WIMDI Interactive Webinar
Refund policy
Contact the organizer to request a refund.
Eventbrite's fee is nonrefundable.
A webinar version of our popular Speaker Series events where we learn skills that improve our leadership and careers!
About this event
In 2022, The WIMDI Speaker Series is inviting engaging speakers each month to give interactive talks on topics that help women kill it at work.
Welcome to Talk 7 of 13 - The Unintimidating Guide to Understanding P&Ls
Profit and Loss Statements – aka: P&Ls aka: Income Statements – are financial statements that the board, management, and investors use to manage the profitability of the business.
P&Ls are key to understanding the core drivers and opportunities in your business, and as you move up the chain of command at work, you'll be expected to take on more and more responsibility for analyzing P&Ls, using them to make decisions, and driving profitability.
Unfortunately, for most of us, the day we move into management is the first time we ever even see a P&L, let alone get any training about them.
Every month, accounting sends us our financials and we have to try our darndest to make heads or tails out of them. Soon enough, you find yourself asking:
Is $15 Million in operating income great? Or a crisis that needs to be managed? How can I even tell? And what exactly is COGs again? And hold on, what's gross margin? Is it the same as gross profit?
45 minutes and 14,000 not-exactly-helpful google results later, you're feeling defeated and more confused than ever, ready to break up with excel and financial statements forever.
What's an ambitious, career-minded woman who wants to get accolades for her excellent business acumen to do?
Attend this Webinar, that's what!
This talk will focus on teaching you (and simplifying!) all the nerdy details you need to understand income statements without being totally overwhelmed. We'll cover:
What an income statement is & why understanding them is career rocket fuel
How to read an income statement and its various components
How to benchmark the metrics on your income statements within your industry
How to leverage Sales, COGS, Margin, Expense, and Operating income to drive value
The goal of this talk is to help you better understand income statements so you can find new ways to add value to the company's bottom line.
--------------
Dana Van Voorhis, Division President, Global Food Distribution Company
Dana is President of a division of a large global food distribution company with cross-functional experience in sales, marketing, operations, and finance. Over the course of her career, she has learned that her special talent is digging into company financials, finding opportunities, and making changes to drive profits. Originally from Southern California, she currently calls Vancouver home and is an avid runner of its many seawalls.
--------------
How Interactive Webinars Work:
Our events are interactive and will require your attention and input throughout the course of the event.
5:30 pm - The event starts with mingling, socializing, and small-group networking. We recommend putting your webcam on* (even if you've already transitioned to work-is-over-dress-like-a-slob mode) to help you make the strongest possible connections with your new WIMDI friends!
5:45 pm - The talk starts! Most talks contain interactive elements, question prompts for you to complete, or other activities that make multi-tasking difficult. Get out your notepad and prepare to soak up some knowledge.
6:45 pm - It's #WIMDIasks time! We end the night with our interactive community-based resource that lets you crowdsource any challenge in your life through the network of all the WIMDIs in the room.
How Online Events Work:
This event is live-only and a recording will not be distributed after the fact. We are currently testing recording options, so we may record the event, but it will not be made available for quite some time. So, If you hear something you want to remember, take notes!
We'll email you the login info for the Zoom meeting 5 minutes before the start of the event.
Can't find your login details? Check your spam for mail from WIMDI. If you still can't find the info, email hello@wimdi.com and we'll get you all sorted out.
Attendance Notes:
1) Gender:
This event is open to individuals of any gender identity.
2) Code of Conduct:
By attending this event, you agree to adhere to WIMDI's code of conduct, which you can find at wimdi.com/code-of-conduct-and-policy.
3) Privacy, Photography and Recording*:
Online WIMDI events use Zoom, and we will be recording this event in the hopes of eventually releasing replays of the speaker portions of our events. As such we cannot guarantee that no photos, screenshots, or recordings will be taken of you during the event by event organizers or by other attendees. We love it when our members connect at our events using both video and audio, but we understand if our members prefer to participate with their video turned off to preserve (more of) their privacy.
4) Donations to PAFNW (Pacific Association of First Nations Women)
As part of this event we have the option of donation to the Pacific Association of First Nations Women for their scholarship fund for Indigenous women and girls. This is a concrete way - beyond land acknowledgement - to redistribute some of our collective financial privilege to support Indigenous women.