The Unique Lived Experiences of Refugees in Metro Vancouver, a Public Forum
Description
Join us for a free, public forum, The Unique Lived Experiences of Refugees in Metro Vancouver, that will highlight the contributions and unique lived experiences of people who came to Metro Vancouver as refugees. In particular, you will hear from people living with disabilities and those from the Lesbian, Gay, Bisexual, Two-Spirit, Transgender, Queer and Intersex communities.
If you are a community member, student, researcher, settlement service provider, newcomer, or someone wishing to learn more about these topics, we welcome you to attend!
Date: Saturday, October 27th
Time: 10:00 am – 3:30 pm
Venue: MOSAIC, 5575 Boundary Rd, Vancouver, BC V5R 2P9. Please find Parking and Transit Options here.

Please RSVP. Alternatively, reserve your seat by contacting lindsay.marsh@ubc.ca or 604-822-1672.
Disclaimer: Please note that by using this service, your information will be stored on the Eventbrite server, which is located outside Canada. If you do not wish to use this service, please email lindsay.marsh@ubc.ca directly to register. Thank you.
Refreshments will be provided throughout the day, including Starbucks coffee.
Lunch will be provided by Calabash Bistro, with vegetarian and Halal and Kosher friendly options.

Childminding and art facilitation to be provided by Children's Art Society.

Public transit tickets will be offered to newcomers who wish to attend. Please see a MOSAIC staff person for details upon arrival.

The program consists of heartfelt, informative, and engaging stories by keynote speakers and panelists who will share the ups & downs of their journeys settling in Metro Vancouver. Our moderated and small group discussions provide a chance for you, our guests, to explore what you heard, the theme of intersectionality and the benefits that diversity brings to our communities.
Enjoy a film screening and live music, create art with us, interact with students on their migration research, network over lunch backed by DJ beats, and much more. Meet new people, gain new resources on refugee resettlement, including the WUSC program at UBC and settlement providers in your community, and feel inspired to contribute in your own way!
Moderated by: Saleem Spindari, Manager of Refugees and Migrant Workers Programs, MOSAIC
Our Speakers include:
Indigenous Welcome: Marissa Nahanee, Maykw Cha7em of Squamish & Nisga'a Nations
Keynote: Jana Husseini
Second Keynote: A member of the LGBTQI community
Filmmaker: Amar Chebib, with Film Producer Lindsey Ridgway and Musician Ibrahim Saker
Zdravko Cimbaljevic
Danny Ramadan
Patience Magagula
Jennifer Monterroso-Soto
Ali Hoshmand
Moderators: Imtiaz Popat, Christopher Wolff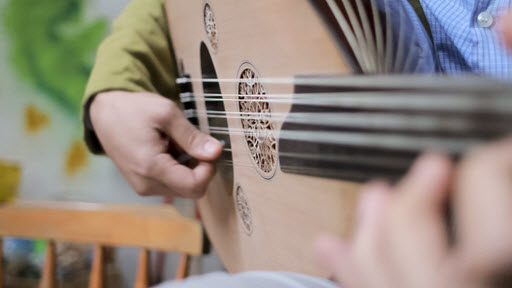 We will present the film, Wajd – Songs of Separation, by Amar Chebib, a documentary filmmaker. Inspired by the traditional music of Syria, director Amar Chebib traveled to Aleppo in 2010. Six months later the revolution began. Touched by the harrowing experiences of the friends he made, Wajd shares the stories of three musicians turned refugees. Over five years, we become intimate with the struggles of Ibrahim, Abdulwahed, and Mohamed as they face their traumatic past. Forced to rebuild their lives in exile, they turn to their love of music to help them find meaning in the aftermath of destruction and atrocity. Verite footage of their daily lives weaves together with bittersweet musical performances, traditional Sufi ceremonies, and poetic imagery of a pre-war Syria that no longer exists. What unfolds is a cinematic meditation on loss, yearning, and faith.
Download a Poster for the film.
DJ beats will be provided by DJ JudiLew
In the Research Room, enjoy poster displays by UBC graduate students.
Stop by the UBC Refugee Relief table to learn more about their work! UBC Refugee Relief is a diverse group of committed students fundraising for and supporting refugees wanting to come to Canada through the private sponsorship process.
Bios:
Marissa Nahanee is currently contracted in Client Relations with Indigenous Community for Leadership and Development (ICLD). ICLD works with First Nations to design and deliver personalized training that is developed with respect for the wisdom within each community. Their mission is to facilitate learning and skill growth that supports your economic development goals. Marissa worked with the Four Host First Nations Secretariat during the Vancouver 2010 Olympic and Paralympic Winter Games on projects such as the Indigenous Youth Gathering, in which 300 youth performed in the Olympic Opening Ceremonies. TV appearances include Creative Native, My TV, Tribal Tracks and First Talk, as well as four documentaries, such as The Road Forward by Marie Clements, National Film Board of Canada. Marissa is a graduate in Event Management at the Art Institute of Vancouver, Northwest Coast Art from the Native Education College, and Tourism Management from Simon Frasier University/Chief Dan George Centre.
Ahmad Danny Ramadan is a Syrian-Canadian author, public speaker, storyteller and an LGBTQ-refugee activist. His English debut novel, The Clothesline Swing, continues to receive raving reviews. As an LGBTQ activist, he has been involved in coordinating online and on the ground efforts to support Queer and Trans identifying refugees from Syria to immigrate to Canada. Danny runs the annual fundraiser An Evening in Damascus to support those efforts. Since May 2015, he has raised over $100.000 to support a total of eight other LGBTQ-identifying Syrian refugees; and participated in efforts to ensure safe passage to 24 Syrian Queer and Trans refugees to Canada. His public speaking and storytelling made him a regular presenter in conferences, conventions and storytelling events across Canada. He was a keynote speaker at QMUNITY's IDAHOT Breakfast, the Liberal Party Convention, Six Degrees Conference, among others. His TEDx talk has gathered thousands of views on YouTube. Ramadan serves on the board of Vancouver Pride Society since September 2017, and is a member of the City of Vancouver LGBTQ2+ Advisory Committee.
Ali Hoshman came to Canada in 2017 as an inland refugee claimant and earlier this year became a conventional refugee. He is originally from Afghanistan and was an activist there for disabled people and women's empowerment as the head of their union. He was directing a handicrafts company in which he was employed 50 women and disabled individuals, and as a result, his life was threatened by Taliban. He has lost his leg 28 years ago because of a land mine.
Ibrahim Saker is a Syrian musician who follows in the footsteps of his grandfather, a Syrian folksinger, and his father, a composer of Oriental Arabic music. A multi-talented musician, Ibrahim produces, composes and directs and is a founding member of the Syrian based Laoadessa Band. Currently a student at UBC, Ibrahim has recently become the Middle Eastern Music Program Director at the UBC's Arab Student Association Club. After witnessing the war in his country, Ibrahim is focusing his musical talents on intercultural musical collaborations between musicians with varied musical influences, styles and cultural origins as a way of bringing communities and cultures together.
Jana Husseini was born and raised in Lebanon, and lives in Vancouver, British Columbia. She is 29 years old and she was born with Spina Bifida. She is an active disability community member with a background in human services. Over the years, she has worked with Disabled People's International (Arab Region) and the Lebanese Physical Handicapped Union where she oversaw many activities at the regional and international levels. She started her career as a young disability advocate in 2006 as a volunteer with the Lebanese Physical Handicapped Union. She has shown a significant enthusiasm for promoting rights of persons with disabilities in her country, Lebanon. She has led many youth activities mobilizing young women and men with disabilities in her country to get their voices heard, and thus advocating for inclusion. Also, she has been a trainer with Action Aid-Denmark where she worked with international youth on leadership and campaigning as part of the International Leadership Training Seminar. She has wide experience working with newcomers with disability. Currently, she sits on the board of directors of DAWN Canada. Jana is an RDSP and DTC Advocate for the Access RDSP program at Disability Alliance BC. She has been able to draw on her own experience living with a disability to support others to access the benefits of the Registered Disability Savings Plan. She regularly presents to groups around the province about the benefits of the DTC and RDSP. In 2017, she was part of the Canadian government Federal Minister's Delegation to the United Nations as a youth delegate, to the Conference of States Parties 2017 in the UN Convention on the rights of Persons with Disabilities. She holds a Bachelor's Degree in Translation and Languages. Her spare time is spent kayaking, volunteering, hand-cycling, and mountain biking.
Jennifer Monterroso-Soto (born 1984) is a Guatemalan Trans-Queer Refugee Activist. She was born in Guatemala City, Guatemala, Latin America. She was forced to immigrate to Mexico, as a refugee in 2015, before immigrating to Vancouver, British Columbia as a UNCHR Refugee in December 2017. In Canada, Monterroso has actively participated in LGBTQ panels, forums and events related to refugees, asylum seekers, and newcomers. In Guatemala, she devoted sixteen years as a Trans-Queer activist, helping her community to develop gender identity policies.
Patience Magagula is a mother of three and has been living with HIV for 16 years. She is the co-founder and director of the Afro-Canadian Positive Network of BC. She serves on a number of boards and committees across Canada, including Pacific AIDS Network (PAN) and Canadian Treatment Action Council (CTAC), and has served as a Canadian Association for HIV Research (CAHR) Community Representative. She also serves as a knowledge user for the Canadian Institutes of Health Research (CIHR)-funded University of Victoria research study of structural factors affecting the health of African migrant women living with HIV in BC called the Newcomer, HIV, Immigration, Treatment Engagement and Stigma in Canada project. By sharing her story, Patience hopes to end the stigma of HIV and bring hope to the hopeless.
Zdravko Cimbaljevic was born in Montenegro and in 2011, he came out as the first out gay man in his country, after experiencing physical attacks and death threats. He was able to sit at the same table with the Montenegrin Prime Minister, President, Parliament members and other decision-makers as part of the National Anti-Discrimination Council. He also brought LGBTIQ topics as one of the most important human rights issues of the European Union Accession Process for Montenegro. He opened the first LGBTIQ2+ Shelter in the Balkan Region. Just days before he arrived in Vancouver to open Pride as a Grand Marshal, he organized the first ever Pride Parade in Montenegro. He has continued with his international activism and joined as a Rainbow Refugee as a Board Member. Next to his endless volunteer hours for causes and LGBTIQ2+ issues, he is currently working for the BC Ministry of Finance and will soon be graduating in "Peace and Conflict Resolution" studies.
JudiLew is a multi‐talented woman whose resumé includes an Emmy nominated television series and a Peabody award winning film. As a writer, director, producer, author and multi‐faceted entertainer JudiLew continues to enjoy an adventure filled career, packed with eclectic projects all over the world. From her production company, VANGRIOT's in‐house produced endeavours to next‐level collaborations and client driven opportunities, JudiLew has been privileged to make a significant impression within Hollywood's elite circles, political arenas and the private sector. JudiLew believes she must use her voice in the entertainment industry to not only entertain, but to also tell our stories and give voice to the issues often left in the shadows of the collective conversation. As a woman of Jamaican heritage, Judi Lewinson proudly embraces the country's motto, "Out of Many, One People" and seeks to tell diverse and incredible stories that highlight our multi‐cultural world while celebrating the universal strength of the human spirit.
PROGRAM
Morning
10:00 am – 10:05 am
Welcome by Saleem Spindari, Manager of Refugees and Migrant Workers Programs, MOSAIC
10:05 am – 10:15 am
Indigenous Welcome by Marissa Nahanee, Maykw Cha7em of Squamish & Nisga'a Nations
10:15 am – 10:30 am
Welcome Remarks by Olga Stachova, Chief Executive Officer, MOSAIC and Clement Rugwiro, WUSC scholar & president of WUSC-UBC
10:30 am – 11:30 am
A Conversation with Special Guests Jana Husseini on her journey as a refugee to Canada living with a disability; also hear from a Woman from the LGBTQI community, hosted by Saleem Spindari, with Q&A
11:30 am – 12:30 pm
An immersive cultural event featuring clips of Wajd – Songs of Separation, a documentary film by Amar Chebib; Discussion on the film with producer Lindsey Ridgway and film maker Amar Chebib and Live Music by Ibrahim Saker, a Syrian musician
12:30 pm – 1:30 pm
LUNCH by Calabash Bistro, with DJ Judi Sketch Lewinson
Afternoon
1:30 pm – 2:30 pm
LGBTQI+ Panel: Zdravko Cimbaljevic, Jennifer Monterroso-Soto, with Spanish interpreter Carlo Campodonico, Ahmad Danny Ramadan; Moderated by: Imtiaz Popat
*Art facilitation by Children's Art Society and Research posters in other rooms
2:30 pm – 3:15 pm
Disabilities Panel: Patience Magagula, Ali Hoshmand, with Farsi interpreter Golmehr Kazari, Moderated by: Christopher Wolff
*Art facilitation by Children's Art Society and Research Posters in other rooms
3:15 pm – 3:30 pm
Closing Remarks by Farah Kotadia, Program Director, AMSSA; Reflections from the Audience
Co-hosted by: MOSAIC, Vancouver Association for Survivors of Torture (VAST), AMSSA, Options Community Services Society, Vancouver Immigration Partnership with the City of Vancouver, UBC School of Public Policy and Global Affairs, UBC Migration Research Excellence Cluster, and UBC International Student Development
Sponsors: We acknowledge the financial support of UBC Community Engagement, UBC Migration Research Excellence Cluster, and UBC School of Public Policy and Global Affairs.