The Unique Lived Experiences of Refugees in Metro Vancouver, a Public Forum
Description
Join us for a free, public forum, The Unique Lived Experiences of Refugees in Metro Vancouver, that will highlight the contributions and unique lived experiences of people who came to Metro Vancouver as refugees. In particular, you will hear from people living with disabilities and those from the Lesbian, Gay, Bisexual, Two-Spirit, Transgender, Queer and Intersex communities.
If you are a community member, student, researcher, settlement service provider, newcomer, or someone wishing to learn more about these topics, we welcome you to attend!
Date: Saturday, October 27th
Time: 10:00 am – 3:30 pm
Venue: MOSAIC, 5575 Boundary Rd, Vancouver, BC V5R 2P9. Please find Parking and Transit Options here.

Please RSVP. Alternatively, reserve your seat by contacting lindsay.marsh@ubc.ca or 604-822-1672.
Disclaimer: Please note that by using this service, your information will be stored on the Eventbrite server, which is located outside Canada. If you do not wish to use this service, please email lindsay.marsh@ubc.ca directly to register. Thank you.
Refreshments will be provided throughout the day, including Starbucks coffee.
Lunch will be provided by Calabash Bistro, with vegetarian and Halal and Kosher friendly options.

Childminding and art facilitation to be provided by Children's Art Society.

Public transit tickets will be offered to newcomers who wish to attend. Please see a MOSAIC staff person for details upon arrival.

The program consists of heartfelt, informative, and engaging stories by keynote speakers and panelists who will share the ups & downs of their journeys settling in Metro Vancouver. Our moderated and small group discussions provide a chance for you, our guests, to explore what you heard, the theme of intersectionality and the benefits that diversity brings to our communities.
Enjoy a film screening and live music, create art with us, interact with students on their migration research, network over lunch backed by DJ beats, and much more. Meet new people, gain new resources on refugee resettlement, including the WUSC program at UBC and settlement providers in your community, and feel inspired to contribute in your own way!
Moderated by: Saleem Spindari, Manager of Refugees and Migrant Workers Programs, MOSAIC
Our Speakers include:
- Marissa Nahanee - Maykw Cha7em of Squamish & Nisga'a Nations.
- Jana Hussenni
- Zdravko Cimbaljevic
- Danny Ramadan
- Patience Magagula
*With more speakers to be added!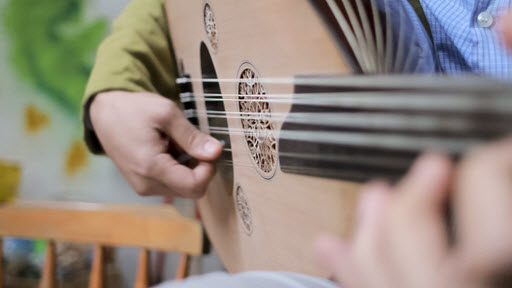 We will present the film, Wajd – Songs of Separation, by Amar Chebib, a documentary filmmaker. Inspired by the traditional music of Syria, director Amar Chebib traveled to Aleppo in 2010. Six months later the revolution began. Touched by the harrowing experiences of the friends he made, Wajd shares the stories of three musicians turned refugees. Over five years, we become intimate with the struggles of Ibrahim, Abdulwahed, and Mohamed as they face their traumatic past. Forced to rebuild their lives in exile, they turn to their love of music to help them find meaning in the aftermath of destruction and atrocity. Verite footage of their daily lives weaves together with bittersweet musical performances, traditional Sufi ceremonies, and poetic imagery of a pre-war Syria that no longer exists. What unfolds is a cinematic meditation on loss, yearning, and faith.
Download a Poster for the film.
DJ beats will be provided by DJ Judi Sketch Lewinson.
In the Research Room, enjoy poster displays by UBC graduate students.
Stop by the UBC Refugee Relief table to learn more about their work! UBC Refugee Relief is a diverse group of committed students fundraising for and supporting refugees wanting to come to Canada through the private sponsorship process.
Bios:
Marissa Nahanee is currently contracted as Client Relations with Indigenous Community for Leadership and Development (ICLD). ICLD works with First Nations to design and deliver personalized training that is developed with respect for the wisdom within each community. Their mission is to facilitate learning and skill growth that supports your economic development goals. Marissa worked with the Four Host First Nations Secretariat during the Vancouver 2010 Olympic and Paralympic Winter Games on projects such as the Indigenous Youth Gathering, in which 300 youth performed in the Olympic Opening Ceremonies. TV appearances include Creative Native, My TV, Tribal Tracks and First Talk, as well as four documentaries, such as The Road Forward by Marie Clements, National Film Board of Canada. Marissa is a graduate in Event Management at the Art Institute of Vancouver, Northwest Coast Art from the Native Education College, and Tourism Management from Simon Frasier University/Chief Dan George Centre.
Patience Magagula is a mother of three and has been living with HIV for 16 years. She is the co-founder and director of the Afro-Canadian Positive Network of BC. She serves on a number of boards and committees across Canada, including Pacific AIDS Network (PAN) and Canadian Treatment Action Council (CTAC), and serves as a Canadian Association for HIV Research (CAHR) Community Representative. She also serves as a knowledge user with the SHAWNA research study. By sharing her story, Patience hopes to end the stigma of HIV and bring hope to the hopeless.
Zdravko Cimbaljevic was born in Montenegro and in 2011, he came out as the first out gay man in his country, after experiencing physical attacks and death threats. He was able to sit at the same table with the Montenegrin Prime Minister, President, Parliament members and other decision-makers as part of the National Anti-Discrimination Council. He also brought LGBTIQ topics as one of the most important human rights issues of the European Union Accession Process for Montenegro. He opened the first LGBTIQ2+ Shelter in the Balkan Region. Just days before he arrived in Vancouver to open Pride as a Grand Marshal, he organized the first ever Pride Parade in Montenegro. He has continued with his international activism and joined as a Rainbow Refugee as a Board Member. Next to his endless volunteer hours for causes and LGBTIQ2+ issues, he is currently working for the BC Ministry of Finance and will soon be graduating in "Peace and Conflict Resolution" studies.
Judi Lewinson (JudiLew) is a multi‐talented woman whose resumé includes an Emmy nominated television series and a Peabody award winning film. As a writer, director, producer, author and multi‐faceted entertainer JudiLew continues to enjoy an adventure filled career, packed with eclectic projects all over the world. From her production company, VANGRIOT's in‐house produced endeavours to next‐level collaborations and client driven opportunities, JudiLew has been privileged to make a significant impression within Hollywood's elite circles, political arenas and the private sector. JudiLew believes she must use her voice in the entertainment industry to not only entertain, but to also tell our stories and give voice to the issues often left in the shadows of the collective conversation. As a woman of Jamaican heritage, Judi Lewinson proudly embraces the country's motto, "Out of Many, One People" and seeks to tell diverse and incredible stories that highlight our multi‐cultural world while celebrating the universal strength of the human spirit.
Co-hosted by: MOSAIC, Vancouver Association for Survivors of Torture (VAST), AMSSA, Options Community Services Society, Vancouver Immigration Partnership with the City of Vancouver, UBC School of Public Policy and Global Affairs, UBC Migration Research Excellence Cluster, and UBC International Student Development
Sponsors: We acknowledge the financial support of UBC Community Engagement, UBC Migration Research Excellence Cluster, and UBC School of Public Policy and Global Affairs.