Multiple Dates
The Vagina Monologues & Raise the Vibration
The Muslim Feminist Collective of Edmonton & Black Women United YEG present a benefit performance of Eve Ensler's 'The Vagina Monologues'
About this Event
This year, the Muslim Feminist Collective of Edmonton & Black Women United YEG have teamed up to present a benefit performance of Eve Ensler's The Vagina Monologues', followed by 'Raise the Vibration', featuring original pieces by the all women-of-colour cast.
The Vagina Monologues is a play written by Eve Ensler, based on a series of interviews she did with women about their vaginas. This included all sorts of interesting themes that are adjacent to that - sexuality, grooming, violence, birth, etc. The play first premiered in 1996 and garnered a strong response, which then gave rise to a movement, called V-Day. V-Day, as noted at vday.org, is: "a global activist movement to end violence against all women and girls (cisgender, transgender, and those who hold fluid identities that are subject to gender based violence). With creativity and determination, V-activists around the world tirelessly work to end harassment, rape, battery, incest, female genital mutilation and sex slavery… Every year, in February, V-day invites activists from around the world to present benefit events. The purpose of these events is to raise awareness about violence against women and girls and to raise money for local beneficiaries who are working to end that violence."
Performances will take place ‪on Feb 22 @ ‬7PM and ‪Feb 23 @ 3PM‬ with proceeds benefitting local organisations that are working to end violence against women, particularly women of colour.
We hope you'll join us as we work towards ending the violence.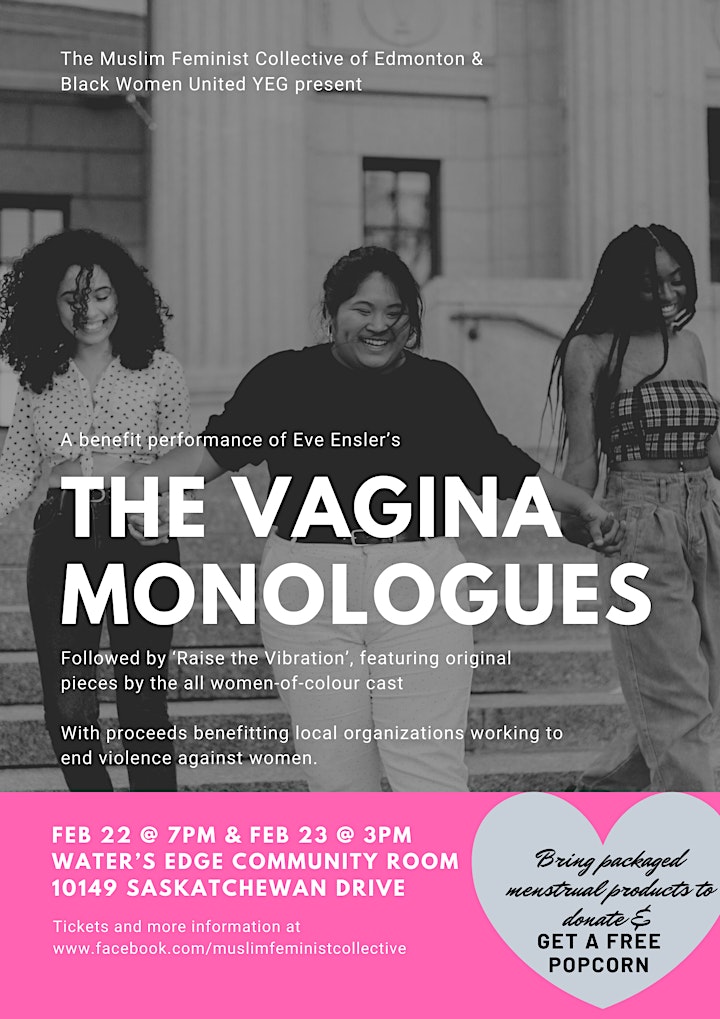 Parking for the show is on the street in the neighbourhood. The purple lines on the map show some of the options.