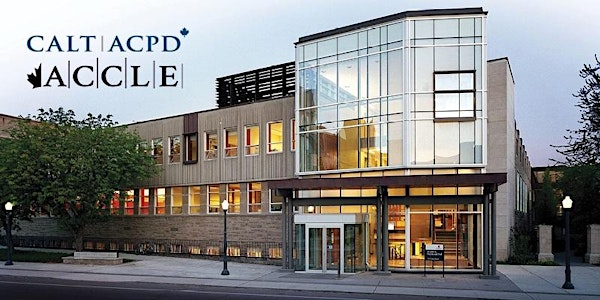 Location
Queen's University, Faculty of Law
Macdonald Hall
128 Union Street
Kingston, Ontario K7L 3N6
Canada
Refund policy
Refunds up to 7 days before event
Sales Have Ended
Ticket sales have ended
Thank you for your registration. We look forward to welcoming you in Kingston in June 2018! Merci de votre inscription. Nous sommes impatients de vous accueillir à Kingston en juin 2018!
Description
Note: La version française suit l'anglais.
The Association for Canadian Clinical Legal Education (ACCLE) and the Canadian Association of Law Teachers (CALT) are pleased to invite you to our 2018 joint conference. "The Whole Lawyer 2.0" will take place at the Faculty of Law, Queen's University (Kingston, Ontario), from Thursday 31 May to Saturday 2 June 2018.
You can view the Draft Conference Program. Please note this schedule is subject to change.
Conference Theme:
At our first joint conference in 2017, we were introduced to the notion of "the whole lawyer" through the work of the Institute for the Advancement of the American Legal System (IAALS) in its "Foundations for Practice" study, as well through the Calls for Action of the Truth and Reconciliation Commission. Our initial explorations raised many issues, concerns and questions of ongoing significance and interest. We felt, and participants agreed in the conference evaluations, that there was much more to be said on these important questions.
We hope the "The Whole Lawyer 2.0" will provide an opportunity to more fully explore key topics related to "the whole lawyer" and continue critical conversations related to several key sub-themes including but not limited to technology, the question of competencies, professional identity development and the character quotient, ongoing responses to the TRC's Calls for Action and what it might mean to "lawyer for reconciliation".
To inspire us in these conversations, we are honoured to welcome Renu Mandhane, Chief Commissioner of the Ontario Human Rights Commission, as our opening keynote speaker.
More information about the conference theme and proposed key topics can be found in our Call for Proposals.
Conference Schedule:
The joint ACCLE / CALT Conference will run for 2.5 days. Registration opens at 8:30 am on Thursday, May 31. The conference program will conclude at 1:00 pm on June 2, 2018.
Conference registration fees include breakfast on all three days and lunch on the two full days, May 31 & June 1. There are also options to add ACCLE or CALT memberships to your registration. Register early! Early bird pricing ends on April 15, 2018.
All registrants and guests are invited to join us for the conference dinner on Thursday, May 31. The dinner will be held in the ballroom at Kingston's Four Points Sheraton hotel, located steps away from Kingston's beautiful downtown waterfront. Guests will enjoy an abundant buffet dinner with numerous salads, fresh seasonal vegetables and main course options followed by fresh fruit and a selection of desserts. A cash bar will be available.
Bring your dancing shoes - DJs Wiseman and Rochette will be returning to spin some tunes after dinner!
On Friday, June 1, following the second day of the conference, participants are invited to an open house reception at the downtown location of the Queen's Law Clinics. Attendees will have the chance to learn more about the diversity of clinical programs and client services offered by the 5 Queen's clinics, meet some of their student caseworkers and clinicians and tour their newly renovated communal space. Appetizers will be served and a cash bar will be available.
Note: Both the conference dinner & the Friday evening reception require registration. The Conference dinner is $65/pp. The Friday evening reception is free. If you are interested in attending these events, please make sure add these to your conference registration when selecting your preferred options from the drop-down registration menu.
Please check this Event page and ACCLE and CALT's website for updates on the Conference Schedule and program.
Conference Venue
On campus, all of the ACCLE/CALT activities will take place in MacDonald Hall (Faculty of Law), 128 Union Street. All conference activities are within walking distance from the conference hotels.
Conference Accommodations
Our hosts have secured a number of accommodation options, as set out below. All are within walking distance of the University.
To access the conference discounted room rates, click on the name of the hotel below and the hyperlink will take you to the registration page with the discount code already added. Note that these rates expire on April 30, 2018.
We have also included contact information for the point person at each hotel below in case you encounter any difficulty with the on-line booking process.
Address: 7 Earl Street, Kingston, ON K7L 0A4
20 of our Studio Suites for $219/night and $21/night for parking. Spacious open-concept studios include a king size bed & queen-size sofa bed (good price point for sharing), as well as full-size refrigerator and dishwasher, a ceramic cook top, microwave and toaster. Breakfast is also included.
Contact: Heather Westendorp, Sales and Catering Manager
Email: hwestendorp@marriottresidenceinnkingston.com //
T: 613-531-7207 | C: 613-453-9231
Address: 1 Johnson Street, Kingston, ON K7L 5H7
Marriott hotel(s) offering your special group rate of $209 CAD per night. Covered parking available for $21.00/night
Contact: Stephanie Quick squick@deltakingston.com
Tel: 613-549-8100 Direct: 613-650-5410
Address: 285 King St E, Kingston, ON K7L 3B2
40 rooms at $169/night. Parking at a city lot is available for $16/night.
Contact: Kristen Pressling kpressling@fourpointskingston.com // Tel: 613-545-4277
Address: 2 Princess Street, Kingston, ON K7L 1A2
NOTE: For this hotel, you must first enter the conference dates before the discount code and rate will appear. The Holiday Inn Kingston Waterfront is offering 50 rooms in total for conference participants. 40 Traditional Rooms with 2 double beds - $159.99/plus applicable taxes and fees,10 King Rooms with 1 king bed - $169.99/ plus applicable taxes and fees. Parking $17 per night
Contact: Nicole Kemp, Director of Sales & Marketing
Email: nkemp@hikingstonwaterfront.com // P : 613-549-8400 x 2644
Travelling to Kingston
Queen's University is located in historic downtown Kingston. The University's website offers detailed directions to Kingston by car, bus and air. It also offers information about travel options within the city, including on-campus parking, bike storage and rentals, bus routes and taxis.

Refund Policy
To request a refund of any part of your registration fees (including dinner, etc.), please contact us via email at lisa.cirillo@utoronto.ca. The deadline to request a refund is Sunday, May 27, 2018. After this date, refunds will only be extended at the discretion of the Conference Planning Committee.
L'Association Canadienne pour l'enseignement clinique du droit (ACECD) et l'Association Canadienne des professeurs de droit (ACPD)
sont heureuses de vous inviter à leur conférence conjointe 2018. La conférence «

 Le juriste accompli 2.0

 » se tiendra à la Faculté de droit de l'Université Queen's à Kingston, en Ontario, du jeudi 31 mai au samedi 2 juin 2018.
Thème de la conférence :
Lors de notre conférence conjointe 2017, nous avions découvert et exploré ensemble la notion de « juriste accompli-e ». Pour ce faire, nous nous étions fondés sur une étude publiée par l'Institute for the Advancement of the American Legal System (IAALS) et intitulée « Les fondements de la pratique du droit » ainsi que sur les appels à l'action lancés par la Commission de vérité et réconciliation. Nos explorations initiales nous ont ainsi permis de soulever divers enjeux, préoccupations et questions d'importance aussi bien que d'actualité. Nous avons estimé qu'il y avait beaucoup plus à dire sur ces questions importantes et les participants en ont convenu dans les évaluations de la conférence.
Nous espérons que la conférence de cette année explorera plus en profondeur les thématiques clés liées au concept de « juriste accompli » et qu'elle poursuivra des conversations critiques relatives aux différents sous-thèmes clés, notamment le savoir-faire technologique, la définition de « compétence », le développement de l'identité et le « quotient personnalité », les réponses continues aux appels à l'action lancés par la Commission de vérité et réconciliation et ce que cela pourrait signifier d'être « avocat pour la réconciliation ».
Afin de nous inspirer dans ces conversations, nous sommes honorés d'accueillir à titre de conférencière d'ouverture Mme Renu Mandhane, commissaire en chef de la Commission ontarienne des droits de la personne.
Plus d'informations sur le thème de la conférence et les thèmes clés proposés peuvent être consultées dans notre section Appel de propositions.
Horaire de la conférence :
La conférence conjointe de l'ACECD et de l'ACPD s'échelonnera sur deux journées et demie. L'inscription débute à 8 h 30 le jeudi 31 mai. La conférence se terminera à 13 h le 2 juin 2018.
Les frais d'inscription comprennent le petit déjeuner durant les trois jours de l'événement et le dîner (midi) les 8 et 9 juin. Il est aussi possible d'adhérer à l'ACECD et à l'ACPD au moment de votre inscription. Inscrivez-vous sans tarder! Vous avez jusqu'au 15 avril 2018 pour profiter du tarif de préinscription.
Tous les participants et les invités sont invités à se joindre à nous lors du souper de la conférence, le 31 mai 2018. Le repas aura lieu dans la salle de bal de l'hôtel Four Points Sheraton à Kingston, situé à quelques pas du magnifique secteur riverain du centre-ville. Vous pourrez profiter d'un copieux buffet incluant un grand choix de salades, de légumes frais de saison, de plats principaux suivis de fruits frais et d'une sélection de desserts. Un bar payant sera offert.
Apportez vos chaussures de danse – DJs Wiseman & Rochette sera présent encore cette année pour vous faire danser après le repas!
Remarque : Le souper de la conférence nécessite une inscription et un paiement séparés. Lors de votre inscription, assurez-vous de sélectionner, à l'aide du menu déroulant, l'option d'inscription ainsi que l'option du souper de votre choix.
Veuillez consulter la page du colloque annuel sur le site Internet de l'ACECD et à l'ACPD afin de consulter l'horaire et le programme de l'événement.
Lieu de la conférence
Toutes les activités de l'ACECD/ACPD auront lieu sur le campus, au salon MacDonald (Faculté de droit), 128, rue Union.
Hébergement lors de la conférence
Nos hôtes ont obtenu un certain nombre d'options d'hébergement, comme indiqué ci-dessous. Toutes sont situées à distance de marche de l'université.
Pour accéder aux tarifs réduits de la conférence, cliquez sur le nom de l'hôtel ci-dessous et le lien hypertexte vous amènera à la page d'inscription, et le code de réduction s'inscrira automatiquement. Veuillez noter que ces tarifs expireront le 30 avril 2018.
Ci-dessous, nous avons également inclus les coordonnées de la personne-ressource pour chaque hôtel au cas où vous rencontreriez des difficultés avec le processus de réservation en ligne.
Adresse: 7, rue Earl, Kingston (Ontario) K7L 0A4
20 de nos suites Studio pour 219 $/nuit et 21 $/nuit pour le stationnement. Les studios spacieux à aire ouverte comprennent un très grand lit et un canapé-lit deux places (idéal pour partager avec un collègue), ainsi qu'un grand réfrigérateur, un lave-vaisselle, une plaque de cuisson en céramique, un four micro-ondes et un grille-pain. Les petits déjeuners sont inclus.
Personne-ressource : Heather Westendorp, directrice des ventes et de la restauration
Courriel : hwestendorp@marriottresidenceinnkingston.com//
Tél. : 613 531-7207 | Cell. : 613 453-9231
Adresse : 1, rue Jofnson, Kingston (Ontario) K7L 5H7
L'hôtel Marriott offre un tarif de groupe réduit de 209 $/nuit. Accès au stationnement pour 21 $/nuit.
Personne-ressource : Stephanie Quick squick@deltakingston.com
Tél. : 613 549-8100 Ligne directe : 613 650-5410
Adresse : 285, rue King Est, Kingston (Ontario) K7L 3B2
40 chambres à 169 $/nuit
Personne-ressource : Kristen Pressling kpressling@fourpointskingston.com/Tél. : 613 545-4277
Adresse : 2, rue Princess, Kingston (Ontario) K7L 1A2
REMARQUE : Pour cet hôtel, vous devez d'abord entrer les dates de la conférence avant que le code de réduction et le taux n'apparaissent. Le Holiday Inn Kingston Waterfront offre 50 chambres pour les participants à la conférence. 40 chambres traditionnelles avec deux grands lits – 159,99 $ plus taxes et frais applicables, 10 chambres avec un grand lit – 169,99 $ plus taxes et frais applicables. Accès au stationnement pour 17 $/par nuit
Personne-ressource : Nicole Kemp, directrice des ventes et du marketing
Courriel : nkemp@hikingstonwaterfront.com/Tél. : 613 549-8400, poste 2644
Voyager vers Kingston
L'Université Queen's est située dans le centre-ville historique de Kingston. Le site Web de l'université fournit des directives détaillées sur la façon d'atteindre Kingston en voiture, en autobus ou par avion. Des informations sur les options de voyage dans la ville sont aussi disponibles, incluant le stationnement sur le campus, les abris pour vélos et la location de vélos, les parcours d'autobus et de taxis.

Politique de remboursement
Pour demander le remboursement d'une partie de vos frais d'inscription (y compris le souper, etc.), veuillez communiquer avec nous par courriel, à l'adresse lisa.cirillo@utoronto.ca. La date limite pour demander un remboursement est le dimanche 27 mai 2018. Après cette date, les remboursements ne seront accordés qu'à la discrétion du comité de planification de la conférence.