Description
"The Why of Butter Chicken Pizza: Change as a constant in Canadian cuisine" is a talk about the search for a true Canadian cuisine by Lenore Newman, author of the newly released book Speaking in Cod Tongues: A Canadian Culinary Journey. She will be making a brief visit from her home province of British Columbia.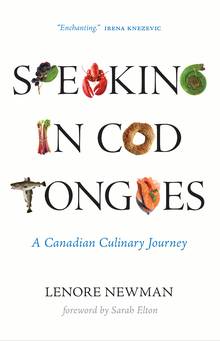 She writes: "Cuisines are living things, and as such evolve over time. One of the fundamental qualities of Canadian cuisine is that it adopts elements from the multitude of groups who make up our population, as together we have created a creole cuisine that presents discrete culinary traits united by commitment to guiding themes. In this talk I explore the tastes of a multicultural nation, map changing influences over time, and suggest that the flexible nature of Canada's cuisine reflects both a spirit of accommodation and a lingering unease. Are their skeletons in Canada's pantry? What form might Canadian cuisine take in the future? Such questions arise as cuisine is not innocent; it reflects the ideologies of larger society. The why of butter chicken pizza is the why of uneasy multiculturalism, and of Canada itself."
Lenore Newman's love affair with food began on her family's fishing boats, where she gained an early introduction into the world of direct marketing of local products. She holds a Canada Research Chair in Food Security and Environment at the University of the Fraser Valley, where she is an associate professor in the department of Geography and the Environment. She runs a research program focused on Canadian regional cuisines, local food sovereignty, culturally preferred foods, and agricultural land use. She has written extensively on the resurgence of farmers' markets in Canada, and is a strong advocate for fresh, local food.