Description
This workshop explores the Temagami region of northeastern Ontario by canoe. Temagami is the place of "deep water by the shore", old growth pine forests, and traditional First Nations routes. Traveling by canoe offers an incredible perspective to photograph clear waters and rocky shores.


OVERVIEW
• Cost: $875 CAN
• 5 days
• Space is limited to 6 participants only

This trip is for beginner and intermediate-level photographers who want the experience of a canoe adventure, but also want to become better photographers. Traveling by canoe, we'll be camping and sleeping under the stars just as the First Nations would have done thousands of years ago.
At it's core, photography is an art form, and we'll explore what "seeing" photographically really means. We cover all the basics of f-stops and shutter speeds, and how different combinations of these create different results. We tackle the subject of composition, the rules to know, and the rules to break. You'll experience first-hand the creative process of a professional photographer, from image conception to the final digital result.
Our workshop groups are small, so you'll receive hands-on, one-on-one photography instruction.
At the end of each day we sit down to review and critique your work using an ipad. This provides an excellent opportunity for immediate feedback which is critical in the learning process. We also show you how to post-process your images, an important and often overlooked step in digital photography.
As the old saying goes "good photographs are made, not taken", which is a core philosophy at Outdoor Photo Journey.
what am I going to learn?
By the end of the workshop you'll have a solid foundation of photography and an understanding of what all those little knobs and dials do on your camera. You'll know how to scout a location, pick the best spot, compose your photo, and get that amazing result. You'll be a superstar at post-processing your images and impress your friends with your photos, all while on an incredible canoe journey in the heart of the Temagami region.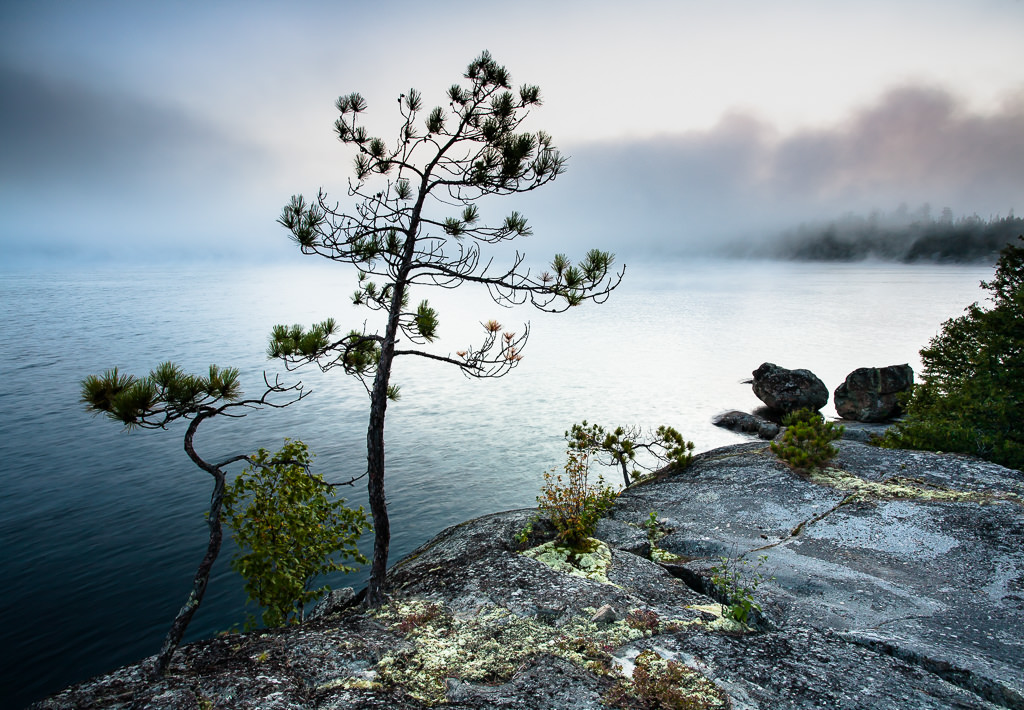 OVERVIEW

DAY 1
The group meets Wednesday evening at the Sportsman's Lodge on Kukagami Lake. We spend time sorting out gear, reviewing the planned route, and meeting our fellow participants. Afterwards, we all sit for a delicious home cooked meal at the Lodge.
DAY 2
After breakfast, a shuttle takes us to our put-in point on Matagamasi Lake where we begin our adventure. We load our canoes, and have a brief paddling lesson for those who need to brush up on their strokes. Setting off northward along the scenic shoreline we pass an ancient pictograph site.
During a short break for lunch you can stretch your legs, go for a swim, or just lay about on the sun-warmed rocks. Continuing northeast, we paddle into McCarthy Bay followed by a short lift-over avoiding a small waterfall. Soon thereafter we stop for the day at our first night's campsite – a superb site with a twin waterfall! We set-up camp, have a scrumptious dinner, and spend the rest of the evening taking photos. This is as good as it gets! We get a campfire going once the sun sets for those who want to sit back and reflect on the day's adventure.
DAY 3
The next few days will follow a familiar daily routine. Up early to photograph the sunrise, have breakfast, pack up, and paddle our canoes to our next campsite, stopping for lunch along the way.
This morning we go back upstream passing the lift-over again. From there, a short paddle before we embark on the first true portage of our adventure. Two more short portages follow before we come out onto a beautiful and clear lake. We find a campsite, set-up, and spend the rest of our time on photography.
If the skies are clear, we have an uninterrupted view of the heavens and take pictures of the night sky. This is one of the most humbling experiences when out on such an adventure.
DAY 4
We have one final portage – a 1km walk over a well groomed trail. Ending up in Kukagami Lake, we find a campsite, set-up, have dinner, and time for more photography. Our final evening together – we gather around the campfire and reflect back on our adventure over the past 4 days.
DAY 5
One final chance to capture the sunrise before we pack our gear and paddle back to the Sportsman's Lodge where our journey began. You depart home with fully loaded memory cards and unforgettable memories.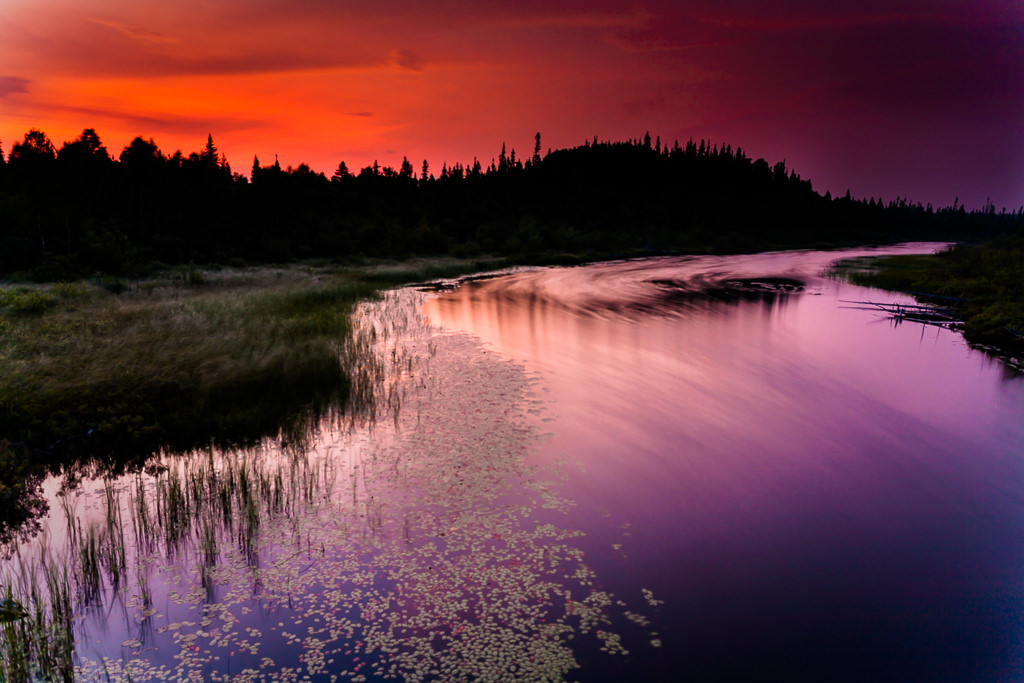 FAQS

The Travel Industry Council of Ontario does not allow me to include hotel accommodations for this workshop without being a licensed travel agent. For this reason, participants are required to pay for their accommodations independently. I have reserved a block of rooms at the Sportsman's Lodge in Kukagami for the first night of the workshop. The fee of $120 includes dinner and breakfast. After registering for the workshop, I'll send you information on how to book one of the rooms.


WHAT'S INCLUDED
All group camping gear

Canoes / paddles / life jackets

Canoe pack / sleeping bag / sleeping mat

Tents (based on double-occupancy)

Food (all meals from Day 1 dinner to Day 5 lunch)

Professional photography instruction

Image reviews and critiques

Inspiration, fun, and a great outdoor experience
WHAT'S NOT INCLUDED
1 night shared accommodation at Sportsman's Lodge in Kukagami Lake

Camera equipment

Transportation to/from location
If you have questions about this workshop, please send us an email.
www.outdoorphotojourney.com