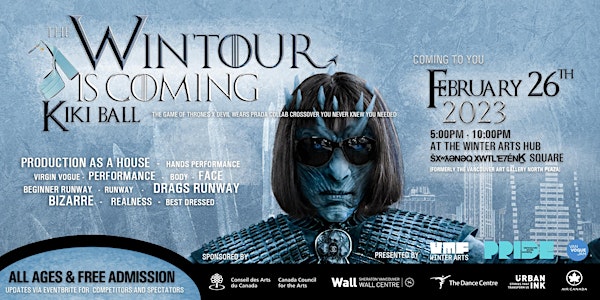 THE WINTOUR IS COMING KIKI BALL
VanVogueJam, Vancouver Pride Society and VMF Winter Arts come together to give you a WINTOUR-Y evening of Ballroom.
By Van Vogue Jam Arts Society
Date and time
Starts on Sun, Feb 26, 2023 5:00 PM PST
Location
Square - Vancouver Art Gallery North Plaza 750 Hornby Street Vancouver, BC V6Z 2H7 Canada
Refund Policy
Refunds up to 1 day before event
Eventbrite's fee is nonrefundable.
About this event
VanVogueJam, Vancouver Pride Society and VMF Winter Arts come together to give you a WINTOUR-Y evening of Ballroom. Roll in with your dragons and don't forget your Manolos, we're giving the Game of Thrones x Devil Wears Prada collab crossover you never knew you needed.
START 5PM > LSS 6PM > END 10PM
Venue: WINTER ARTS HUB / VANCOUVER ART GALLERY NORTH PLAZA (šxʷƛ̓ənəq Xwtl'e7énḵ Square)
TICKETS
All tickets are free, but we ask you to please reserve your ticket for the event to help us gauge number of competitors and capacity limits.
All donations for tickets help to support Van Vogue Jam's initiatives throughout the year.
This is an all ages/outdoor event
Funders and Prize Sponsors:
We'd like to thank Canada Council for the Arts for their funding support.
Prize Sponsors: UrbanInk, Kiki Beauty, and Fluvog
Accommodation Sponsor Wall Center Sheraton, Flight sponsor Air Canada, as well as Workshop Venue Sponsor - The Scotiabank Dance Centre.
Host: OA Mother Posh Gvasalia (YVR)
Commentator: Princess Myst Siriano (YYZ)
DJ: Dream Siriano (YYZ)
Judges: Shea 007 (LA/SF), Legendary Snoopy 007 (YYZ) , Up and Coming Legend Father BamBam Siriano (YYZ) , Mother Ivy Andromeda, Father Gago Gvasalia
NEED TO KNOW FOR THE DAY OF:
WHAT IS THE SCHEDULE FOR TODAY?
5 - 6PM DJ DREAM SIRIANO
6PM WELCOMING / LSS
6:30PM BALL START
VIRGIN VOGUE
BEGINNER RUNWAY
DRAGS RUNWAY
HANDS PERFORMANCE
EXECUTIVE REALNESS MF vs FF
BEST DRESSED
15 MINUTE BREAK
OTA BODY
PRODUCTION AS A HOUSE
FACE (FF ,MF, GNC)
RUNWAY EUROPEAN vs AMERICAN
BIZARRE
OTA PERFORMANCE
930PM END
WHOS ON THE STAGE?
HOST: OA Mother Posh Gvasalia (YVR)
COMMENTATOR: Princess Myst Siriano (YYZ)
DJ: Dream Siriano (YYZ)
JUDGES: Shea 007 (LA/SF), Legendary Snoopy 007 (YYZ) , Up and Coming Legend Father BamBam Siriano (YYZ) , Mother Ivy Andromeda, Father Gago Gvasalia
WHAT IS THE WINTOUR IS COMING KIKI BALL?
The WINTOUR IS COMING KIKI BALL is an event that is put on by Van Vogue Jam Arts Society, Vancouver Pride Society and VMF Winter Arts.
WHAT IS A BALL?
A BALL is an event that provides opportunities for a breadth of artists from the BALLROOM community to be seen, celebrated and supported, in the competitive BALL format. Individuals are given their "10's" in order to move on to the battle rounds where competitors are paired into battles until there is a winner at the end of each category. The judges panel is specifically selected from the BALLROOM community. Balls are always accompanied by a COMMENTATOR and DJ for the event to flow.
WHAT IS BALLROOM?
Ballroom is a queer subculture and community founded in Harlem, NYC, by Black, Latinx, Queer and Trans folks - pioneered in the late 60's by Crystal LaBeija.
WHERE DO I GO IF I'M WALKING A CATEGORY?
If you are walking the ball FEB 26, 2023 - we have designated changing areas located at the Vancouver Art Gallery (Annex room) for competitors. Please connect with a Vancouver Pride or VMF Winter Arts Staff for directions to COMPETITOR HOLDING.
CAN I WALK A CATEGORY?
We ask all COMPETITORS to do their research/training before walking a category. The RUNWAY is a sacred and important space in BALLROOM. To walk a category without taking time to understand the history, intent, purpose, and category specific nuances is considered disrespectful.
WHERE CAN I LEARN MORE ABOUT VAN VOGUE JAM?
You can learn more about us at www.vanvoguejam.com
WHERE CAN I DONATE MONEY?
You can also donate money to us via our website www.vanvoguejam.com/donate
CAN WE TIP THE PEOPLE WALKING?
This is NOT a drag show, the best way to show your appreciation for the artists is to cheer them on and give them your presence and energy - if you really want to, you can talk to the artists after their category and personally to tip them. Any tips to Van Vogue Jam can be made through our website www.vanvoguejam.com/donate
CATEGORIES
PRODUCTION AS A HOUSE - 5 trophies + $500 cash prize sponsored by UrbanInk
FROM THE SCREEN TO THE RUNWAY - we want you to bring it AS A HOUSE in a production that could make the audience GAG. Slay us with a scene from either GoT or Devil Wears Prada - but make it BALLROOM.
Must have 3 min to 5 max members to qualify
Productions must be 3 minute minimum - max 5 minutes. For 007's you may also make up a house for the night.
*** UPDATED FEB 21, 2023 Send music to info@vanvoguejam.com by February 22, 2022 - 11:59pm PST
OTA BODY – 1 trophy + $100 cash prize
We want to see your BODIES of ICE & FIRE, in an either all ice OR all fire themed effect.
HANDS PERFORMANCE – 1 trophy + $50 cash prize
You may be the Hand of the King, but can your performance save your life? Bring it in a GLOVE + a GoT Hand of the King Pin. Pin can be printed, made by hand, or ordered online - be creative!
FACE (FF,MF,GNC) – 3 trophies + $100 cash prize + Kiki Beauty Kits/each sponsored by Kiki Beauty
You're a model on your first day of scouting in New York City… in THE WINTER. Bring your beautifully natural face and a WINTER COAT and reveal to a GO-SEE look underneath.
***Feb 3, 2023 update - each FF,MF,GNC will receive $100 each + Kiki Beauty Kits = 3 Grand Prizes
VIRGIN VOGUE - 1 trophy + $50 cash prize
Where are all the belts for this category? Why is no one ready? Show us your best effect with a BELT and… something… not blue, not turquoise, not lapis, but CERULEAN BLUE.
BEGINNER RUNWAY - 1 trophy + $50 cash prize
"one no-foam skimmed latte with an extra shot and three drip coffees with room for milk". First time walkers only, must come with a Starbucks branded coffee cup.
OTA PERFORMANCE - 1 trophy + $300 cash prize
Whoever you are, bring it as the dragon lady herself in THE iconic Anna Wintour essentials – BOB and SUNGLASSES.
RUNWAY EUROPEAN VS AMERICAN – 2 trophies + $250 cash prize
It's time to see the RUNWAY OF THE DRAGONS Bring it in Green for European or BLACK for American. Top 2 battle for the iron throne!
DRAGS RUNWAY – 1 trophy + $100 cash prize + $350 gift card by Fluvog
Drags runway ONLY, bring it in a WHITE WALKER inspired look.
EXECUTIVE REALNESS MF VS FF – 2 trophies + $100 cash prize
You may not own the company but you Better show us who is gonna be on the cover of the next issue ! Bring it as the EDITOR AND CHIEF of a fashion magazine.
BEST DRESSED – 1 trophy + $100 cash prize
New York, London, Milan, and Paris! Bring it in your BEST DRESSED, ready for fashion week. We are looking for classic best dressed – MF in a SUIT, with dress shoes and tie, and FF in a formal DRESS with a BAG to match.
BIZARRE - 1 trophy + $100 cash prize
TOWERS OF POWER - Every great power has a fitting home to match, create a bizarre effect that is inspired by all things Castles and/or Office Skyscrapers!
ACCESSIBILITY:
ASL interpretation can be requested for all Vancouver Winter Pride Festival events. To request ASL interpretation please email accessibility@vancouverpride.ca by January 17. Requests made after this date will be subject to availability.
For the most up-to-date accessibility information visit vancouvepride.ca/accessibility.
Terrain: Flat concrete tiles, all level
Drop Off Info: There is a passenger loading zone on Hornby right outside the VAG entrance (red awning)
Washrooms: Two accessible bathrooms on site. Bathrooms are all genders
Seating: Bistro tables, assorted sizes
QR Codes: Menus are accessed through QR codes. Servers can verbally list menu items to those without an internet enabled phone.
Service animals are welcome on site
COVID-19 PROTOCOLS IN PLACE
Updated closer to the event.
LAND ACKNOWLEDGEMENT
Van Vogue Jam Arts Society would like to recognize we are coming together on the unceded territories of xʷməθkʷəy̓əm (Musqueam), Sḵwx̱wú7mesh (Squamish), and səlilwətaɬ (Tsleil-waututh) Nations. We support the rights of Indigenous Peoples as stewards, protectors, and title holders of their lands and waters. We call on all people to change the policies, laws, and institutions in our country so all Indigenous Peoples can have full enjoyment of the rights of Indigenous Peoples.
CULTURAL ACKNOWLEDGEMENT
We also make a cultural acknowledgment to the Black, Lantix, Trans and Queer folks who have founded Ballroom Culture - which we have a privilege of being guests to today. As an organization that is founded by non Black and Latinx people we acknowledge our ongoing need to question and reflect on how we navigate practicing Ballroom Culture locally, and continue our need to learn from the greater Ballroom community at large.
Creative safe space has always been at the heart of ballroom culture and we hope that this event can be a safe space for everyone to enjoy.
OTHER NEED TO KNOW
HVMF events aim to be a safe space for people of all ages, genders, ethnicities, abilities and sexual orientations.
We ask our guests and artists to not hesitate to reach out to a staff member if they witness/experience any form of harassment while on site, or if there are ways that we can make their experience at The Hub more safe and comfortable.
Queerphobia, transphobia, ableism, racism, xenophobia is strictly prohibited and will not be tolerated.
Anyone committing harassment against staff, artists or patrons will be swiftly removed from the space and will not be welcome back.
Site Managers, security and staff are here to support in removing anyone causing distress to others or acting in an inappropriate or hostile manner.
Harassment regarding COVID policies will not be tolerated, you will be asked to leave immediately.
Our security staff is specifically curated to meet the needs of the artists and community members that come into our venue. They have been vetted over years and are allies, please do not hesitate to communicate directly to them about your safety needs. Heather & Terry (Frog) are our security leads.
Oppressive attitudes and behaviours including but not limited to racism, transphobia, misogyny, fatphobia, ableism, and general bigotry are NOT welcome here. Consent is sexy - AND MANDATORY.
About the organizer
VAN VOGUE JAM is a vancouver-based community organization that offers weekly pay-what-you-can/by-donation vogue classes. VVJ was founded by Ralph Escamillan who is a queer Canadian-Fillipinx movement and performance artist and part of the International House of Amazon lead by the Legendary Leiomy Maldonado. Through the facilitation of his weekly classes, Ralph strives to share his knowledge and experience of vogue and the culture behind it, creating a new safe accessible spaces for LGBTQIA2+ POC in Vancouver.
In addition to offering weekly classes,  VVJ has recently started to organize bi-annual Balls with one recurring at the launch of Vancouver Pride Week, and another occurring at different time earlier in the year.
These balls draw on both international talent to judge and participate in the scene including Leiomy Maldonado (Mother of the House of Amazon/NYC), Brandon Harrison (Father of the Kiki House of Flora/PDX), Daniel Giron (House of Mizrahi, Father of the Kiki House of Ada/PDX), Carlos Lanvin (LAX), Packrat Lanvin (LAX), Twysted Miyaki-Mugler (YYZ); and local talent and notable community figures like Jalene Tyme, Raye Sunshine, Kendall Gender, Rose Butch (The Darlings), and Shay Dior (Mother of the House of Rice),
Notable sponsors of Van Vogue Jam have included Lululemon Lab, Absolut Vodka, CurliQue, ArtStarts in Schools, Little Sisters, and Karma Teachers.