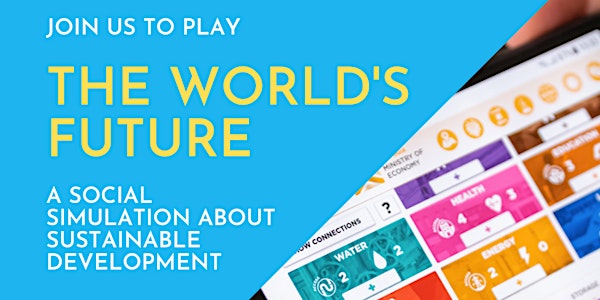 The World's Future : A Social Simulation about Sustainable Development
Play The World's Future, an online social simulation game that allows players to explore sustainable development.
About this event
Vancouver Island University's Mount Arrowsmith Biosphere Region Research Institute (MABRRI) is hosting The World's Future, an online social simulation game where participants will take on a high-leadership role in one of three countries to pursue sustainable development. Two sessions are available and will be hosted over Zoom.
Developed by the Centre for Systems Solutions, The World's Future immerses players in an online world where they strive to achieve sustainable development. Players will make choices about energy and industrial investments, social development, and environmental management, among other factors, which will directly influence their country and surrounding countries in the long term. Incorporating the United Nations 17 Sustainable Development Goals (SDGs), the simulation will allow players to experience the interconnectedness of sustainable development in an environment that allows players to take risks and see the consequences of their decisions.
There will be two sessions of the World's Future held throughout Fall 2021:
Session 1: September 25 - 10:00 am - 4:30 pm
Session 2: November 24 & 25 - 5:00 pm - 8:00 pm
Each session will be held virtually over Zoom and is free to attend. To become fully engaged in the online world, the game takes between 4 to 6 hours to play; however, the game can be split over two days, giving players some flexibility in addressing all the issues and conundrums created in the simulation. Session 1 will be hosted in 1 day and Session 2 will be split over two evenings.
*These sessions are restricted to Vancouver Island University staff and students, in addition to Nanaimo, Duncan, Parksville, and Powell River community members. Exceptions may be made for other communities located on Vancouver Island, British Columbia.
The World's Future sessions are a collaboration between MABRRI, the Sustainable Development Solutions Network (SDSN) Canada, and the Centre for Systems Solution. The sessions are hosted as part of MABRRI's Universities and the SDGs: Engaging the campus community with the 2030 Agenda project, which is funded in part by the Government of Canada's Sustainable Development Goals (SDG) funding program.
Organizer of The World's Future : A Social Simulation about Sustainable Development