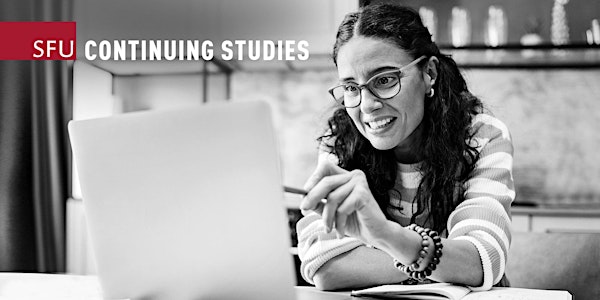 The Writer's Studio | Manuscript Consults
The Writer's Studio at Simon Fraser University is offering free one-on-one phone or video consults on up to seven pages of your writing.
About this event
About this event
Need an expert opinion on your writing, or a nudge in the right direction? The SFU Writer's Studio is offering FREE 45-minute video consultations on up to seven (7) pages of your prose or poetry. You will receive supportive feedback on story, structure, point of view, or anything else you'd like reviewed in your fiction, non-fiction, or poetry from TWS alumni.
Virtual consultations are currently available from January to March via Zoom.
Length:
Maximum length is seven (7) pages.
Formatting:
Your manuscript should be provided in the following form:
Title of your work(s), if it has one, at the top centre
Your name beneath
Page numbers on the bottom
Double-spaced,12-point font
Word or PDF files only
Directions to submit your writing seven days before your consult will be provided upon registration.
One free consult per person.
Further Manuscript Resources
Already had your free consult? For further support in your writing after the consultation, SFU offers a variety of manuscript consultation options; visit our Manuscript Consultations and Mini-Manuscript Consultations pages for more details.
This program is presented in partnership with Vancouver Public Library. For more information about VPL, visit vpl.ca, drop by your local branch, or email or call at info@vpl.ca / 604.331.3603
VPL is offering both online and in-person programs. To see a list of scheduled events, visit the events calendar at vpl.ca/events
Organizer of The Writer's Studio | Manuscript Consults
The Creative Writing Program at SFU Continuing Studies is committed to learning in community by offering programs and courses to writers. Our programs include the Writer's Studio Vancouver and The Writer's Studio Online. We also offer courses and consults on the craft and business of writing.