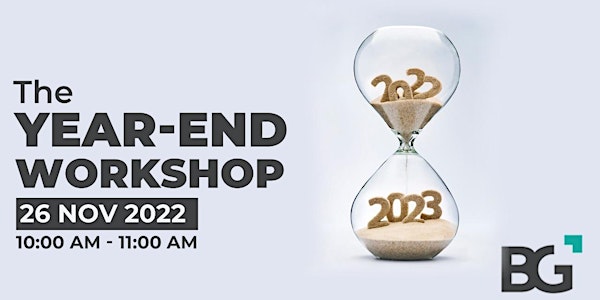 The Year-End Workshop - Nov 26
Preparing for your tax year end can be stressful and you might have several questions. Keeping that in mind BG is launching a new workshop
About this event
The workshop will help you get better organized and will make tax season a breeze. This session is going to be Live including a Q&A session and is designed for both individuals and business owners.
Here is what you can expect to learn in this workshop:
Understand tax deadlines
Issuing T4s for yourself and your employees
Understanding how your corporate shareholder loans impact your personal taxes
How Donations help
How much to contribute to RRSPs
How to organize your tax documents
Last minute tax saving strategies to lower your taxes for the year
What to expect on your tax bill
Hashim is a Strategist. He helps people convert their taxes into wealth building engines. Every business and individual needs a Hashim on their side when it comes to navigating the tax matrix.
Hashim epitomizes the "entrepreneur gumption". His passion and relentless pursuit of making people money, through his out-of-the-box business and tax solutions are truly remarkable. He helps clients grow their businesses while keeping more of their hard-earned money in their pockets - that's why his clients love him - and his positive energy is infectious.
With over 15 years of senior management and business development experience in a broad range of industries, Hashim brings a wealth of knowledge to his clients.
Hashim's knowledge extends to Canadian and US taxation, corporate, and small-business consulting solutions. In addition to his tax knowledge and business planning services, Hashim's clients also benefit from his extensive experience with financial planning and goal setting.